One of the most amazing things about Alaska is how big it is. That may seem like the understatement of the century, but it is a simple fact that you really cannot begin to be comprehend until you take to the skies. The forest and waves drop away below you, and the endless misty wilderness stretches beyond your grasp to the horizon line. In each of the places I stopped in the state, there was another pristine patch of wilderness begging to be explored, and I realized very early on that I would need help to see even a small selection of what stunning vistas were hidden away just behind the next mountain. So when it came to the absolutely mind blowing Misty Fjords National Monument in Ketchikan, I turned to a 35 year veteran bush pilot from Carlin Air to show me the incredible wild places that can't be reached unless you take to the skies.
Jeff Carlin Takes Us Over The Misty Fjords – Glacial Landscapes From a Bird's Eye View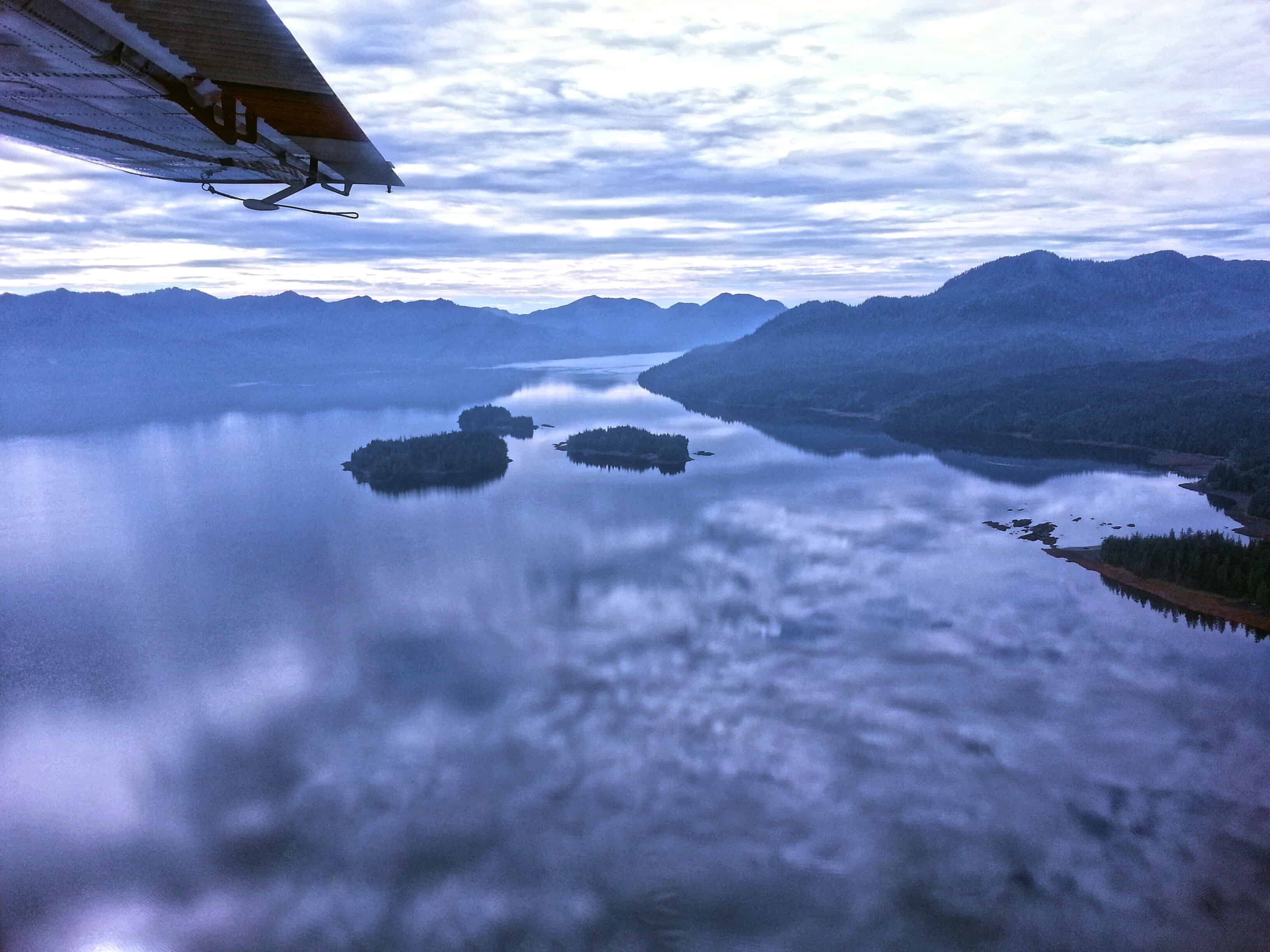 The Misty Fjords National Monument is over two million acres of dense forest, brilliantly colored marshland, and pocket lakes formed by chunks of melting ice abandoned by the recession of glaciers. They shine like brilliant mirrors nestled away in crimson and ochre velvet, and the coruscating glare of the sun off of their surfaces gives the appearance of splintered glass scattered through the backwoods. The sheer cliffs of granite, carved into deep v's by the immeasurable and unstoppable force of glacial walls, trap sea water and embrace pockets of old growth between faces that reach thousands of feet towards the sky. One of the dearest joys in my life is to hike into a thicket in an unknown direction just to see what waits just out of view, but here, the expression about not being able to see the forest for the trees is the absolute truth. While I don't doubt that a hike through the Misty Fjords would be gorgeous, it is impossible to understand the terrifying beauty and the expansiveness of the world until you fly above it and experience it through the eyes of a bird.
Finding the right plane operator seemed a bit overwhelming at first- as a hugely disproportional cross section of Alaskans are bushpilots, there is always someone willing to take you up. Balancing price, safety and knowledge seems like a bit of a minefield with the sheer amount of options available. Wanting to see the Misty Fjords through the eyes of a native Alaskan who loves the land and lives there year round (many companies only operate for the summer or the winter depending on the season of the activity, and then get the hell out of dodge,) led me to choosing a single plane owner/operator. Instead of a tinny, recorded voice on a by-rote trip with the bare minimum in terms of interaction, interest and effort, I opted for someone who makes their living off exploring the land, who has his own favorite places tucked away in the morass of the monument, and who had a personality to help me bring some context to the disorienting vastness of the world spread out in front of me. Jeff Carlin fit the bill, and made sure the trip in his De Havilland Beaver was one that I would never forget. In fact, there's even a scale model of his plane hanging in one of the most popular bars in town; he's a fixture in the community, and that extra facet of authenticity underlined the fact that he's one of the best pilots in the state.
One of the most annoying things I find about tour guides (and I use the term lightly here) is that they often don't know when to stop. Instead of taking a breath and appreciating whatever it is they've introduced you to, you often find yourself trying to drown out an incessant stream of chatter full of boring facts and pointless "I heard one time" anecdotes that contribute absolutely zero meaningful discourse. In our time in the air with Jeff, the occasional faint chatter of other pilots in our headsets punctuated his much more digestible commentary (along with a raunchy joke or two, and a hilarious stunt that had another passenger squealing in delight/abject terror.) As we passed over some of the more striking views he pointed out, we lapsed into a companionable silence; in no way uncomfortable, but simply an acknowledgement that sometimes there's no need to speak when your breath has been taken away. Finding someone who somehow got across everything we wanted to know without feeling the need to make sure that there were no moments of silence was a breath of fresh air that matched the quiet majesty of the land below us.
Circling around to land on Nooya Lake was a touch disconcerting- even for a thrill seeker- as I watched the wings of the plane roll towards the ground passing a few hundred feet below us. Here's a fantastic video that shows a few great angles of coming down to land on the water, as well as how little space the float plane requires to land and take off. The overall speed of the plane is a bit mindboggling too- where commercial liners need massive amounts of continued acceleration to stay off the ground, we cruised above the tree tops at around as quickly as you'd roll down the highway. Interestingly enough, despite the small size and low airspeed, I haven't had as smooth a flight as this in a long time; Jeff's slightly gruff, affable confidence didn't hurt either.
My photos from the trip can't possibly convey to you just how amazing flightseeing over the Misty Fjords and dropping in to land in the midst of a glacial lake were, and I hope sincerely it's something you put on your bucket list. There simply no way to even begin explaining to you the incredible lift my spirit took when the first shrouded mountains rolled into view, and how I felt my heart in my throat as we followed the edge of a fjord, seemingly nothing but a speck up against towering granite walls. Thinking of some of the things I was fortunate enough to see brings tears pressing at the backs of my eyes and goosebumps to my skin even as I write this. When you do get up to Alaska, look up Jeff and his crew at Carlin Air. There's no better pilot to take you through the Misty Fjords, and once you're up there, there's no place you'll rather be.