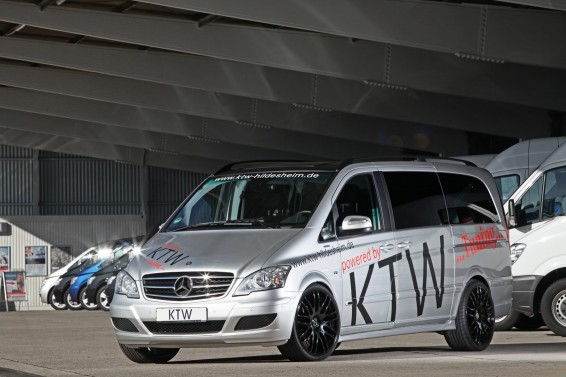 There is no way in hell I would ever consider purchasing a van unless it was either for business, or if I happened to have too many kids. But even so, I always thought it would be interesting to play around with a soccer mom minivan which looks mostly stock, but is a complete monster under the hood. It could be a fun little project if you had some money to throw around, and it seems I'm not the only one who thinks that way. The technicians over at KTW Tuning are on the same page and did just that. 
KTW Tuning in Germany has taken the Mercedes-Benz Viano and added a bit of sportiness to it, although not as much as I would have liked. The performance upgrade package for the 3.0-liter CDI Mercedes-Benz Viano takes the van from 221 horsepower and 325 lb-ft of torque to an improved 261 horsepower. Not too bad if you ask me, although there is always room for more power.
The increase in power mostly comes from a software optimization kit, but that's not the only thing they upgraded on the Mercedes-Benz Viano. KTW Tuning also improves the handling of the Viano with a suspension kit. It lowers the ride height a bit, and changes out for a new set of 22-inch allow wheels. At the front, the tires are 255/30ZR22, while the rear receives a fat set of 285/25ZR22.
Lastly, they've finished off the vehicle with red brake calipers for that final touch of sportiness.
Now, keep in mind… your tuned van wouldn't have all that KTW Tuning logos that can be seen in the pictures here. I know… sadly, you'll just have to add your own stickers and logos on later.
KTW Tuning
If you want to find out more about KTW Tuning, then head over to their official website and look around. It's in German, though, so you might need to use a translator. Either way, there are tons of great pictures of the vehicles they tune.