The guys at Maximilian Büsser & Friends (MB&F) have just introduced the 5th watch in their crazy/artistic/beautiful Horological Machine line.  Like all the watches by MB&F, the Horological Machine 5 is a stunning timepiece that uses some very complicated movements and technology to perform the simple task of time telling.
The MB&F Horological Machine 5 (HM5) is nicknamed "On The Road Again" and is inspired by the supercars of the 1970's, namely the Lamborghini Miura.  The HM5 is also an homage to the Amida Digitrend watch from the 1970's that took on all the digital watches of that era by creating a watch that looked digital but was powered by an automatic movement.
If you're a watch enthusiast, you'll know the 1970's were tough times for automatic/mechanical watches; quartz watches were all the rage and unfortunately many "traditional" watchmakers went out of business.  In the those days everything was digital, including car instruments and the HM5 plays with that idea by giving the time display a digital look (kind of like the Amida Digitrend watch) but it's powered by an automatic movement.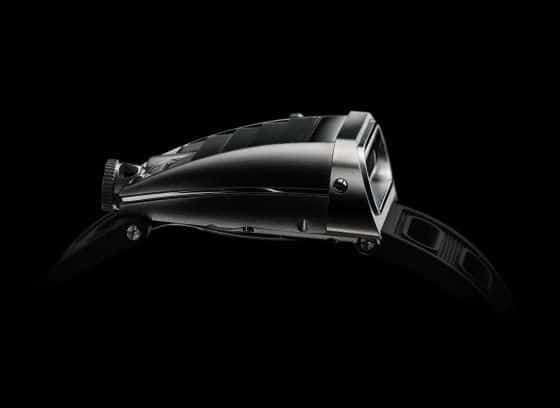 For some reason sports cars with rear window louvers were pretty popular in those crazy days, the MB&F Horological Machine No. 5 also features louvers on the back of the watch.  The louvers can be opened and closed with a small lever on the side to let light in and charge the SuperLumiNova covered numerals on the discs and it's also cool and a conversation piece.
The HM5 watch comes in a 49mm wide wedge shaped case that looks like the back half of a sports car.  These types of wedge watches are called "driving watches" because they display time on the side of the wrist, perfect for not taking the left hand off the steering wheel to check time.  The minute and hours are displayed through the front window and are inspired by speedometers and tachometers.  Two rotating discs show what time it is through an un-tinted part of the sapphire crystal.  Other car inspired pieces include the spinning rotor in the movement and the crown, shaped like car wheels.  And last but not least, a pair of "exhaust holes" at the back of the watch that are there to vent water if it ever gets into the watch; not that anyone would want to get a watch like this wet.
Under the "hood" of the Maximilian Büsser & Friends Horological Machine No. 5 watch is a 30 jewel automatic movement with 42 hour power reserve.  The case is made out of Zirconium and measures 51.5mm L x 49mm W x 22.5mm H and is attached to a rubber strap, a first for MB&F.
The MB&F HM5 "On The Road Again" is limited to only 66 pieces and is priced at 54,000 Swiss Francs (or about $58,000 US), making it the most affordable MB&F watch.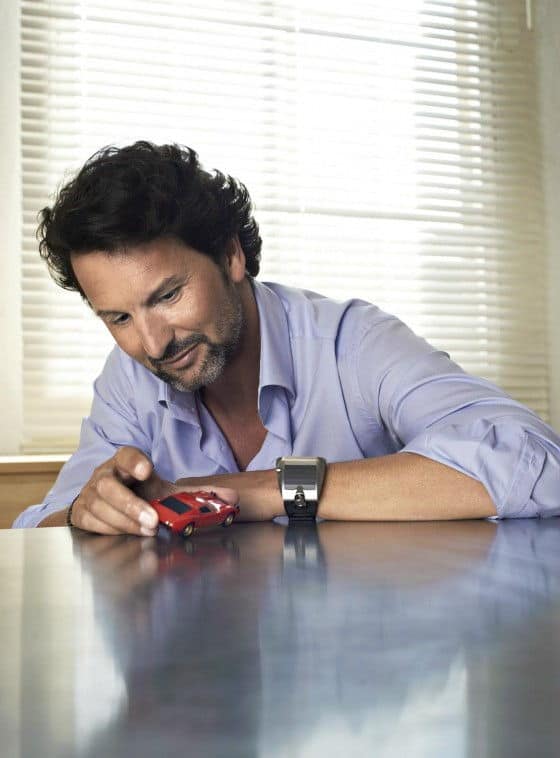 MB&F Horological Machine 5 Pictures