We've written quite a few posts on Maximilian Büsser & Friends (MB&F) watches over the last couple of years; I personally really like their eccentric watches and think Max Busser is a really cool guy.  The latest offering from MB&F is the limited edition Horological Machine No. 3 (HM3) Poison Dart Frog watch inspired by the very dangerous yellow-banded poison frog.
The poison dart frogs (scientifically known as Dendrobates leucomelas) are found in the northern parts of Venezuela and in rainforests in the surrounding countries.  The frogs have toxic skin; the poison in the skin is produced by eating various poisonous prey.  These colorful but deadly frogs are quite small, measuring around 4 cm and weighing around 3 grams.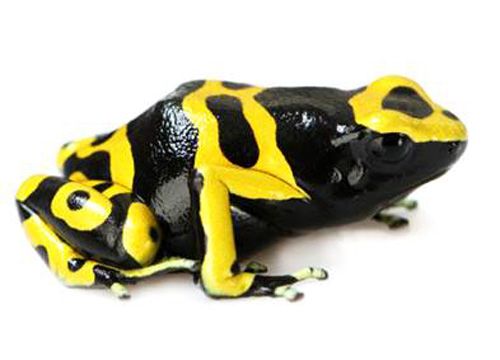 Back to the MB&F HM3 Poison Dart Frog watches.  The watches feature two distinct domes for the hour and minute functions that are inspired by the eyes of the frogs, the domes are made out of aluminum and covered by sapphire crystals.  The watches come in black PVD coated zirconium cases with 18k highlights on the case and 22k rotors on the automatic movements.  The watches come with black leather straps and are limited to 10 pieces.  The HM3 Poison Dart Frog watches will be available exclusively through The Hour Glass, Singapore with a price tag of 129,000 Singapore dollars; approximately $104,000 US.
MB&F HM3 Poison Dart Frog Watch Pictures