Most of the cars tuned by German car tuning firm Mansory are utter crap in my humble opinion, Mansory proves the say "money can't buy you class" and their latest creation is no exception.  This time Mansory has tuned a Ferrari 458 Italia Spider Monaco Edition and made it look like the Ferrari Enzo, at least in the front.
I don't have a problem with the 458 Italia looking like an Enzo, the problem I have is with all the carbon fiber pieces added onto the car that look like they've been glued on.  These add-ons make the 458 Italia look like one of those Civics that teenagers used to "tune" with lots of stickers, fake vents, and all the other crap found at Walmart's car section.  Maybe if the car was black, I might change my mind?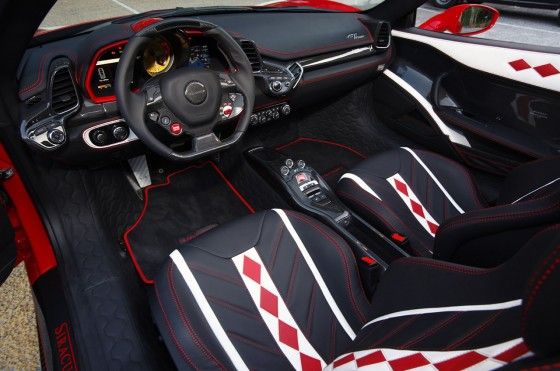 As you can see in the pictures below, the Ferrari features carbon fiber vents by the headlights, carbon fiber scoops in the front bumper, a carbon fiber diffuser, and side skirts.  The interior is just as bad with the awful black, red, and white seats and door panels.
I do give Mansory credit for making the front of the car look unique, if you can ignore the carbon fiber bits.  Mansory has also improved the horsepower to 590 which helps the car reach 62 mph (100 km/h) in 3.2 seconds with a top speed of 205 mph and they've made the car weigh 130 pounds less than a stock 458 Italia Spider.
Thankfully only 3 of these tuned cars will be produced, which means it's quite unlikely that any one of us will ever see one in person.  Am I being too harsh on Mansory?  I've expressed my (humble) opinion, what do you think?