There's something special about station wagons, I don't know what it is, but men love wagons. I'm included in that group of "wagon lovers"; I get as excited about a wagon as I do about a new sports car. I honestly don't know why? Wagons are practical and offer loads of cargo area, which is also true about SUVs/CUVs, but they don't have the same effect on me.
If you are in the market for a wagon, your choices are extremely limited; I believe there's only one true wagon available in the Canadian marketplace, the Volvo V60. A few other wagons are available, like the Volvo V60 CC, Volvo V90 CC, Audi A6 All-Road, and the Mercedes-Benz E 450 All-Terrain Wagon. These cars are wagons, but they've been raised by a few inches, given plastic fender flares, and made slightly "off-roady," so I don't consider them true wagons. Even a few years ago, we had more pure wagon choices, cars like the C-Class wagon, Golf and Jetta wagons, A6, E-Class, and the V90 wagons. I guess this proves the fact consumers are looking for more SUV-looking vehicles rather than pure wagons.
Last week I had the opportunity to review a 2023 Volvo V60 Cross Country (CC) wagon; this is the more off-road version of the standard V60, which is by far my favorite wagon.
2023 Volvo V60 CC Canadian Prices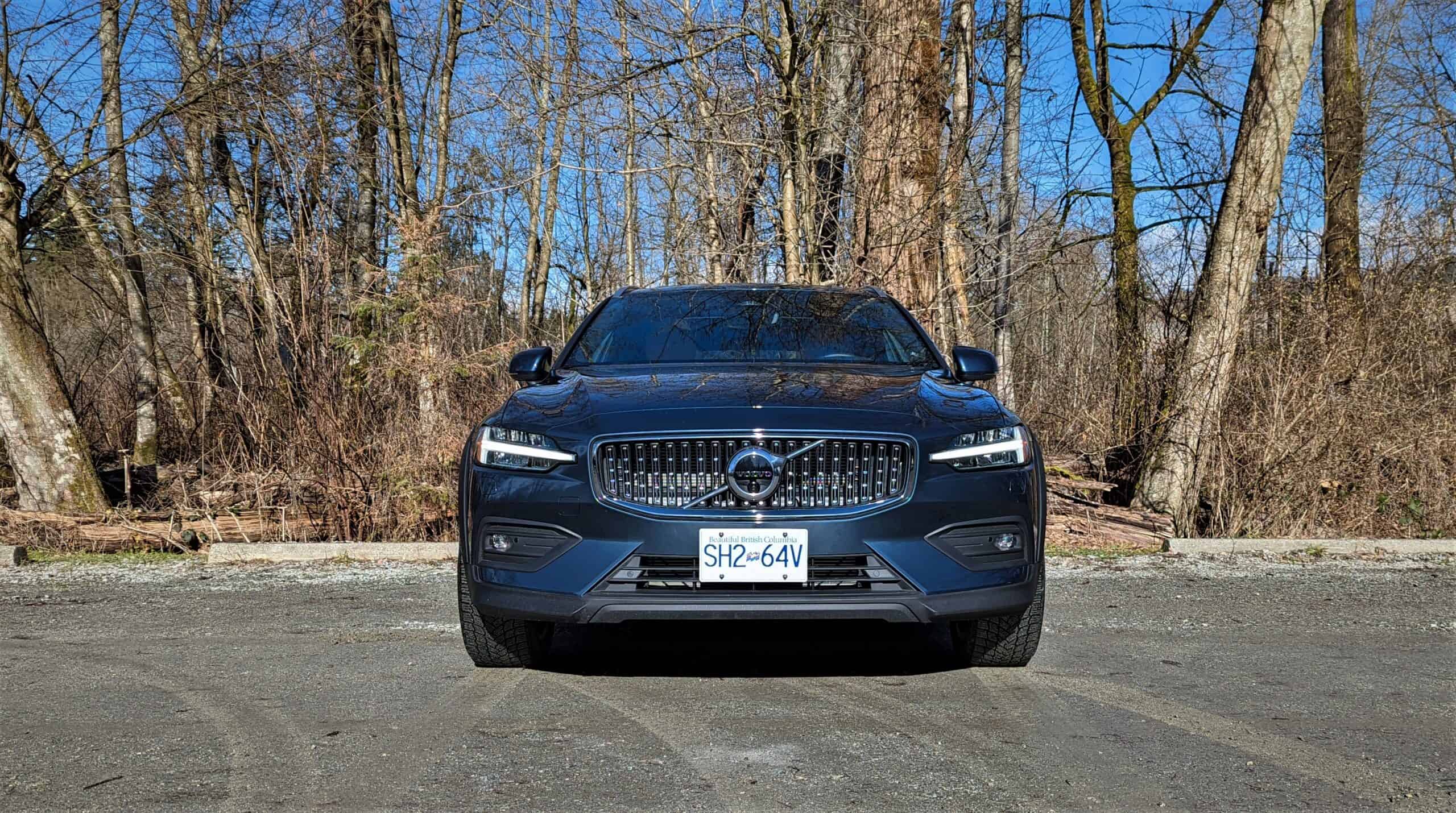 Only one version of the V60 Cross Country is available, the mild-hybrid version. Prices for the V60 CC start at $53,500 for the Core trim, the Plus trim starts at $58,550, and the top Ultimate trim starts at $65,900. These prices do not include Freight & PDI.
Our review 2023 Volvo V60 Cross Country was the Ultimate trim; it had optional Denim Blue paint ($900), 20" 7-Spoke wheels ($1,475) that were not equipped because our review car was on winter tires, massage front seats ($1,300), and Bowers & Wilkins audio system ($3,750). The total price tag on our review car was $73,325 plus Freight & PDI charges of $2,015.
2023 Volvo V60 CC Engine/Driving
As I mentioned above, the only version of the V60 CC available is the B5 AWD, which is powered by a 2.0-liter direct-injected turbocharged and supercharged 4-cylinder engine. This engine is found on other Volvo vehicles and is capable of producing 247 horsepower between 5,400 – 5,700 rpm and 258 pound-feet of torque between 1,800 – 4,800 rpm. Power is sent to all four wheels via an 8-speed Geartronic automatic transmission.
The Volvo V60 Cross Country is rated at 10.1/7.7/9.0 liters/100 kilometers in city/highway/combined driving. For our weeklong review, after driving the V60 CC for 200 kilometers, with 65/35 highway/city driving, the onboard computer showed 8.9 L/100 km.
If you are looking for a more fuel-efficient version of the V60, Volvo offers the regular V60 as a plug-in hybrid model with a 64-kilometer all-electric range and 455 horsepower. Not only is the V60 Recharge more efficient, but it's also more powerful, the best of both worlds. That's the one I would get.
The 2.0-liter 4-cylinder engine is more than capable of motiving this family wagon. The V60 CC is not lightning-fast, but it's not slow, either. The supercharger and turbocharger work together effortlessly to give you plenty of punch off the line. The 8-speed transmission does a fine job of staying in the proper gear for normal driving; I would've liked the option of paddle shifters for quickly downshifting when you want to really move. Under heavy acceleration, the transmission downshifts decently quickly, but I would've liked a quicker downshift time; that's where the paddle shifters would come in handy. The automatic transmission does have a manual mode, but you need to switch gears via the gear lever.
The ride height on the V60 Cross Country is a bit higher than the non-Cross Country version, a vehicle I haven't driven. However, I have driven the S60, which is the sedan version of this car, minus the CC-ness. The suspension does feel a bit softer, but not by much, and it's even better at soaking up bumps. I think it is still quite a nice driving and handling vehicle.
2023 Volvo V60 Cross Country Styling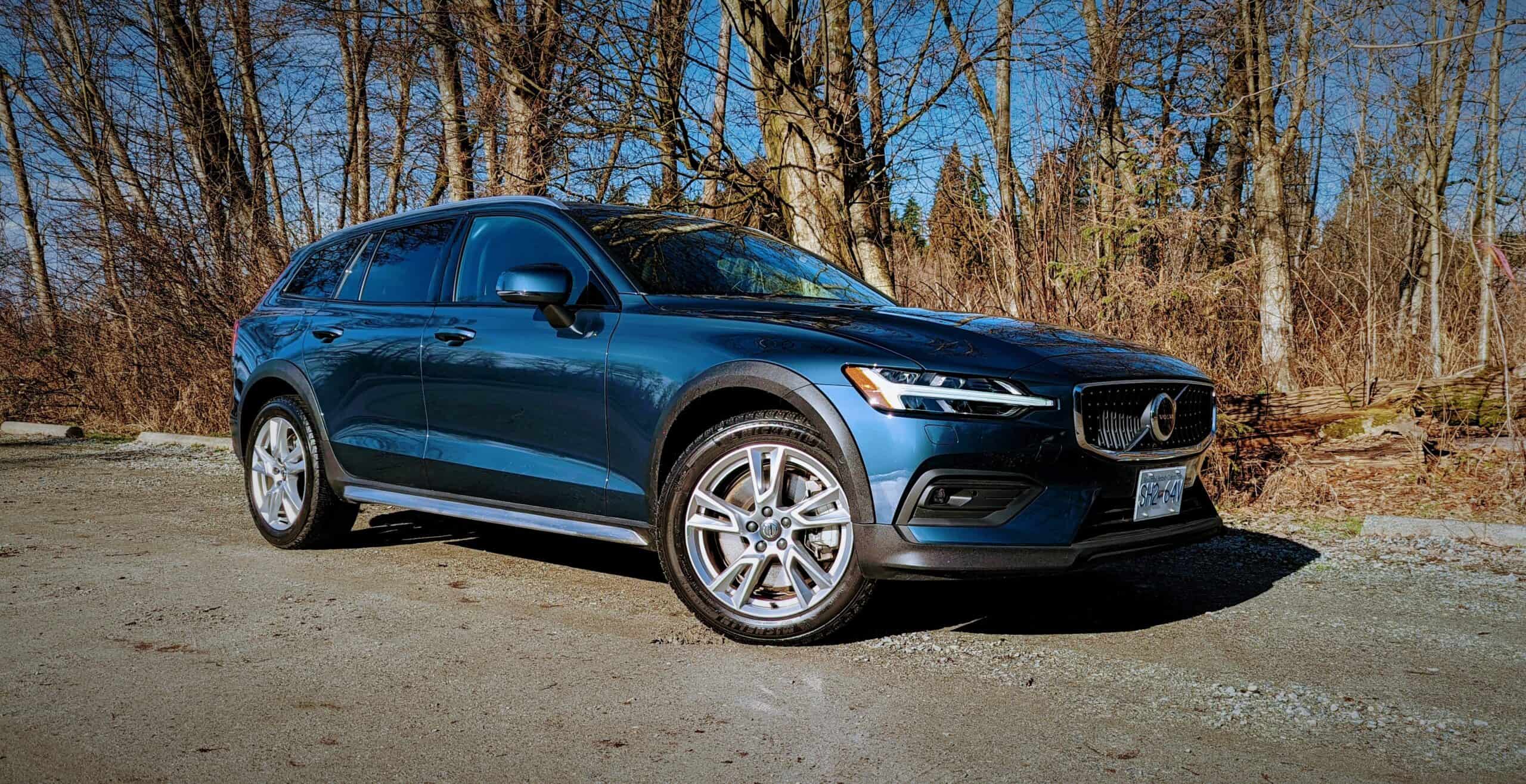 I've said it before, and I'll say it again, I'm a huge fan of wagons. I really like the way the Volvo wagons look; the V60 is a sleek-looking wagon, and a bit of that sleekness is taken away by the more off-road-worthy elements of the Cross Country version. Like the higher ride height and the plastic wheel arches, which should help protect the body, a bit from rock chips if you do take your V60 CC off-roading.
However, I still think the V60 CC is a fine-looking wagon. It's sleek and oozes class. I felt even more sophisticated than I normally do while driving the V60 CC.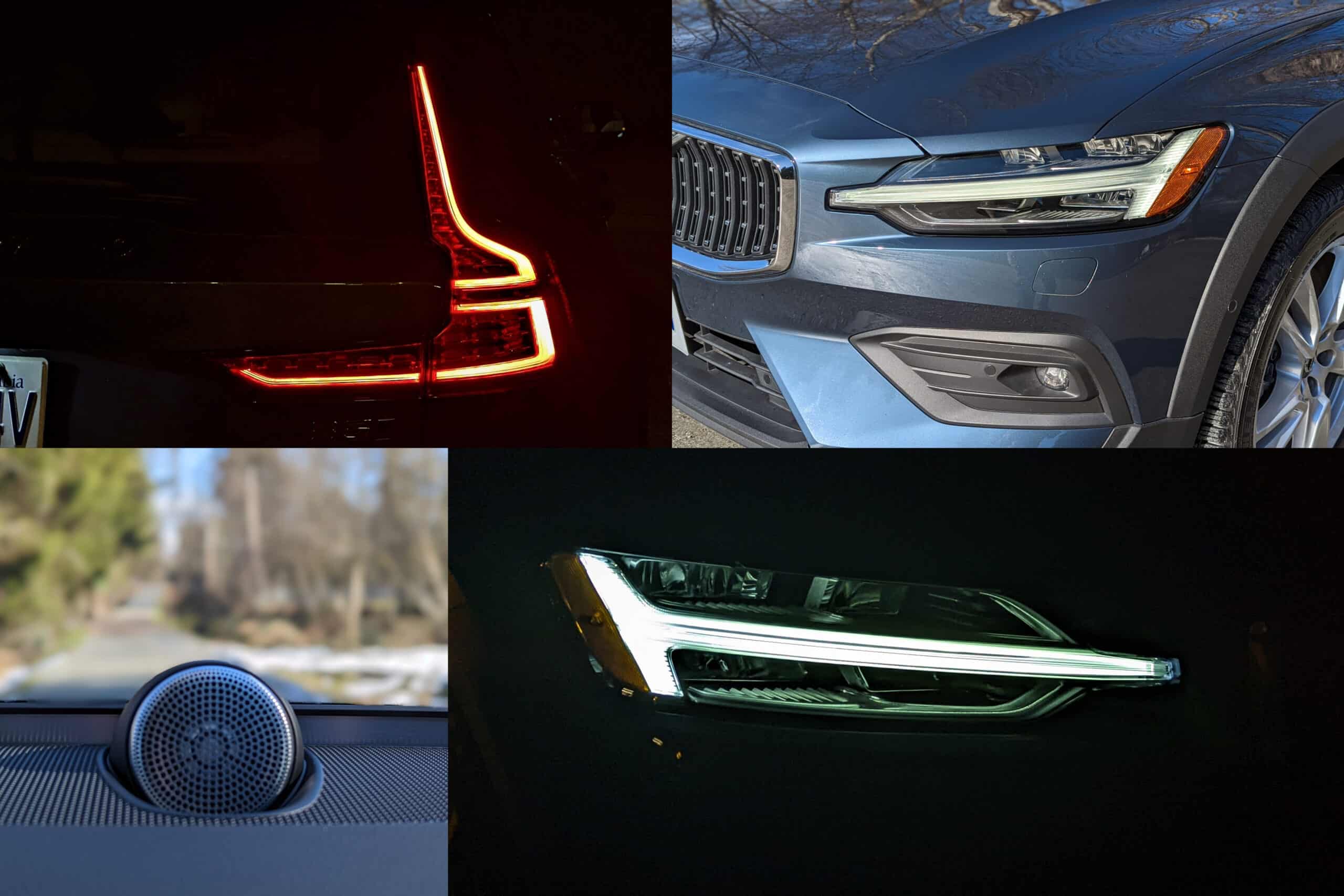 The V60 uses Volvo's family design language with the "Thor's Hammer" headlights and the L and backwards-L shaped taillights that go all the way up the back side of the D-pillar. The V60 features a long hood which is beautifully complimented by the long roof.
2023 Volvo V60 Cross Country Interior/Features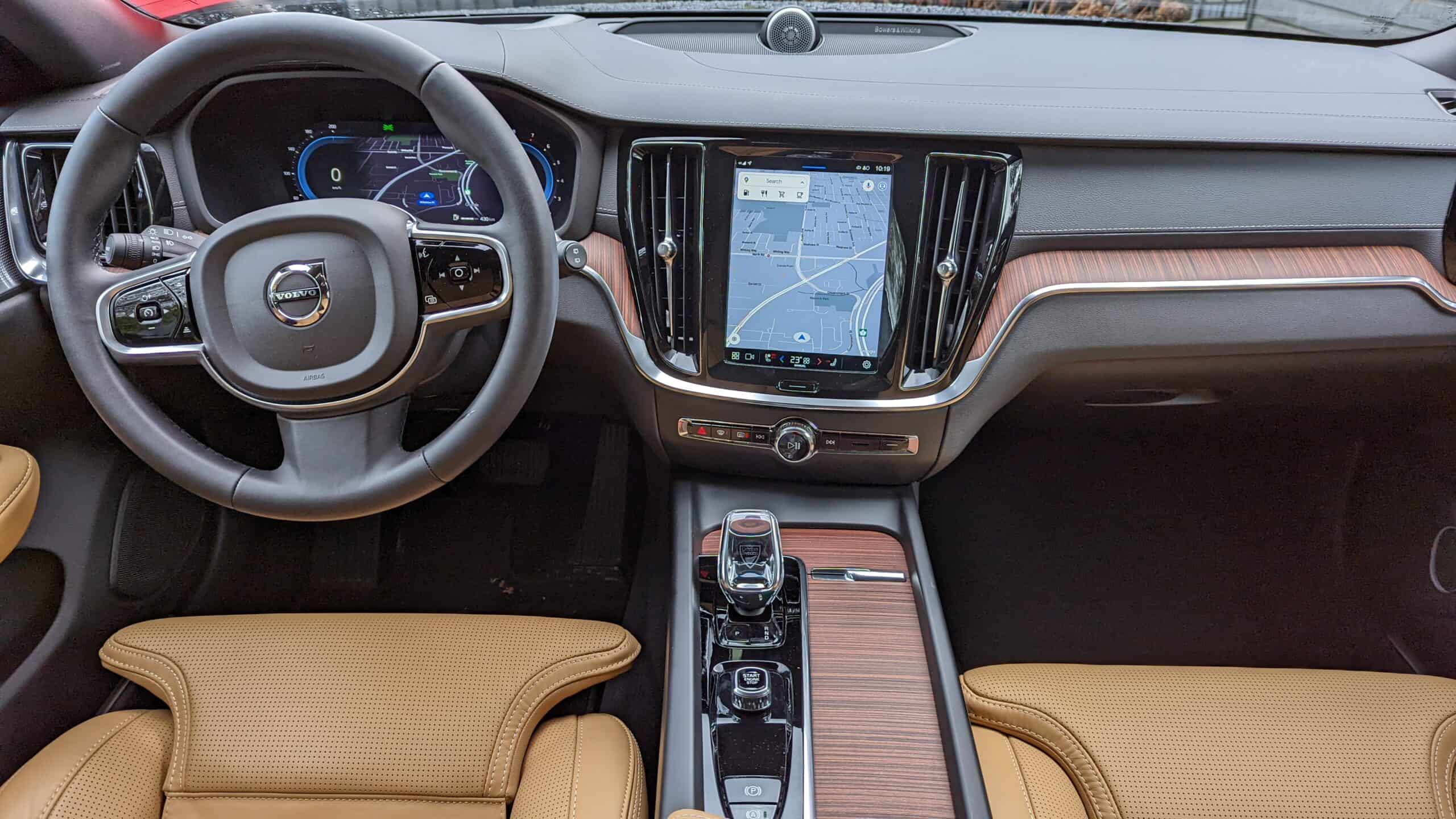 The Volvo V60's interior is almost identical to all the other vehicles in Volvo's lineup. You can have a look at any of the other reviews for my thoughts on the interior. This interior design has been around for a while now, but it still looks sleek. Maybe the 9" vertical infotainment screen looks a bit small in the world of massive screens, but it's still a decent size.
Our car came with the brown Nappa leather seats, which look absolutely beautiful and they're super comfortable; these seats came with heating and cooling, and the optional massage seats were quite pleasant to use.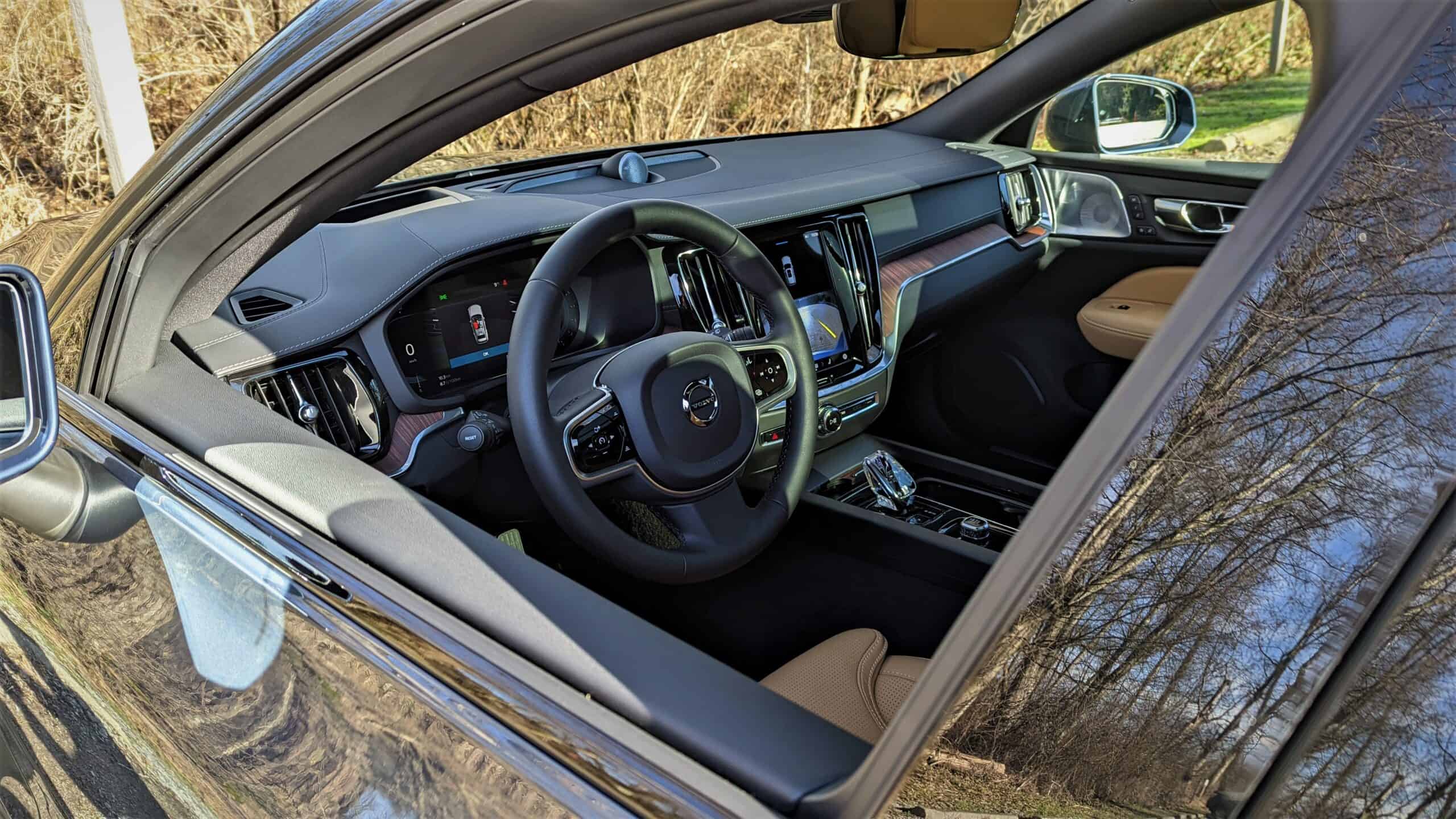 One of the biggest selling points of a wagon is the ability to carry loads of cargo. The V60 CC has more than enough cargo area, with 658 liters of cargo space in the trunk, which more than doubles to 1,441 liters with the rear seats folded. This is an impressive amount of space, more than enough for a Costco trip or whatever else you can think of.
On the tech, convenience, and safety front, the Volvo V60 doesn't disappoint. Our top trim came with many features we've come to expect from modern cars. Features like blind spot monitoring, lane keep assist, smart cruise, emergency brake assist, multiple airbags, LED headlights and taillights, and much more.
Final Thoughts
The Volvo V60 Cross Country is an excellent family vehicle that's the best of both worlds; it's a practical station wagon, is raised like an SUV, and is much more stylish than any SUV I can think of. It's luxurious, practical, fun to drive, and fuel efficient. It's part of a dying breed, but hopefully, Volvo will keep producing these types of vehicles well into the future. Check out Volvo's official website for more information on the V60 Cross Country and other Volvo vehicles.