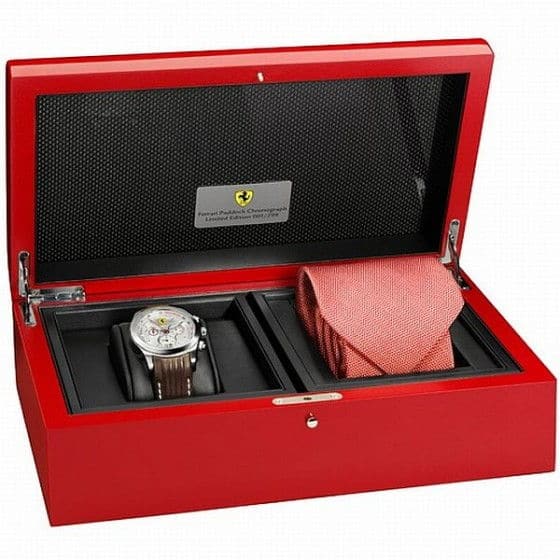 Ferrari has rolled out the Ferrari Paddock Chronograph watch collection, available exclusively to its online customers and limited to 299 pieces in each variation.  The collection pays homage to Italy, each set representing the three colors in the Italian flag (red, green and white).  Each box comes with a watch and an exclusive item and has an engraved limited edition numbered plate.
The green lacquered box comes with a silver chronograph watch with a black face and a black strap.  The exclusive item for this box is a paperweight that is shaped like the Ferrari Shield (the shield is around $10,000 option on Ferrari cars) and has a shiny finish to it.  The white Ferrari Paddock Chronograph box comes with a black cased watch with a black strap.  The exclusive item for this box is a pair of cuff-links with the Ferrari prancing horse enameled on them.  The red box comes with a silver cased watch with a white face and a brown strap.  This box includes a silk Ferrari jacquard.
I'm not sure about who makes the watches in this set but they are powered by a Swiss quartz movement, most likely Chines made.  The watches come in a 42 mm case and come with leather straps and butterfly buckles in stainless steel.
The limited edition Ferrari Paddock Chronograph watch sets are priced at €695, not a bad price considering only 299 of each set will be sold.
Limited Edition Ferrari Paddock Chronograph Watch Sets Photo Gallery: