This year marks the 30th anniversary of the world-famous Casio G-Shock watches.  Casio has released quite a few new watches to celebrate the occasion, but the most interesting one(s) is the limited edition Lightening Yellow collection of watches.
The 30th Anniversary Limited Edition Lightening Yellow G-Shock collection consists of 5 watches, ranging from affordable ($140) to pretty expensive ($1,700)…for G-Shock at least.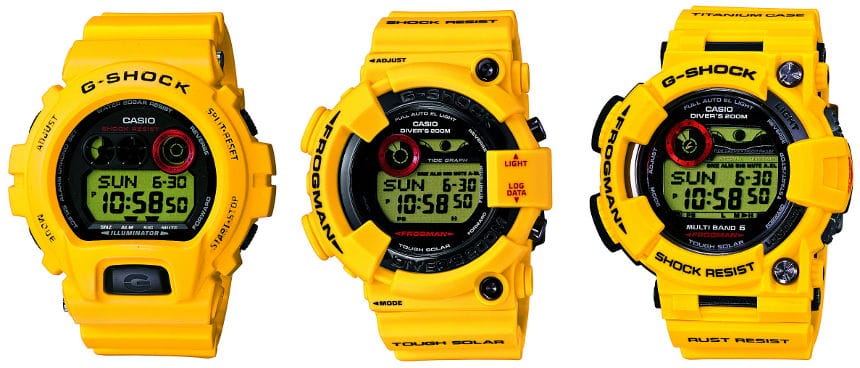 The first watch is the GDX6903E-9, which is from the G-Shock XL 6900 family, but is taken a step further with a 10% increase in size.  This thing is massive and bright, it will really get you noticed.  Because of the larger size, a material called Alpha-Gel had to be sued for the shock absorption.  The watch comes with the usual features common to G-Shock watches: water resistance to 200 meters, multiple alarms, LED light, stop watch, 48 city world timer, and of course, the legendary shock resistant body.
The other watches in the collection are Master of G Frogman, GF8230E-9 and GWFT103E-9.  These are the more expensive watches in the collection and are intended for divers, these watches are ISO certified to 200 meter water resistance.  The watches are solar powered and come with moon-tide graph among other standard features described above.  The GF8230E-9 comes in a stainless steel body, while the GWFT103E-9 comes in a titanium body – both wrapped in polyurethane resin.  The GWFT also comes with Casio's Multi-band 6 Atomic time technology to automatically adjust the time and date.
The limited edition Casio G-Shock Lightening Yellow 30th Anniversary watches will be available in December with the following prices: GDX6930E-9 priced at $140, GF8230E-9 priced at $500, and the GWFT103E-9 priced at $1,700!  Via: G-Shock