I often go for long hikes in the summer and most of the time I either forget to bring water with me or don't bring enough.  Luckily, living in a city whose surrounding are basically a rainforest means there is always water available in small streams and lakes, but drinking that water might not sit well with the intestines.  In these types of situations, the LifeStraw Personal Water Filter would come in quite handy because it's easy to carry and weighs less than a bottle of water.
This portable water filter is also useful for people that don't want to carry large amounts of water in their backpacks on longer hikes and for people that don't like the idea of polluting the earth with plastic bottles.  The LifeStraw filter can also come in handy in emergency situations, such as a floods or heavy rain where the city's water supply gets contaminated.  If I were making an emergency kit, I would definitely include a few of these water filters.
The LifeStraw water filter has been around since 2005 (I'm surprised I didn't see it before) and has won numerous awards and has been in use in many 3rd world countries.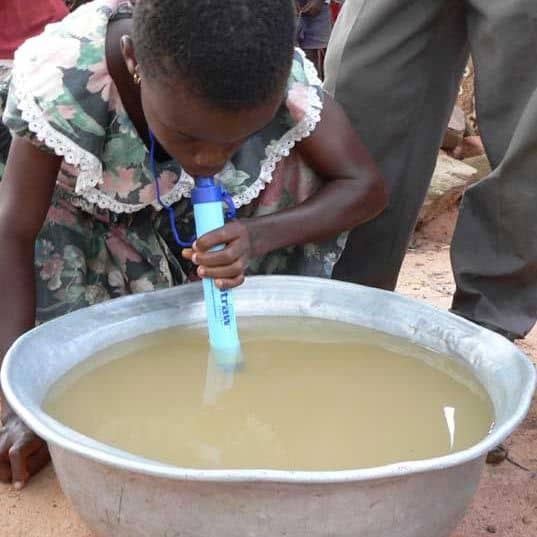 This personal water filter can filter up to 264 gallons (1,000 liters) of water, is made out of durable material with no moving parts, and is easy to clean.  The filter measures 9" in length and 1" in width and weighs 2 ounces.  Below are some of the features of the LifeStraw Personal Water Filtration system:
Removes 99.9% of waterborne protozoan parasites (>LOG 3 reduction).
Removes 99.9999% of waterborne bacteria (>LOG 6 reduction).
Reduces turbidity, filtering down to 0.2 microns.
Contains no chemicals (and is BPA-free), uses no batteries, has no moving parts.
Below is a list of some of the bacteria and other nasty stuff this filter removes:
Escherichia coli
Campylobacter
Pseudomonas aeruginosa
Salmonella
Shigella
Vibrio cholerae
Cryptosporidium Parvum
Entamoeba histolytica
Giardia lamblia ("Beaver Fever")
The LifeStraw is available online at eartheasy.com and amazon.com, ranging in price from $19.95 to $24.95.