Lexus, the company known for making luxurious cars that are extremely well built and mostly driven by old people, has been trying to reinvent itself by showing us some exciting new products lately that would appeal to a younger crowd.  Their latest creation is the Lexus LS TMG Sports 650, based on the Lexus LS luxury sedan.
The car is the brainchild of Toyota Motorsports GmbH (TMG) and is much more aggressive looking than any stock Lexus sedan.  The TMG Sports 650 sports sedan is powered a 5.0 liter twin-turbo V8 engine mated to an 8-speed automatic transmission.  The turbocharged engine produces a massive 650 PS (641 horsepower) and 524 pound-feet (710 Nm) of torque and revs up to 9,000 rpm.  Lexus didn't provide any info on how fast it goes but we're sure it would be able to keep up with Mercedes AMGs and BMW Ms.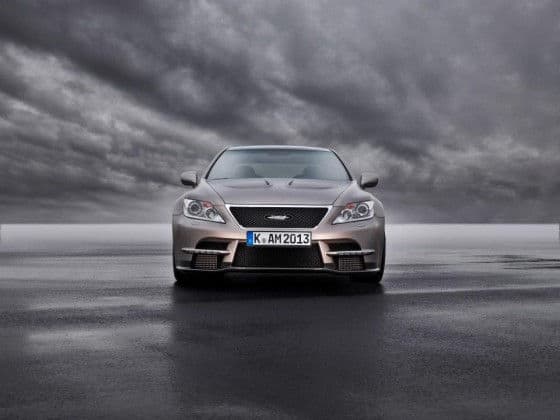 The TMG Sports 650 looks ready to take on the competition and would look right at home in the next "Fast & Furious" movie, maybe a retired Vin Diesel will drive this car in "Fast & Furious 10".  The car features an aggressive front bumper with large air intakes and LED daytime running lights, wide fender flares, side skirts, carbon fiber lip spoiler, a very aggressive rear bumper with a diffuser and 4 integrated tail pipes, and BBS wheels with Michelin tires.  The hood features deep vents and there are large vents on the front fenders to take away hot air from the powerful turbocharged V8 engine.
The TMG Sports 650 sedan doesn't feature any Lexus badges; instead it comes with TMG badges on the front and rear.  Lexus didn't say what it plans to do with this car, for now it's a concept but who knows, if the demand is there, they might make it a production model.
TMG Sports 650 Photo Gallery