Lexus is on a roll coming up with some very aggressive looking car designs lately; earlier this year they showcased the LF-LC Hybrid Concept car at the Detroit Auto Show and now they will bring the all-new Lexus LF-CC Hybrid Concept car to the Paris Motor Show.
Unlike the LF-LC, the Lexus LF-CC looks more production ready, which means it's not as aggressive looking but still quite aggressive for a Lexus, and the LF-CC could be the base for the upcoming Lexus IS sport sedan/coupe.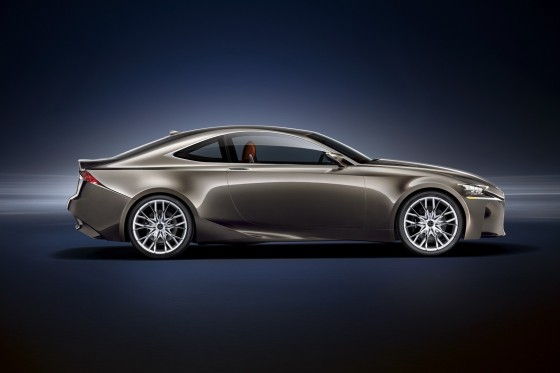 Like all new Lexus vehicles, the LF-CC features the weird looking grill that I'm not a fan of, but I guess it's part of Lexus' "L-Finesse" design concept, maybe I'll get used to it in a few years.  The car features an aggressive front with a bumper that's almost nonexistent; this will obviously not make it to the production version, the front bumper comes with some crazy looking scoops at the front corners.  The headlights are placed deep into the body, away from the grill and feature 3 LED projectors on each side.  The rear is very aggressive as well with some very sharp lines, it almost looks like an Acura (somewhat).
The interior looks very sporty and features very comfortable looking bucket seats that are placed quite low in the cockpit.  The dashboard features soft touch materials and the center console has a large touch screen that replaces all the manual knobs and buttons found on most cars, this feature probably won't make it to the production version either.
The Lexus LF-CC Hybrid Concept is powered by an all-new 2.5 liter 4-cylinder gasoline engine, with direct injection, that should produce over 200 horsepower.  There is also an electric motor to assist the gasoline engine and help reduce fuel consumption but Lexus didn't provide any specifics on it.  We'll bring you more info on this car once it's presented at the Paris Motor Show.
Lexus LF-CC Hybrid Concept Pictures