"I don't know what this is, I don't care what this is, but what I do know is that I want one" was my initial thought when I saw pictures of the Lazareth Wazuma V8F Matt Edition. This vehicle is based on the Wazuma R1, a quad featuring a W-wheeled geometry. While the Wazuma R1 featured an Yamaha R1 engine, the Wazuma V8F features a 3.0-liter Ferrari V8 and its linked to a six-speed sequential gearbox sourced out of a BMW M3. And the headlights appear to be that of a Nissan 350Z? Regardless, this is one amazing piece of machinery.
The Ferrari V8 motor produces approximately 250 horsepower and it has been modified to use the injection system from two Yamaha R1 engines. The sequential gearbox has been updated and gear selection can be made from the handlebars rather than using your foot. With 250 horsepower and the vehicle only weighing in at 1,433 pounds, the top speed for the Lazareth Wazuma V8F is in the 200mph range. Not sure how it would perform in the corners but the vehicle will definitely have bullet-like characteristics when going in a straight line.
The Wazuma V8F also features modified 18-inch Momo (+ Power) wheels, Brembo calipers and disc brakes on all four wheels,suspension system featuring four horizontal shock absorbers. The tires on the quad feature 285/30ZR18's up in the front and 315/30ZR18 in the rear.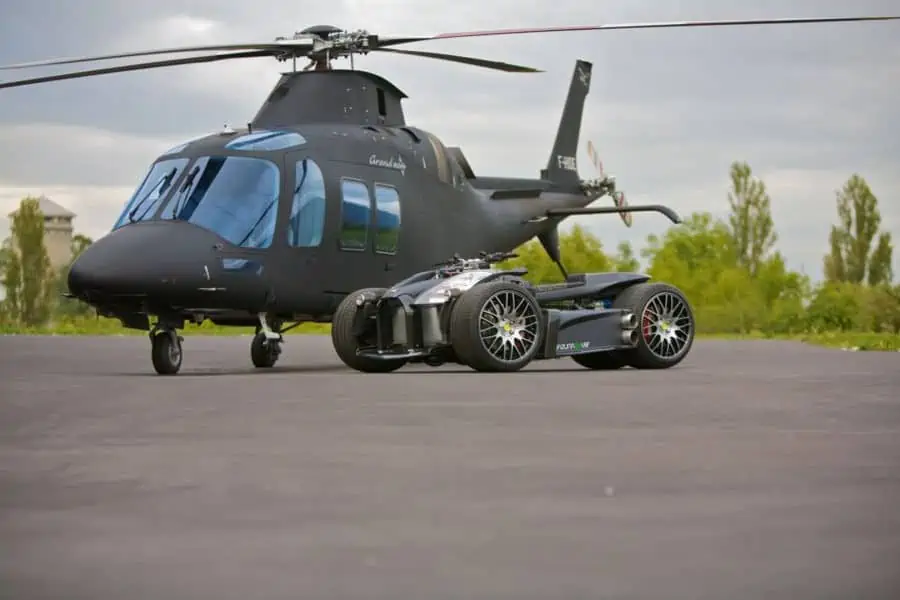 The Lazareth Wazuma V8F Matt Edition is a one-off piece and the price is unspecified. With that being said, the standard Wazuma V8F has a price tag of $250,000 just to give you a general idea. It's an very awesome looking vehicle but definitely not worth the money.
Lazareth Wazuma V8F Gallery