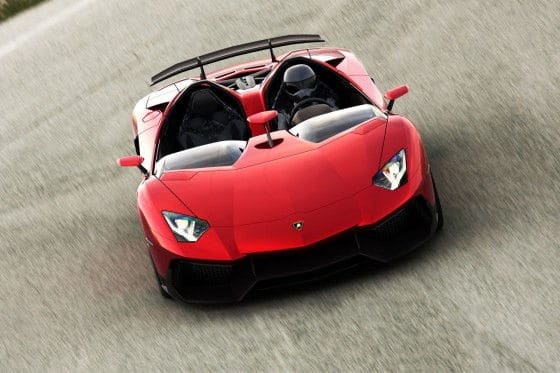 Not to be outdone by the all-new Ferrari F12 Berlinetta, Lamborghini is bringing a very special supercar to the Geneva Motor Show.  The car is super-exclusive, only one will be made for a very rich customer; it's called the Lamborghini Aventador J.  The "J" stands for Appendix J from one of the FIA's rule books.
The Lamborghini Aventador J speedster is based on the Aventador supercar and it looks like the perfect car for Speed Racer.  The designers chopped the roof off the Aventador and put on a very small windshield, if you want to call it that.  The "windshield" is so small, the test driver is wearing a helmet that looks like it came off of a jet pilot (cool jet pilot helmet not included).  The chassis was reinforced and a pair of carbon fiber roll bars were placed behind the driver and the passenger seats.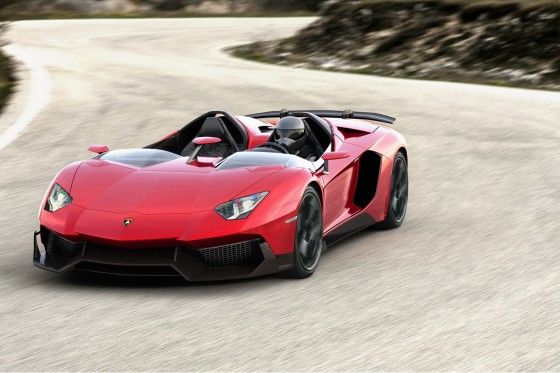 The Aventador J speedster got a redesigned exterior with larger air inlets all around, a carbon fiber rear diffuser, and a new spoiler.  The one-off roadster rides on lightweight 20" front and 21" rear wheels with wide tires.
To reduce weight, Lamborghini engineers got rid of the air conditioning, navigation system, and added carbon fiber seats.  The car weighs 3,742 pounds and is powered by the same 6.5 liter V12 engine found in the Aventador LP700-4, producing 691 horsepower.
Before you get out your check book and reach for the phone to order the Lamborghini Aventador J speedster, I'll give you the bad news, it's already sold.  Sorry 😉
Lamborghini Aventador J Speedster Pictures