I don't think I'll ever get tired of writing about the Land Rover Defender and if the Defender has aftermarket modifications, it puts an even bigger smile on my face.  British car tuning firm A. Kahn Design, formerly known as Project Kahn, has tuned the Land Rover Defender called the XS 90 under the Chelsea Truck Company, a sub-brand of Kahn Design that specializes in off-road vehicles.
The exterior upgrades are minimal with the main standout being the mesh grill and mesh headlight protectors.  The Defender XS 90 is painted in Orkney Grey color with matte black paint on the side steps, front and rear bumpers, mirror caps, and the 18" Khan Design wheels.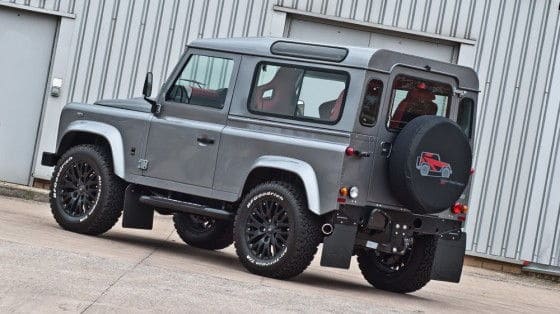 The interior is where most of the magic happens with red leather covered sports seats with contrasting stitching.  The same leather material is also applied to the door panels, arm rests, headliner, and parts of the dashboard.  The gauges have a red background with white numbers and the steering wheel is covered in grey Alcantara.
The Chelsea Truck Company Defender XS 90 is still powered by a stock 2.2 liter turbo-diesel engine, producing only 120 horsepower and 265 pound-feet (360 Nm) of torque, mated to a 6-speed manual transmission.
Check out our articles on other tuned Land Rover Defenders, my all-time favorite is the Vilner tuned Defender and second place is the STARTECH Defender 90 Yachting.
Kahn Design Land Rover Defender XS 90 Pictures