The iconic American brand Jeep has teamed up with French design studio, Style & Design, to create two concept nautical-themed Jeep Wrangler Unlimited models, presented at Salon Nautique de Paris (Paris Nautical Show).  The bespoke vehicles are called Wrangler Nautic Blanche and Wrangler Nautic Noir and seem to have been inspired somewhat by the Defender 90 Yachting.
The Jeep Wrangler Nautic Blanche's design is inspired by a sailboat and features an all-white exterior with chrome 20 inch wheels and chrome grill, door handles, gas cap, and trunk hinges.  The interior is quite luxurious and features while leather and wood trim.  Unlike the Defender Yachting, the concept Wrangler doesn't have wood floors instead it uses regular carpets that have the look of wood.  The Wrangler also comes with a small tent for shade and a pair of white canvas chairs.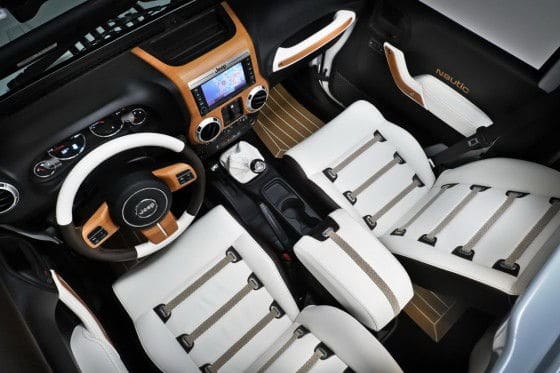 The Jeep Wrangler Nautic Noir's design is inspired by a luxury yacht and features a black exterior and black leather interior.  Everything else on the black version is the same as the white version.
Both of these vehicles are a one off concept and Jeep doesn't have any immediate plans for making them into production models.  I personally like these concept vehicles a lot, with the recent introduction of the new engine these should sell quite well.
Jeep Wrangler Unlimited Nautic Blanche & Nautic Noire