There was a time when you wanted to stand out from the crowd or be a "rebel", you'd get a Harley Davidson motorcycle, but those days are long gone. HD motorcycles are too mainstream, and many middle aged men going through mid-life crisis have these bikes.  If you really want to stand out, you should check out Janus Motorcycles. Janus is a brand new motorcycle company based out of Goshen, Indiana.  The company is building small displacement bikes that take their design inspirations from "racing" bikes from the 1920's and 1930's, although not as powerful as Harley Davidson bikes, they're cooler and you won't feel like you're compensating for something ;).
The first motorcycle (or moped) to come out of the newly formed company is the Halcyon 50, a bike that looks like it was brought to the future in a time machine.  The bike is powered by a small water-cooled 50cc 2-stroke engine which is mated to a 6-speed transmission.  The small engine produces 10 horsepower and can reach a top speed of 55 mph and achieve over 60 miles per gallon. Not bad given the cost of gasoline these days.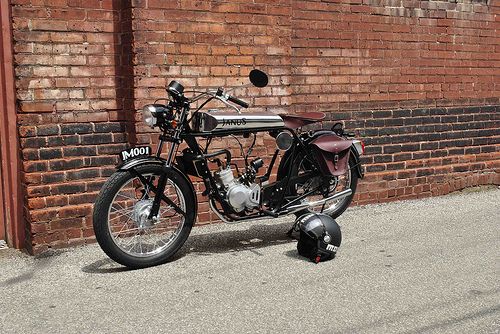 The Janus Halcyon 50 is a very cool looking bike; it has a long polished aluminum fuel tank that has a capacity of 3 gallons, a lather seat, and a pair of leather side bags.  The bike comes with 18" wheels, a kick and electric starter, turn signals, high and low beam headlight, and is fully street legal.  The 2-stroke engine is sourced from Spain and the transmission from Italy, the engine can be modified to produce 20 horsepower.
The Janus Halcyon 50 is priced at $5,300 and the Halcyon Basic is priced at $3,900.  For more information on these cool retro bikes, check out the official Janus website, or you can always shop around for something a little more, shall we say, conventional. If you need inspiration, we cover a wide range of awesome motorcycles for sale here on Unfinished Man.
Janus Halcyon Motorcycles Pictures