Swiss watchmaker, Jaeger-LeCoultre, and Aston Martin have been collaborating on automobile themed watches for 8 years and their latest creation is the AMVOX7 chronograph, the 7th watch in the line.
The watch is a pretty good looking piece but to say the dial is "busy" would be an understatement.  It took me over 10 minutes to find the date window (located at 6 o'clock position), I thought the sub-dial at the 3 o'clock position was for the date and the sub-dial at the 9 o'clock was for months, boy was I wrong.
The Jaeger-LeCoultre AMVOX7 Chronograph Aston Martin watch does have a pretty cool feature that deserves a mention.  Unlike traditional watches, the chronograph function is turned on and off by a push on the top of the glass and a push on the bottom of the glass resets the chronograph dials.  This feature can be locked and unlock by a button on the left side of the case.  This pushing feature is cool but the watch will get very dirty and nothing pisses me off more than fingerprints on my sapphire crystal!!  I've yelled at many non-watch-guy friends for putting their dirty fingers on my watch glass.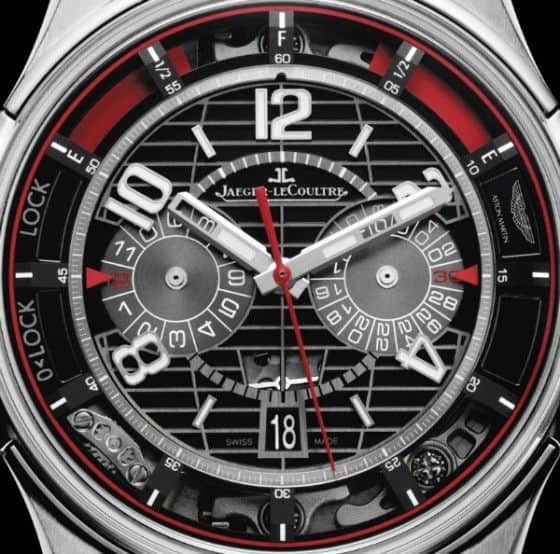 Another unusual feature on the AMVOX7 watch is the power-reserve indicator, which Jaeger-LeCoultre calls "radial power reserve display".  That's a fancy way of saying there are two red stripes at the top of the dial that slowly recede behind the dial as the reserve is drawn, the video below showcases this function nicely.  The power reserve indicator does remind me a bit of fuel gauge displays on modern cars, the ones where a big bar is displayed and as fuel level goes down, the LED bar gets smaller.
The Jaeger-LeCoultre AMVOX7 Chronograph Aston Martin watch comes in a 44mm titanium case with sapphire crystal on the dial and is attached to a black leather strap.  The watch is powered by an in-house Jaeger-LeCoultre caliber 756 mechanical-automatic movement with 65 hour power reserve and is water resistant to 50 meters.  The AMVOX7 is priced at $26,000.