I think every guy went through a phase where he tried out a skate shoe thinking it would make him look like a bad-ass, regardless of whether or not he actually lived the lifestyle. With the I-don't-give-a-shit 90s come and gone, the idea of the skate shoe (to me, anyways) evokes images of the clunky, grubby antiques of the sneaker world.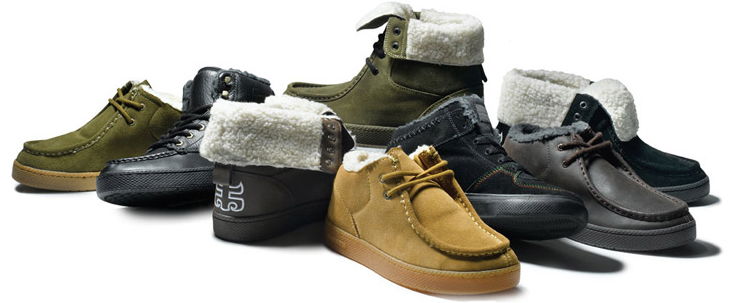 The principles of comfort nestled in width, simplicity and cushy soles certainly appeal to me, but it was definitely with trepidation that I opened the box of my new Ipath Cats shoes. After the plethora of neon, logo emblazoned offerings on the market, these shoes were a welcome, updated take on a simple retro look. After sliding these kicks on, however, I can say I'm back to being [more of] a badass, and I look pretty damn respectable doing it. If you're clinging to ratty, faded pair out of a nostalgic need for comfort: seriously, take a step forward.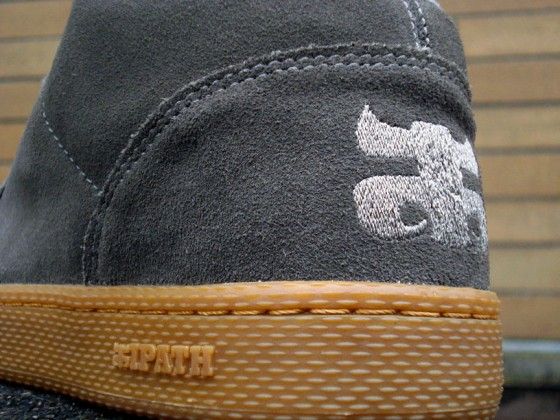 After checking out the full line of Ipath's offerings, I was impressed with more than just how awesome these shoes feel. They come in understated masculine colours, and the styling is a pretty radical mix of old school Doc Martins, classic Vans, and Hush Puppies. It sounds crazy, but these nut jobs are on to something. They've even got a Shearling line for fall/winter, and they somehow manage to make it look manly.
The best things about the Ipaths Cats Shoes?
Really excellent construction; all of the stitching is immaculate, the soles are heavy, yet flexible, and the rolled detail where the thick materials meet is an attractive feature showing off how hearty these things are.

They're comfortable as hell- seriously, it's like wearing slippers that you could jump around in a tub of needles in. They're also don't need that annoying heel brace that often shreds up the back of your shoes if you slip them on and off without tying.

The soles have excellent grip, and are wide and flat; even if you aren't used to a bigger shoe, you feel remarkably connected with whatever surface you're walking on.

The styling is versatile. Wear a fitted pair of dark denim, and these look more like a suede dress shoe than sneakers. Wear them with your most disintegrated jeans: they still look like a skate shoe, but people will applaud you on your carefully crafted, stylish disheveled pairing. (We at unfinished man like to think of pants as an optional accessory.)
There are hemp and vegan options for most styles, if you're into either of those things. The suede and leather boots are rad, but we're also a big proponent of bacon in every form. All of these materials are tough shit.

There's a handy pocket in the tongue. This is actually for your laces to tuck into, but it's pretty awesome for other stuff. In our picture, we've got a set of keys in there. You can also try hiding your illegal substances, credit cards, or small house pets.
These shoes have a bit of heft to them, but I actually like that, so I guess don't buy them if you have weak girly legs. They also come with an extra set of laces in Jamaican colours that make them look like clown shoes, so unless you're rockin' the Rastafarian drug vibe, I'd steer clear of using them.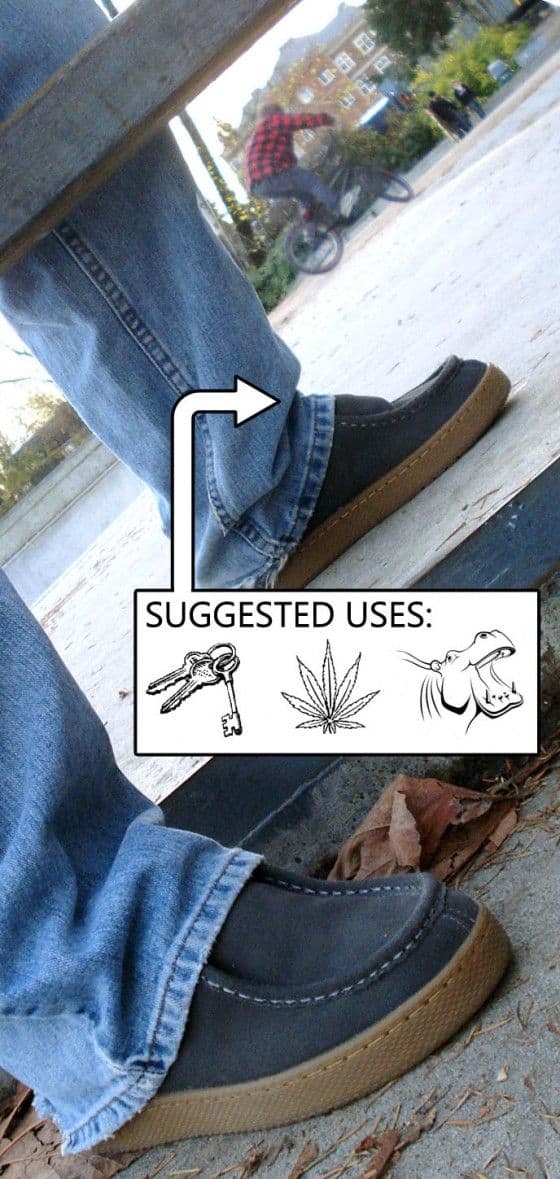 Overall, these Ipath Cats shoes are a great, manly take on a casual look if you're one of those nothing but leather loafers types of guys. They make a lot of the best things about skate shoes accessible to any guy who still gives a crap about how he looks.
And, most importantly, if you do actually skate or bike, you won't look like a ten year old douche-bag or grungy hobo doing it.