I'm going to give you guys a break today from the usual gadgets, cars, and video game news. Today, I'm going to introduce you to someone that is very easy on the eyes. Her name is Lisa Song Sutton and I had an opportunity to interview this Korean-American model.
She's a work of art not only physically but has a personality to match. I know it will be tough for you guys to read with those pictures below but try to focus here and see what Lisa Song Sutton is all about.
Unfinished Man: Lisa, tell our readers a little bit about yourself and when did you first get into modeling?
Lisa Song Sutton: Hi Unfinished Man readers! I'm Lisa Song Sutton, a Korean-American model who was born in Seoul, South Korea and grew up in Arizona. I was blessed and fortunate to get signed with a major modeling agency when I was 19. During my college years I modeled as a Jack Daniels girl, a Bud Light girl, pretty much any "college-y" type promo modeling that I could get my hands on. A few years later I moved to Miami for more schooling and lived in South Beach. While in Florida I transitioned away from the college promo modeling in to print work, swimsuit, lingerie, car calendars, and high-end modeling events.
UM: Before modeling, what jobs have you held in the past?
Lisa: I come from a strict Asian household so growing up I was told that while in college and attending school full-time I was not allowed to have a job, my job should be concentrating on school and doing well. During my freshmen year I rebelled and got a job working retail at Guess. It lasted about two weeks. My manager couldn't find me and it's because I was trying on clothes in the dressing room when I probably should have been folding them. (laughs)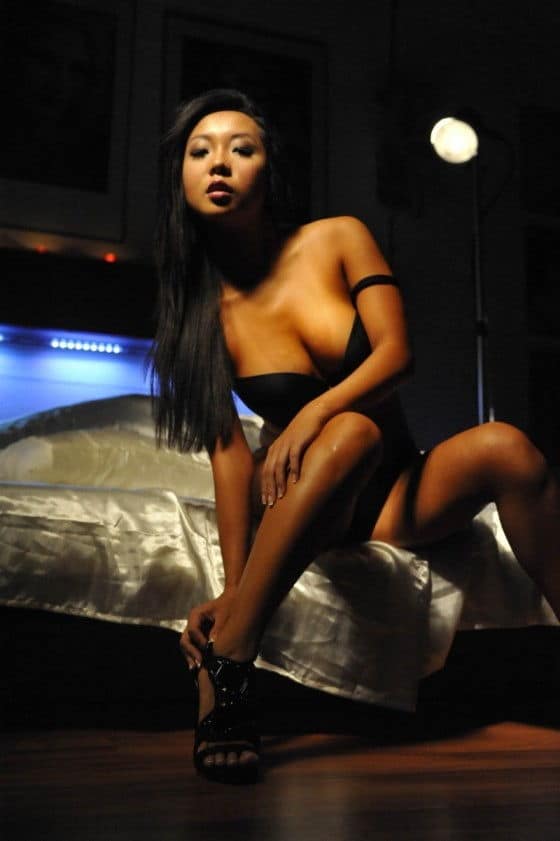 UM: What was your favorite and least favorite job you've had?
Lisa: My favorite modeling job was having the opportunity to shoot with Alex Manfredini. He is a top glamour photographer, internationally recognized, and is one of the nicest people in the industry. I learned so much through my experience with him. The work I did with Fred was featured in Maxim and Stuff for Men magazines.
Hmm…my least favorite modeling job would probably be when I was on a particular photo shoot in Key West, Florida for a bikini calendar. The photographer and staff were awesome but unfortunately to get "the shot" I had to lay down on my right side in a very particular, very sandy part of the beach…that just happened to be crawling with tiny ants. I felt like I was on Fear Factor! I could feel them crawling all under me and even trying to get in to my armpit. It was the grossest sensation, but I stuck it out, and I received a 'call-back' (model speak for a second casting) from Sports Illustrated for that particular shot so I would definitely say it was worth it. But bugs, yuck!
UM: Do you have a specific style of modeling you prefer? (ie. Lingerie, fashion, artistic, etc)
Lisa: I definitely enjoy being creative and celebrating being comfortable in your own skin. Lingerie modeling is a lot of fun because you get to play dress up with lace, satin, and of course beautiful jewelry.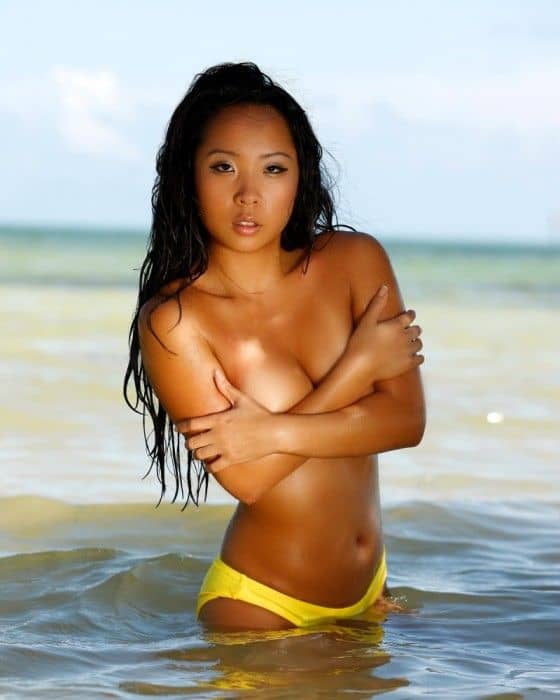 UM: Have you entered any modeling contests in the past?
Lisa: No, not very many modeling contests. I am more of a pageant girl than modeling contest girl. I was a former titleholder within the Miss America Organization and most recently competed within the Miss USA system.
UM: If the opportunity came, would you model for Playboy Magazine?
Lisa: Playboy Magazine actually contacted me to be a part of a special college issue but I declined the opportunity. Especially because of my future in the legal community, Playboy Magazine is not the direction I plan to take my modeling. However, I have several girlfriends and acquaintances in the modeling world that have been selected to pose for Playboy and their images are just beautiful. I have heard nothing but great things from the girls about their experience with Playboy's photographers and creative directors.
UM: What are some of the biggest magazines you've been featured in, other than Unfinished Man?
Lisa: I have been blessed to be featured in numerous magazines and calendars. Of the major magazines Maxim, FHM, Stuff for Men, and Import Tuner are personal standouts for me. A magazine I take great pride in being featured in was World Soccer for their "Sexy FIFA Girls" selection during the last World Cup. I had the opportunity to represent my home country of South Korea.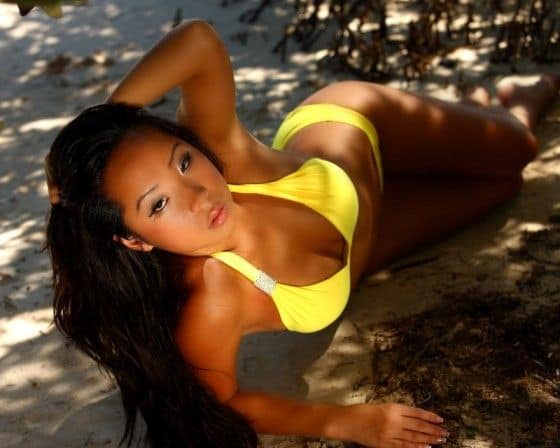 UM: What would you like to be doing five years from now?
Lisa: Five years from now I see myself continuing to build and grow my careers in the modeling and legal communities.
UM: Do you have any interest in acting?
Lisa: Definitely! I have had the opportunity to act in small featured extra parts in some television shows but what I really love is television hosting. I had the opportunity to work with a great entertainment show based in Florida that is a part of the CBS affiliate there and I got to interview, among others, Snoop Dogg, Nick Lachey, Jimmie Johnson, Michael Strahan, and Paul Oakenfold during Superbowl 41 in Miami. It was a blast.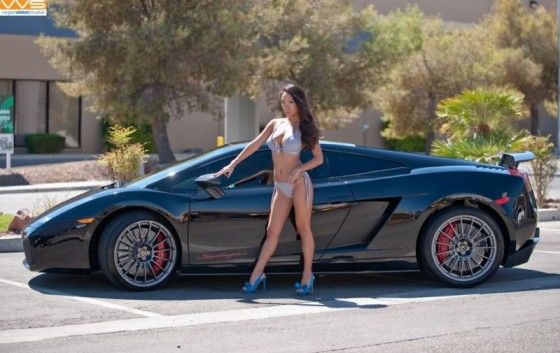 UM: Do you do a lot of outdoor activities whether it's sports, hiking, swimming, etc?
Lisa: One of my favorite outdoor activities is yoga on the beach. When I lived in South Beach, it was so convenient to head down to 3rd street beach. Here on the (Las Vegas) Strip, there's not too much water, well unless you count our fabulous pool parties. Wait, do pool parties count as outdoor activities? (laughs). But seriously, even though I am not extremely athletic I do love the outdoors and definitely enjoy attending sporting events. Attending baseball games are simply amazing during the summertime.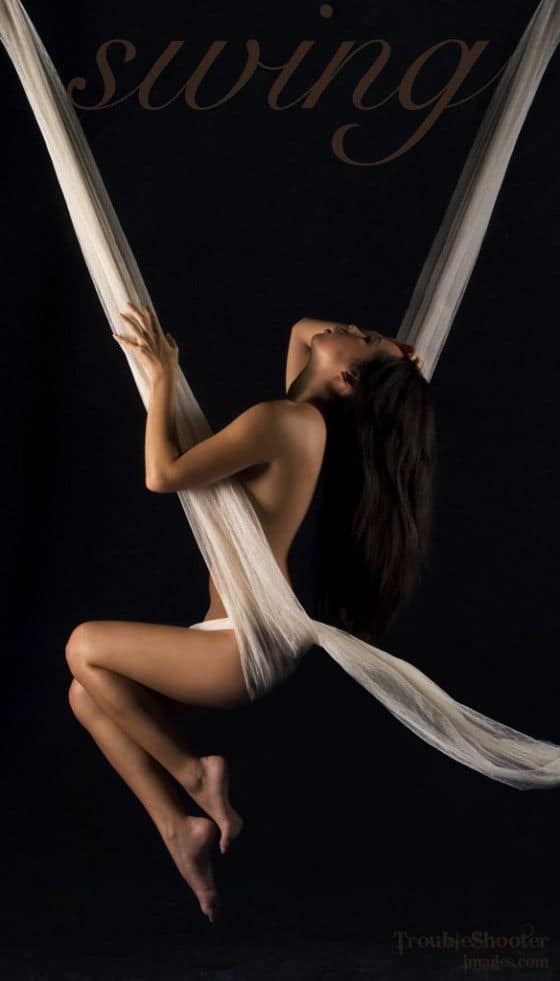 UM: And how often do you workout?
Lisa: I try to fit in bikram yoga and cardio three times a week, depending on my schedule.
UM: You have a slim body but are there days when you ignore the calories and eat whatever the heck you want? If so, what is your favorite meal?
Lisa: O-M-G I am a total foodie whore. If my TV is on in my condo, it's tuned on Food Network and I am an avid restaurant Yelp-er. It's so tough to choose one favorite meal. I love it all, but one of my top guilty pleasures is home-made pizza. I love loading it up with tons of toppings and of course lots of cheese. I also cannot go more than a week without consuming at least one Korean meal. Kimchi please.
UM: What type of music can be found on your mp3 player?
Lisa: I have a healthy mix of genres on my Ipod. Sinatra, Jay-Z, Smashing Pumpkins, Beethoven, you name it, it's there.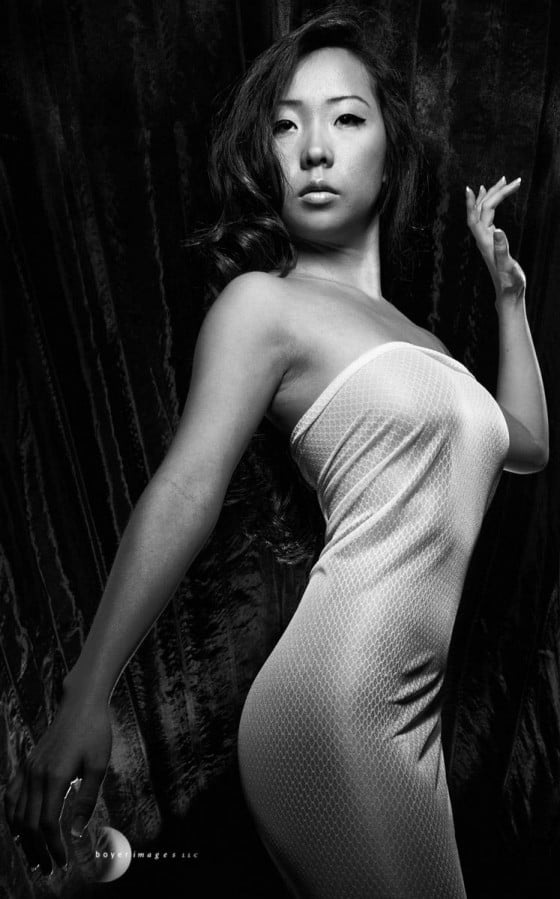 UM: What are a few of your favorite movies?
Lisa: I love suspense, drama, and a great story. One of my favorite movies is the Boondock Saints. I discovered it in a Wal-Mart 2.99 DVD bin in the early 2000s before it became trendy. The Dark Knight and Gladiator are solid too.
UM: How often are you on the road for work?
Lisa: I travel out-of-state at least once a month for modeling. Between the office, modeling in-state on the weekends, and traveling for out-of-state bookings my schedule is pretty hectic.
UM: What do you currently drive and what is your dream car?
Lisa: I have a Range Rover Sport and a Honda Accord. Unfortunately the Sport gets about eight miles to the gallon so the Accord is ol' reliable for running around between home and the office during the weekdays. One of my neighbors has a Maserati GranTurismo and it is just stunning. I hope to own one within the next 3-5 years.
UM: As you know, many of our readers are men and they are all wondering if you are single. So what's the deal with that?
Lisa: Aww, actually I'm in a relationship. He's very supportive of my modeling and I really appreciate his understanding and flexibility with my very busy schedule.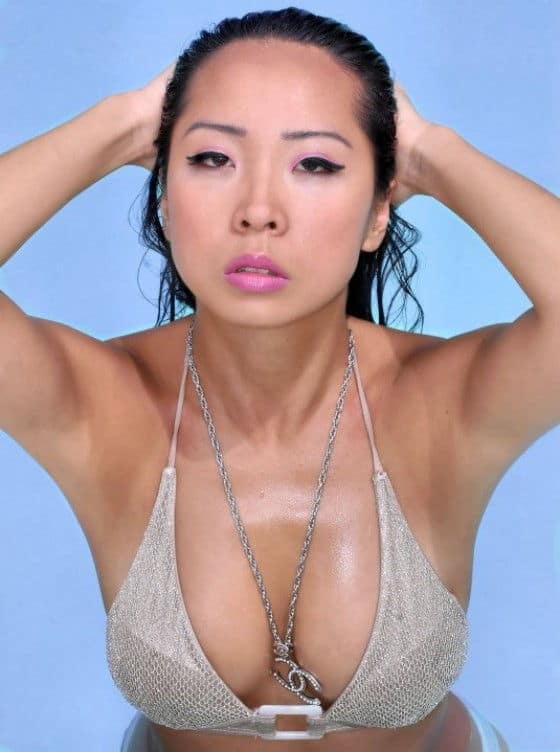 UM: [Sorry guys, she's taken] When you go on a date with a guy, what's more important to you – personality or looks?
Lisa: I feel that looks are what might get a guy in the door, but personality is what will keep him around.
UM: What does a guy have to do to sweep you off your feet?
Lisa: I'm an old-school romantic. I want doors open, spontaneous flowers, and surprises. Surprises from someone who cares about you are always a good thing.
UM:  Which subjects did you enjoy the most in High School and which did you hate?
Lisa: High School?? Hmm, let's see. The subject I most enjoyed in High School was honors English. The teacher was this crazy man from Tunisia and really got students motivated about writing and learning. I hated AP Physics. I started the semester and after my academic counselor re-evaluated my records and told me I didn't need a last year of science I got the heck out of that class.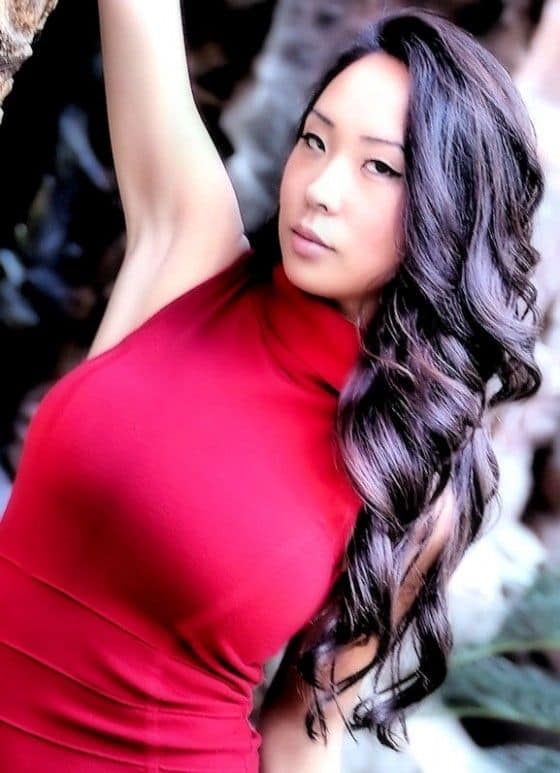 UM: Are you big into the clubbing scene?
Lisa: I love to go out and have a great time with my friends. I'm spoiled because between living in South Beach and Las Vegas I have had the world's best nightclubs available to me at my leisure. I love LIV and Mynt in Miami, and here in Vegas, Tao, Lavo, Marquee, and XS are fantastic.
UM: Has your family and friends been supportive of you and your career?
Lisa: Yes, absolutely. I am so blessed to have an amazing support system.
UM: Which female model do you look up to and have a lot of respect for?
Lisa: I have a lot of respect for Rosie Huntington-Whitely. She was discovered by a modeling agency while studying in college and now she is one of the faces of Victoria's Secret. She also acts, and was most recently in the new Transformers movie. I think her young success and ability to draw revenues from modeling and film is inspirational.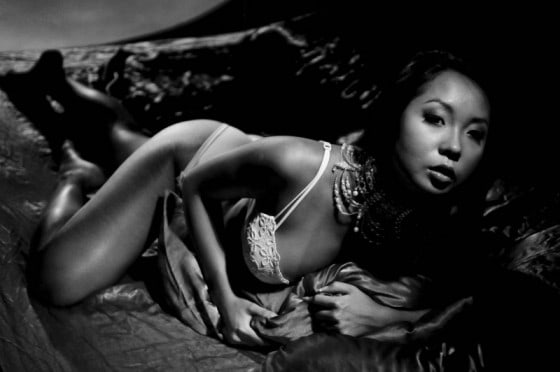 UM:  The modeling business is not an easy one. Any tips for models that are new to the business?
Lisa: Know yourself. This business will change you if you let it, and while self-growth is important, stay true to your convictions and don't ever do a shoot/assignment that you're not comfortable with. People in this industry will say whatever they can to get you to act the way they want you to in that moment, and unfortunately there have been a lot of young girls with great potential who participated in something that they were told would be a one-time thing and it ended up sucking them in to a lifestyle that they ultimately didn't want. Know yourself and surround yourself with people who are truly looking out for your best interest.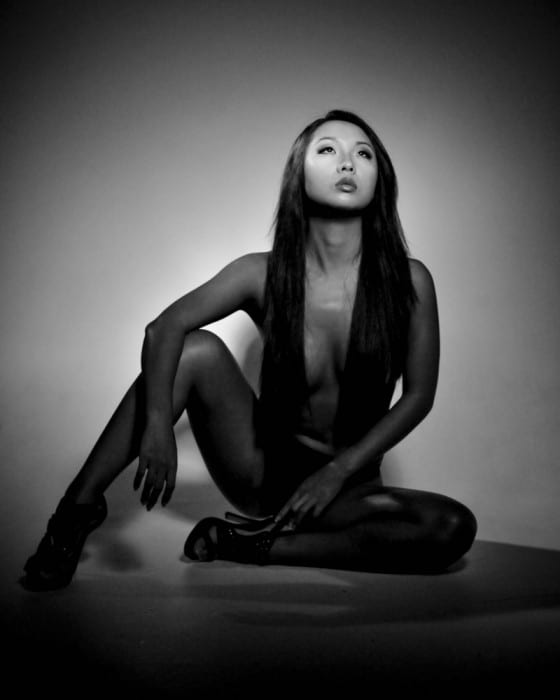 UM:  How many countries have you traveled to and your favorite vacation spot?
Lisa: Let's see…Korea, Bahamas, France, Spain, Panama, Netherlands, Mexico…I think there's more but I have traveled to a few places. My favorite vacation spot is the south of France during the end of the summer. St. Tropez, Nice, Antibes, that entire area is so beautiful and in August a lot of Europeans are on holiday so every day, and night, is a party.
UM: Anything you would like to say to your fans?
Lisa: Thank you so much for all of your support! My modeling career has really grown and it's because of the fans. They really are some of the greatest people. For example, I shot for a Ferrari calendar in 2010 and as a way to aid the local Big Brothers/Big Sisters charity, a subset of calendars were going to be sold with 100% of those proceeds going to charity. We had a tremendous amount of orders from fans on my facebook page asking how to purchase the calendar. I thought it was just so cool and so inspiring. My agent, and myself personally, have received such wonderful feedback and I love being able to connect with my fans via facebook and twitter. Please keep up with me and visit my website, Lisa Song Sutton.
There you have it guys. Please do check out her website and you can also follow her on facebook and twitter. And lastly, God Bless Korea!