Earlier this year I had an opportunity to visit a place I had never heard of to partake in an adventure of the Indiana Jones variety. Among other things, I spent four days in the heart of the Belizean jungle with only a guide, a pack full of water, and a machete. But I'm getting a bit ahead of myself here. This entire crazy adventure started at a small lodge called Ian Anderson's Caves Branch in the jungles of Belize. Ian Anderson is a Canadian ex-pat who visited Belize, fell in love, and opened his own adventure company there. I mean, why not, right?
If you're looking for high adventure in an exotic location, and don't mind getting your hands dirty, continue on to read my full review of the facilities and adventures that Caves Branch offers. I'll also provide a ton of pictures, and a bunch of seemingly random but hopefully useful anecdotes about my experiences at Caves Branch.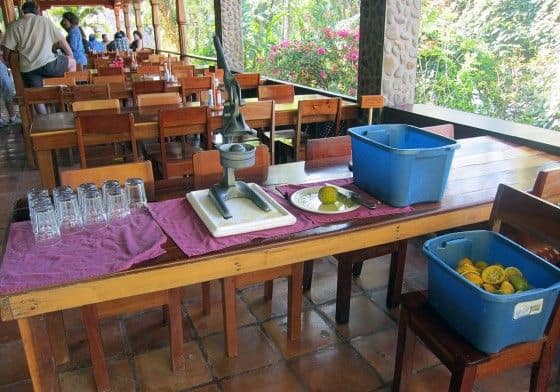 Review Overview
Now, I've broken up the review into three parts for the sake of quick references and (hopefully) easier digestion. I discuss three main aspects of the lodge: Lodging, Food & Drink, and Adventures. I talk about my experiences at some length, but please be aware that my account is by no means all encompassing. There are numerous adventures and lodging that I did not try, and instead of listing off their details in textbook fashion from the official website, I've chosen to talk in greater detail about the areas I did experience firsthand.
Lodging
Lodging in Caves Branch is as unique as the adventures you're likely to encounter there. If you're looking for 5 star Ritz Carlton style accommodations, you're shit out of luck. Having said that, even the budget lodging is relatively clean and comfortable, and the range of lodging options is certainly unique. Ian calls them "rustic but unique", and I think that sounds about right.
Sleeping quarters range from Jungle Cabanas – a sort of screened-in, roofed-off shack – to the majestic treehouses high above the lodge below. The treehouses are a sort of luxury accommodation that come complete with private showers, excellent beds, and an incredible view of the jungle. They're the most expensive type of suite, but I highly recommend spending at least one night here for the experience. The view alone is well worth the price of admission, and if you're charming enough, you may be able to convince the staff to upgrade you for free. After completing our 4 day stint in the jungle, the staff offered us a free upgrade for one night. Again, incredible experience.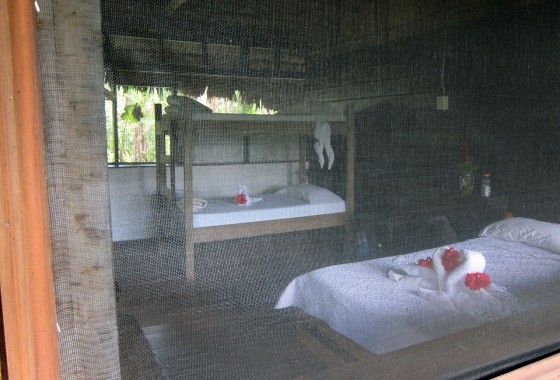 The cabanas are relatively inexpensive, and fairly comfortable. They also feature numerous towel animals, a must for any occasion. You don't even want to know the terrible things I did with the towel sculptures.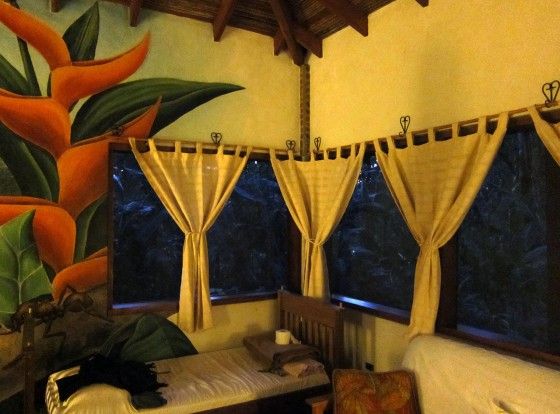 Here you see a photo of our beautiful Jungle Bungalow, marred only by the giant mural of creepy insects. The suite is fairly comfortable, and has both an outdoor and indoor shower as well.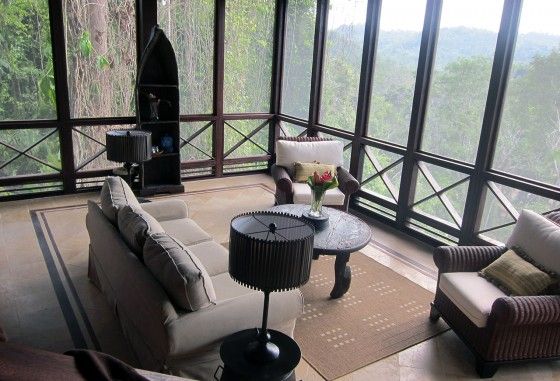 The treehouses are the most expensive lodging at Caves Branch, but all in all they're pretty sweet. If you're looking to entertain guests after a hard day of adventuring, you'll have plenty of room to do so, and with a beautiful view as well.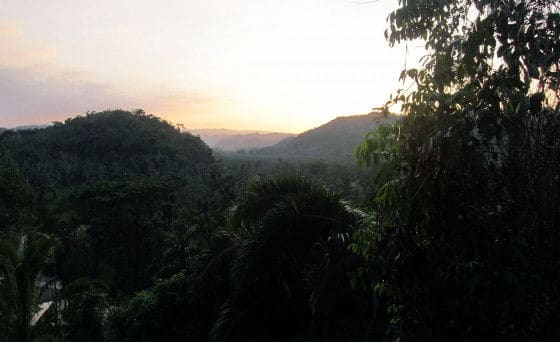 Overall I believe the Jungle Bungalows are the best bang for your buck if you're looking for a middle of the road lodging option. There are shared bunkhouses, which are quite inexpensive when you only consider the lodging costs, but they do not include meals, which are generally quite expensive on their own. All other lodging options can be reserved in package deals, which include meals. There's literally nothing else to eat around here, so trust me, you're going to want to get one of the package deals.
Food & Drink
You won't find traditional Belizean cuisine here, but you will find a wide range of simple, but excellent meals. It's clear that the food choices are tailored to Westerners, but the food is mostly quite tasty, and far better than I expected given the lodge's deep jungle location.
The food is all served buffet style, with staff doing a short introduction before each meal and directing each table one by one to come and get their first round of food. The little talks were entertaining, and the speaker always pointed out the unique dishes and desserts for the evenings. The buffets usually included a wide range of meats, served in various ways, as well as vegetables, rice, and fruits. The meals always end with a dessert as well, such as cake.
Though the meals were excellent, the real highlight of meal time for me was the booze. Caves Branch offers a range of local beer and rum included in package deals, and a slew of foreign alcohol is also available for an additional charge. The local beer, from a company called Belikin, is probably the best beer I've ever had, period. Belikin offers a premium beer, a regular beer, a stout, and a lager. My favorite by far was the stout, but the rest were top notch as well. I indulged in more than my share of beer during my stay there.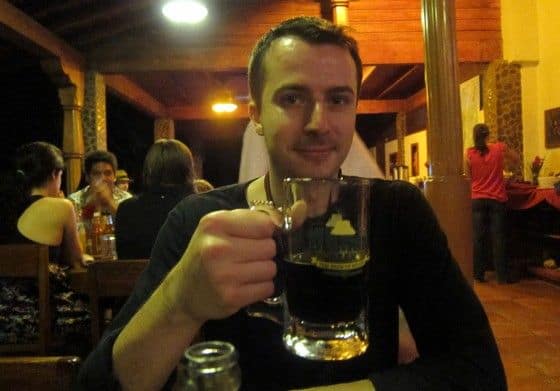 Now, the local rum is excellent as well, though sadly I can't remember the name of it. I highly recommend trying a dark rum and root beer tall drink. I was shocked to find that Belize actually had root beer in abundance, and jumped on the opportunity to make my favourite soft drink alcoholic. I promise you that the taste is delicious.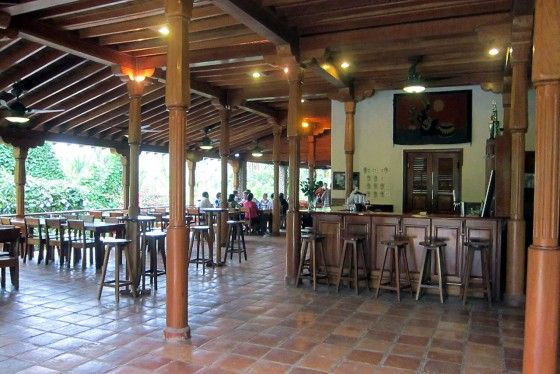 Unless you're a weirdo loner, this is where you'll be eating the vast majority of your meals. There's more than enough seating to accommodate visitors to the lodge, and you're a stone's throw from the most important facility in the area: the bar.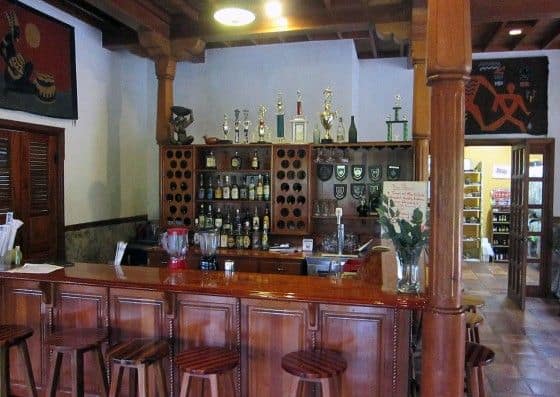 This is the place where dreams are made, or at the very least strong drinks. I enjoyed more than my share of Belikin Beer and root beer and rum drinks here. In case you're wondering, no… the trophies aren't from drinking competitions. They're from chess matches, a favorite pastime of the locals thanks to a side community project of Ian Anderson himself.
Adventures
Remember how I mentioned my time in the jungle with only water, a guide, and a machete? That adventure is called "Jungle Quest", and is by far the most difficult "tour" that Caves Branch offers, both physically and mentally. You'll go out into the jungle for three nights and four days with guides who have extensive knowledge of the Belize jungle, and the flora and fauna that exist there. The guides will teach you how to forage, how to hunt and kill your own food, and how to build shelter. The most shocking realization for me was on a particularly tough morning when we didn't find food, and it meant that we simply didn't eat. Other times we would eat boiled snails for lunch, followed by chunks of "heart of palm". Though the entire adventure is tough, I don't regret having it done it in the slightest. The number of useful tricks and knowledge I picked up is invaluable, and when you manage to score a really good meal – such as an iguana or armadillo, you'll enjoy the taste that much more.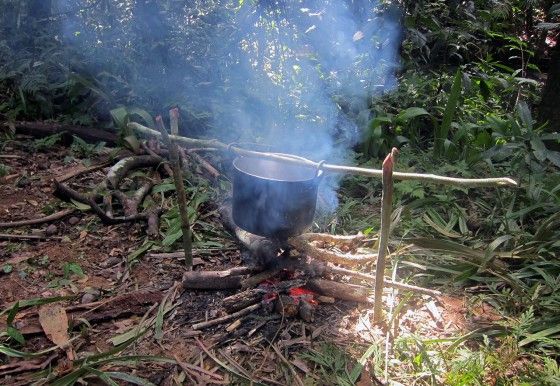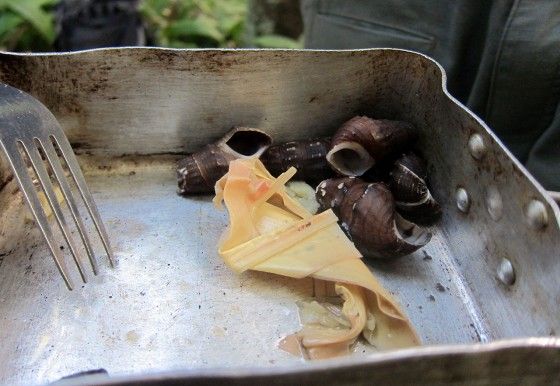 If you're brave enough to try the Jungle Quest adventure, then you may find yourself eating this kind of breakfast… boiled snails. Mmm, delicious!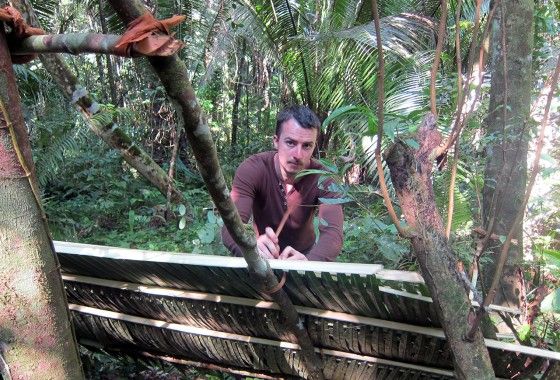 You'll also learn plenty of useful skills, such as how to build your own rain-proof shelter using just a machete. I look less than impressed in this shot, but I assure you I was just soaking it all in… or, you know… starving.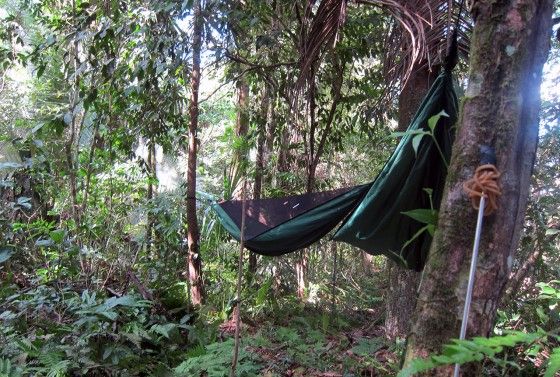 Yes, those are hammocks, and yes, that's what you sleep in. Believe me, they're just as bad as you think. How people manage to sleep in contraptions that contort a person's body in such a fashion, I'll never understand.
Now, all of these photos are from the Jungle Quest, but I tried out numerous other adventures as well, such as: Waterfall Cave Expedition, Black Hole Drop, Zipline Adventure, and the Tikal Day trip.
Final Thoughts
I've talked a little about a lot of topics in this review, but as I mentioned earlier, my review is by no means all encompassing. If you have any questions about any of the adventures I haven't covered, or any other topics that interest you, don't hesitate to leave a comment! Belize may not seem like the go-to vacation spot at first glance, but places like Caves Branch make it well worth the visit, especially if love a good adventure.
If nothing else, I'm now well prepared to try out some of the safaris in Botswana. I'll be interested to see if they're even half as tough.
Happy travels.