A few months ago we brought you guys some amazing pencil drawings by 22 year old Diego Fazio. The attention to detail in his drawings is remarkable and I wanted to see if there were other artists doing similar styles of art work. It didn't take long for me to stumble upon the works of an Italian artist by the name of Franco Clun. The talented artist is 50 of years of age and has no "formal" training when it comes to his line of work. He simply practiced until he perfected the technique and picked up tips and tricks by reading various drawing manuals. Franco has been drawing on and off throughout his life but started to really focus on graphite drawing back in 2010. He's like one of the X-Men of artists.
I think the drawings by Diego are a bit more realistic but Franco's work is just as good and his drawings have a different look and feel to them. A lot of Franco's work is also focused on celebrities and television characters as can be seen in the examples here. Have a look at some of Franco's hyper realistic pencil art below.
Realistic Pencil Drawings by Franco Clun
In my opinion, one of his most realistic and best pieces of art work is his self-portrait. He recently turned 50 and this is his current appearance….in a graphite drawing.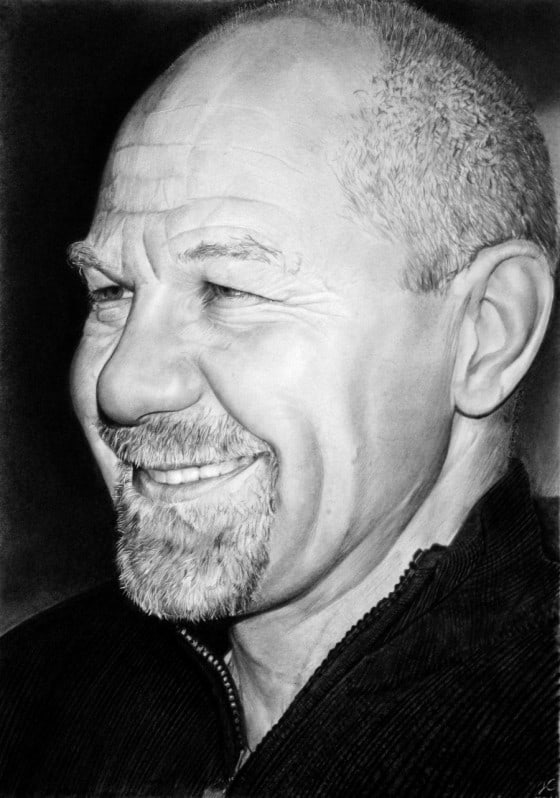 Here is a hyper realistic pencil art of Ariana Grande. This one is also one of the more realistic drawings and I like the attention to detail when it comes to the individual hair on various parts of her head. The lips, teeth, nose, and eye lashes are unreal. The dimple is also a nice touch and really adds to the realism in this particular portrait.
The next two photographs should satisfy all the X-Men fans out there. The eyebrows, wrinkles, and even the "shine" on his head looks fantastic in this drawing.
This hyper realistic pencil art of Gregory House (Hugh Laurie) really creeps me out because of all the fine details in the photograph. I'm curious to know how long this one would take to complete. The detail in the facial hair is amazing.
Here are a few more examples of Franco Clun's hyper realistic pencil art and make sure to check out all of his artwork at his Devianart page.