Classic looks and modern technology, what else does one need in a car?  That's the idea behind the Huet Brother HB Coupe, a car that's currently in the development phase.  If this is the first time you're hearing the Huet Brothers name, you're not alone.  The company was started by two brothers, Paul and Tino Huet, from Holland.  Their company sells watches and makes cars; a few years ago they produced the HB Special, a roadster based on the Triumph TR6.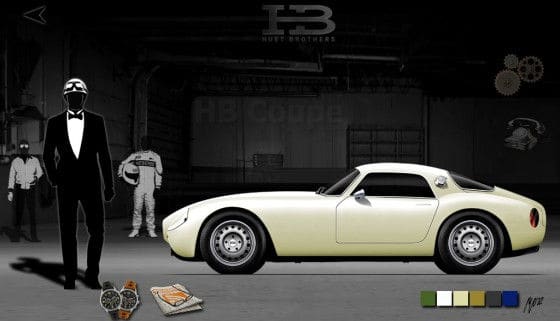 The HB Coupe is meant to be a lightweight sports car that's easy to drive on a daily basis with all the modern amenities that you'd expect in a modern looking car.  The car will weigh around 2,400 pounds and will be powered by a BMW sourced 3.0 liter in-line 6 cylinder engine producing 306 horsepower mated to a 6-speed manual or a 7-speed dual-clutch automatic transmission.  The Huet Brothers HB Coupe is expected to sprint to 62 mph in 4.3 seconds with a top speed of 155 mph.  A 2.0 liter diesel engine HB Coupe will also be available at a later date, that car will have 204 horsepower and should reach the 62 mph mark in 5.6 seconds.
Huet Brothers are also planning on a more powerful version called the HB Coupe RR and later a full race car called the HB Coupe RACE.  Currently the Huet brothers are selling watches to fund the projects, the watches are pretty nice looking and are very reasonably priced.
Huet Brothers HB Coupe