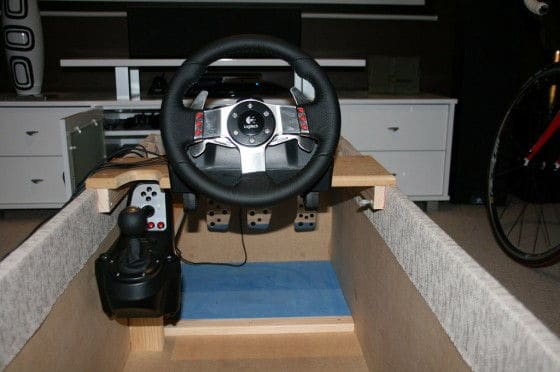 With the recent release of Gran Turismo 5 racing game, I have been spending a lot of time in front of the PS3 and my TV, racing exotic cars on tracks around the world.  I've also been thinking of making the driving experience more realistic and have been thinking of making a home-made racing simulator because I don't feel like spending $3,000 on the VisionRacer VR3.
My search (and yours too) is over thanks to Lyshco, a member at the overclockers forum, who came up with an ingenious way to make a racing rig at an affordable price (maybe free if you have some of the things needed) and it isn't going to take away valuable apartment space.
The racing simulator/rig is build inside an Ottoman, so when you're not racing, the Ottoman can be used for whatever it is meant to be used for.  Lyscho cut a few pieces of wood sheets to install the Logitech pedals and steering wheel and screwed it on the inside of the Ottoman, which can easily be unscrewed and stored inside.  The end result is a pretty functional racing rig that may not be as pretty as the racing simulators you buy for thousands of dollars but should make playing GT5 (or other racing games such as Need For Speed) a lot more enjoyable without breaking the bank and getting yelled at by your girlfriend/wife/mom.