These days, Kia is known for building some pretty popular cars among several different segments but a sports car is certainly not one of them. The Kia pro_cee'd GT and cee'd GT have some "sporty" aspects but far from being an actual sports car. This is where the Kia GT4 Stinger Concept comes into play.
The RWD coupe concept was unveiled at the Detroit Auto Show and is Kia's most aggressive concept vehicle to date. The GT4 Stinger is designed by the company's California design team which is also responsible for the Track'ster concept. The GT4 Stinger could be a possible glimpse into Kia's future design language. The focus of this vehicle is to focus on functionality, weight reduction, and to give the driver pure driving enjoyment. This concept features a tuned version of Kia's 2.0-liter turbocharged GDI engine giving the vehicle a total of 315 horsepower.
The power will be sent to the rear wheels on this GT4 Stinger Concept  via a close ration 6-speed manual transmission . This concept version features 20-inch aluminum center-lock wheels with carbon fiber inserts and sits on 275/35R-20 Pirelli P-Zero performance tires in the front and 235/35R-20 up front. Braking power is provided by large 15-inch cross-drilled rotors (2 piece) from Brembo Gran Turismo and features four-piston calipers ensuring great braking power. The vehicle is built on a custom chassic featuring independent double wishbone suspension. The vehicle looks fairly aggressive because it's shorter than the Kia Forte, wider than the luxurious Cadenza, and much, much lower than the Kia Rio (by 9 inches).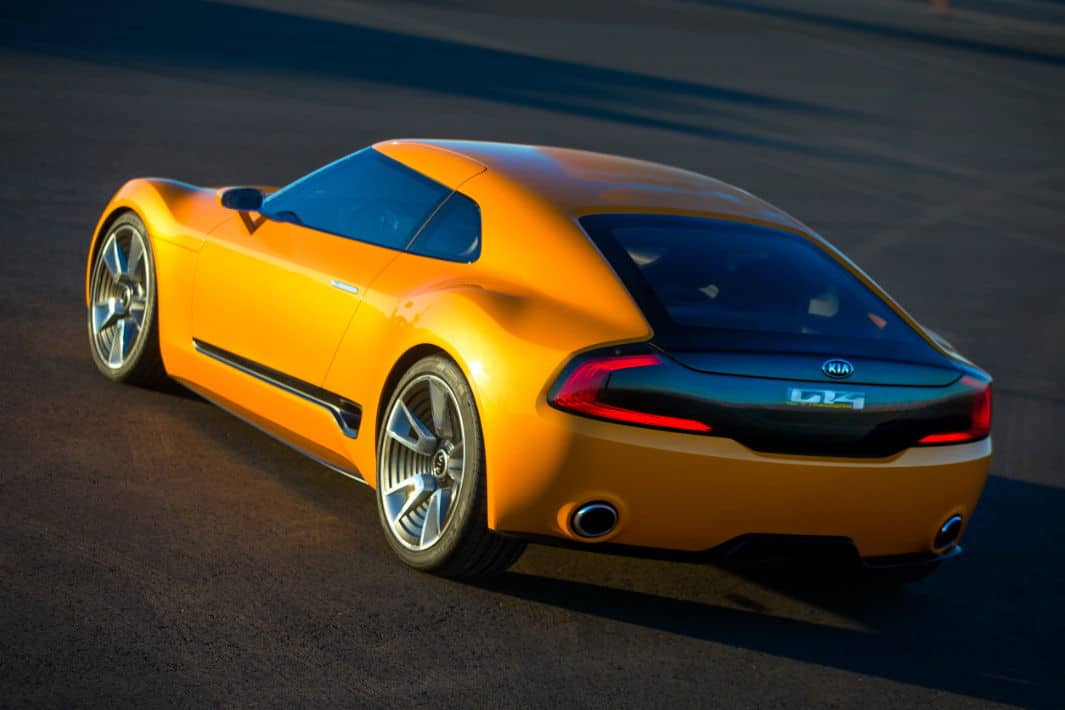 Not only all that good stuff buy the vehicle weighs next to nothing on today's standards. The GT4 Stinger Concept weighs in at only 2,874 pounds, with 50/50 "like" weight distribution for great handling. It's actually to 52/48 weight distribution.
On the exterior, you may notice some "Audi like" features but that shouldn't come as a surprise since Peter Schreyer of Audi joined the Kia and spiced things up for the South Korean team. I'm loving the front of the vehicle with signature Kia grille and its vertical LED headlights but I still haven't decided if I'm a fan of the side profile or the view from the back. The glass hatch back is  a nice touch and the integrated dual exhaust pipes look great.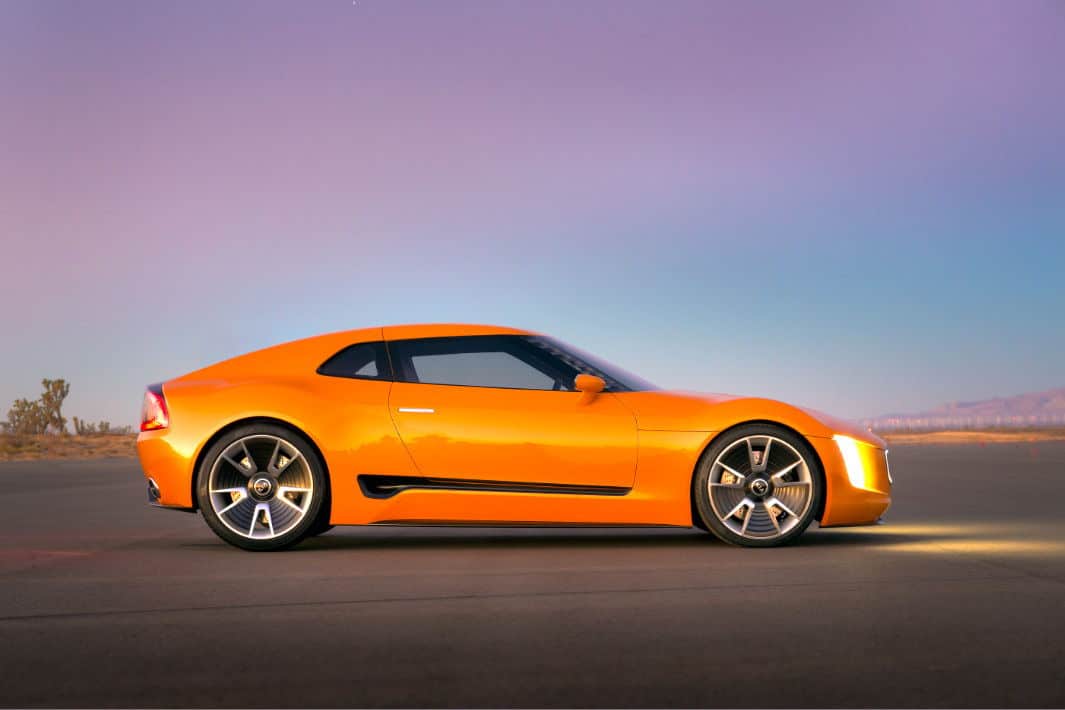 The sporty interior features bucket seats, red-stitched pull straps, flat-bottomed steering wheel, billet-aluminum pedals, and a red LED illuminated instrument panel. Kia has not revealed any details in terms of what kind of performance the vehicle will have but rest assured it will be a drivers car. The other bad news is that there are no current plans for production version of the GT4 Stinger Concept but the company might develop something based on this concept in the future.
Kia GT4 Stinger Concept Gallery