Friction Labs liquid chalk is a fantastic product that offers climbers a tremendous alternative to the old-fashioned, messy, and occasionally ineffective gymnastics chalk that many of us are accustomed to using.
The liquid texture of this liquid chalk makes application quick and easy while still drying quickly to a smooth surface that delivers a clean grip. While the chalk is drying, it turns white for easy visual confirmation.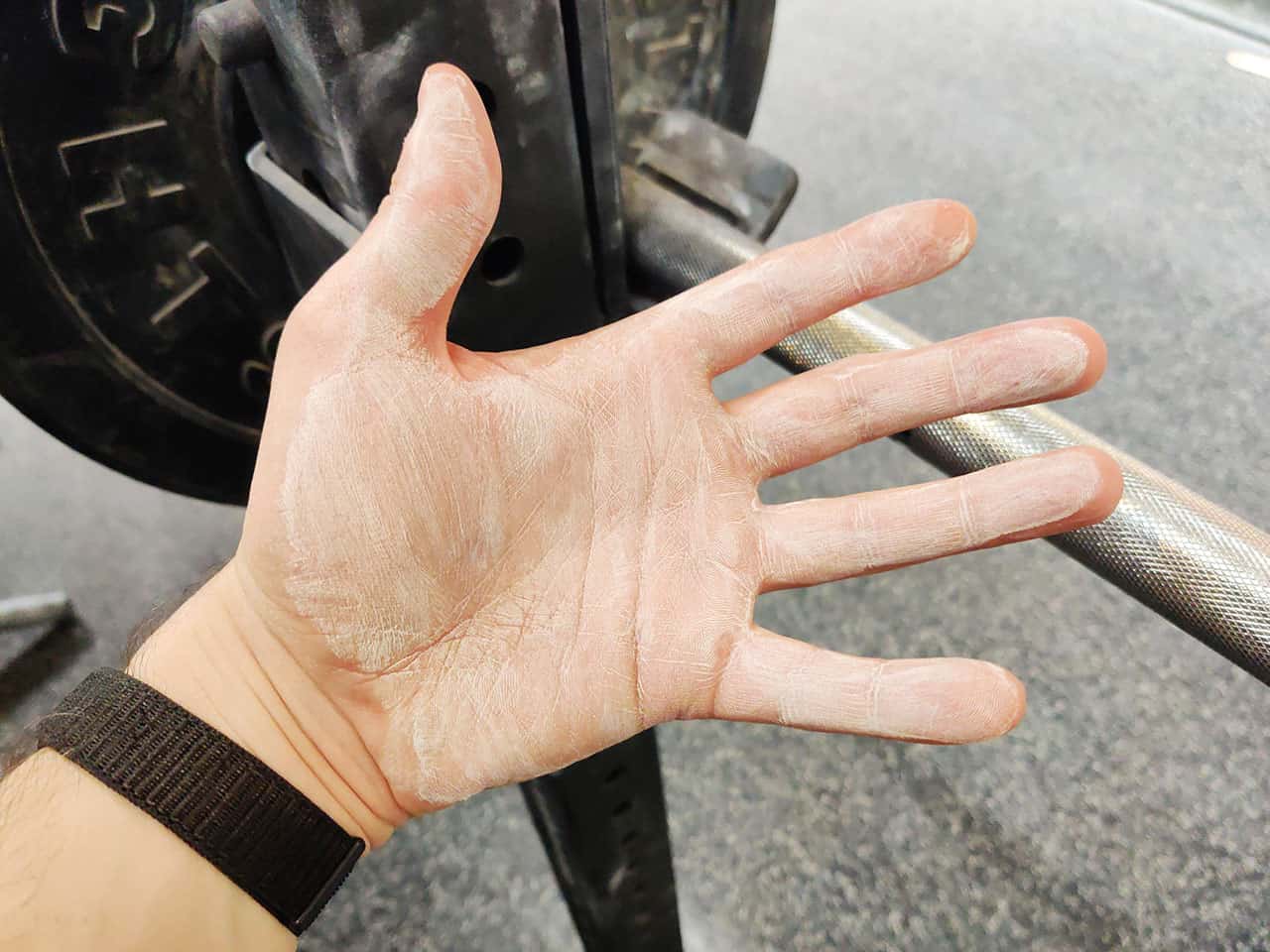 The liquid chalk created by Friction Labs includes four ingredients: Magnesium Carbonate, Magnesium Silicate, Xanthan Gum, and Caprylic/capric triglyceride (coconut oil). This combination of materials offers climbers fantastic grip, but without the dangers of gymnastics chalk.
Friction Labs liquid chalk dries quickly to a smooth texture that provides climbers with excellent grip on both indoor and outdoor rock climbing routes. The product is available in three different scents: Peach, Mango, and Tangerine.
The liquids are packaged in a one-ounce bottle, and Friction Labs also offers a two-ounce bottle for those who plan on using the liquid chalk regularly.
I have been climbing for eight years now, and this stuff works great and is very convenient. I have used liquid chalk for climbing from Friction Labs for about four months now and love it so much that I will likely never use gymnastics chalk again.
Another great thing about this liquid chalk is that it doesn't leave a mess, so no more cleaning up after your sweaty climbing partner. If you've ever tried to get chalk dust out of your car or off your desk at work, you know why this product eliminates the problem of messy chalk.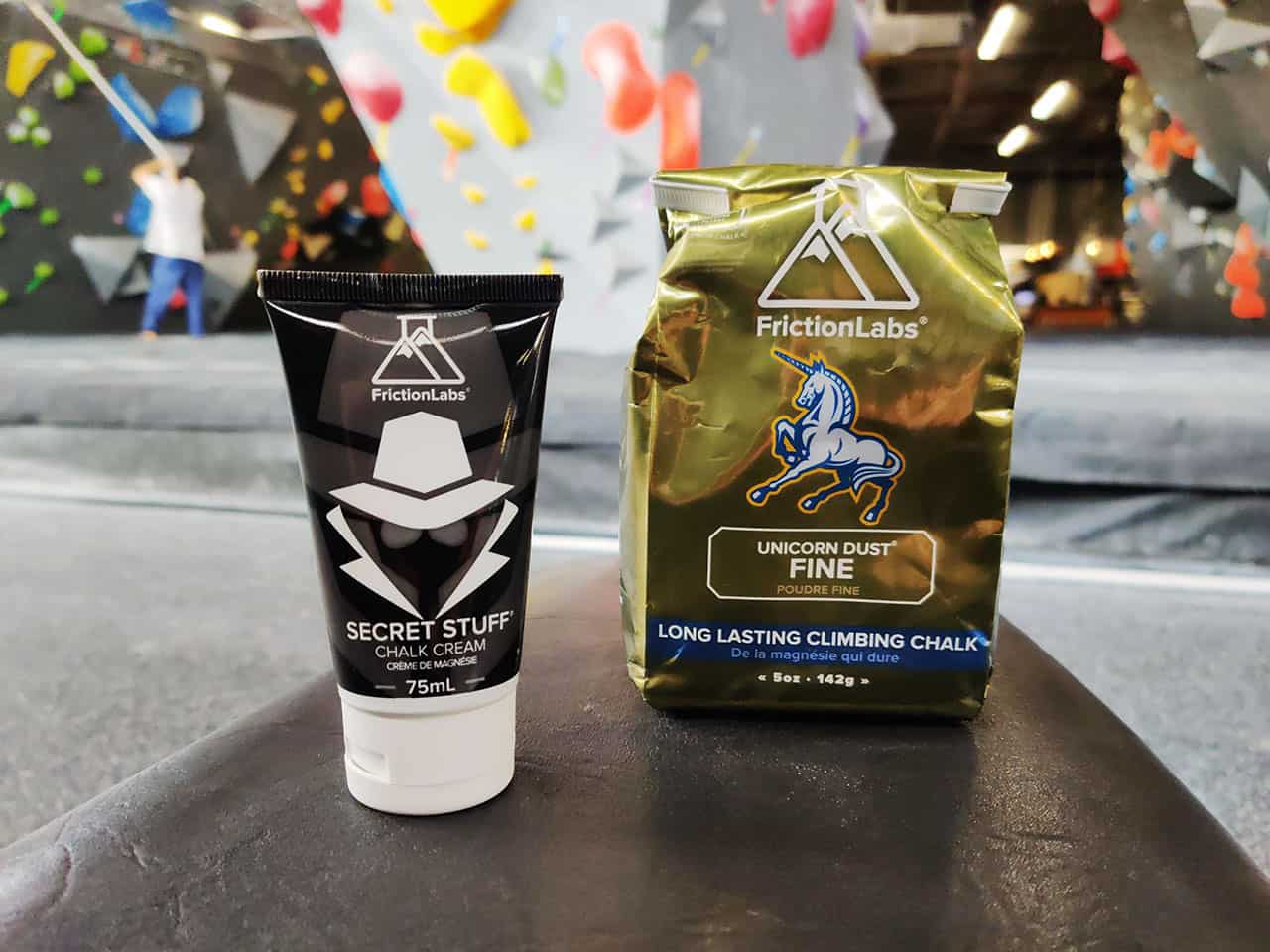 This rock climbing chalk is also great for hygiene reasons, as it will never fall into the cracks of a climbing hold and get stuck where you don't want it. Liquid chalk will not fall through a gap in the rock, either – an essential feature if you don't want a big chunk of chalk stuck to your hold while climbing.
At about $14 for one ounce, this liquid chalk is not the cheapest product on the market. However, given that it will last longer than gymnastics chalk and provide better grip, I can't imagine it will take long for Friction Labs to pay off.
One of my favorite things about Friction Labs chalk is that it doesn't damage my skin as some other liquid chalks do. I have used liquid chalk from different companies before and often found that it would dry out my hands, sometimes to the point where they would start to crack and bleed. That is never a problem with Friction Labs.
For me, Friction Labs chalk has been nothing but a positive experience. It delivers exceptional performance and is very convenient to use, so that I would recommend it to all climbers out there.
Liquid chalk for climbing from Friction Labs is available in three volumes: 2 oz., four oz., and 8 oz. The perfect deal would be to purchase the large eight oz. Size, but if you want to test it out first or are only interested in a small amount of liquid chalk, 2 oz is available for about $12.00 on Amazon.
Although old-fashioned gymnastics chalk is effective at improving grip, it can be a nuisance. It leaves a mess everywhere and is hard to clean up, even with a vacuum. Friction Labs liquid chalk offers climbers an effective alternative to gymnastics chalk that is quick and easy to apply.
Buy Friction Labs liquid chalk from Amazon. Friction Labs offers a 100% customer satisfaction guarantee. This makes buying from them a risk-free decision. If you dislike gymnastics chalk, try out Friction Labs – I'm sure you'll love it!
I definitely recommend this product to anyone who climbs, not just for its effectiveness but for the simplicity and convenience that it offers.