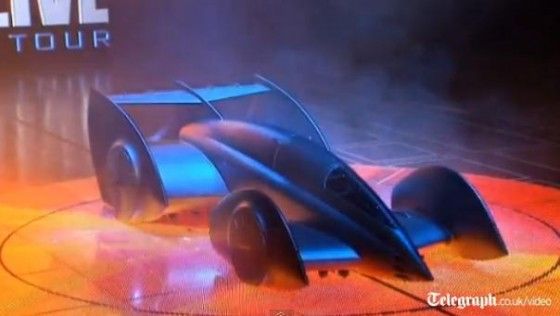 The stealthy Batmobile has received a major facelift by Gordon Murray who is McLaren F1's designer. The new design of the Batmobile is very Formula 1 inspired and premiered in London for the Batman Live show.
As can be seen, the newly designed vehicle is based on the aerodynamics of the Formula One race cars with the large rear spoiler, wheel arches, and extras like the LED wheels. But this car is powered by a hydrogen fuel cell and is 100 percent emission free unlike the actual F1 race cars. The car features a newly developed type of carbon fiber by Gordon Murray just for this vehicle. The car also has a system in place which allows the car to levitate 40mm above the road.
The new version of the Batmobile still features all the tools Batman needs to fight the douche bag criminals including radar jammers, lasers, and other assorted weapons. Now check out a few videos of the car and some more details which are available in the videos below.