No bachelor pad, man cave, or even a family home is complete without a nice futon. We all have that ugly sofa we've been wanting to get rid of but for some odd reason, stays put in the corner of the living room month after month, year after year. Why not replace that with something that has multiple uses? We reviewed the Yogibo Beanbag a while back but today we'll have a quick look at the Figo Futon Chaise Lounge with Wenge Frame. I've spent plenty of nights on various futons over the years but this Figo Futon from FutonCreations.com is hands down the most comfortable futon I've ever been on.
It is a bit on the heavy side but that's not necessarily a bad thing since this Figo Futon is very sturdy and high quality. There are no weird, squeaky sounds once you put it together and lay on it. The futon will be shipped to your home in two different boxes – one box will have the very comfortable mattress while the other will have all the wood frame pieces and tools necessary to put everything together.
The Figo Futon Chaise Lounge before Construction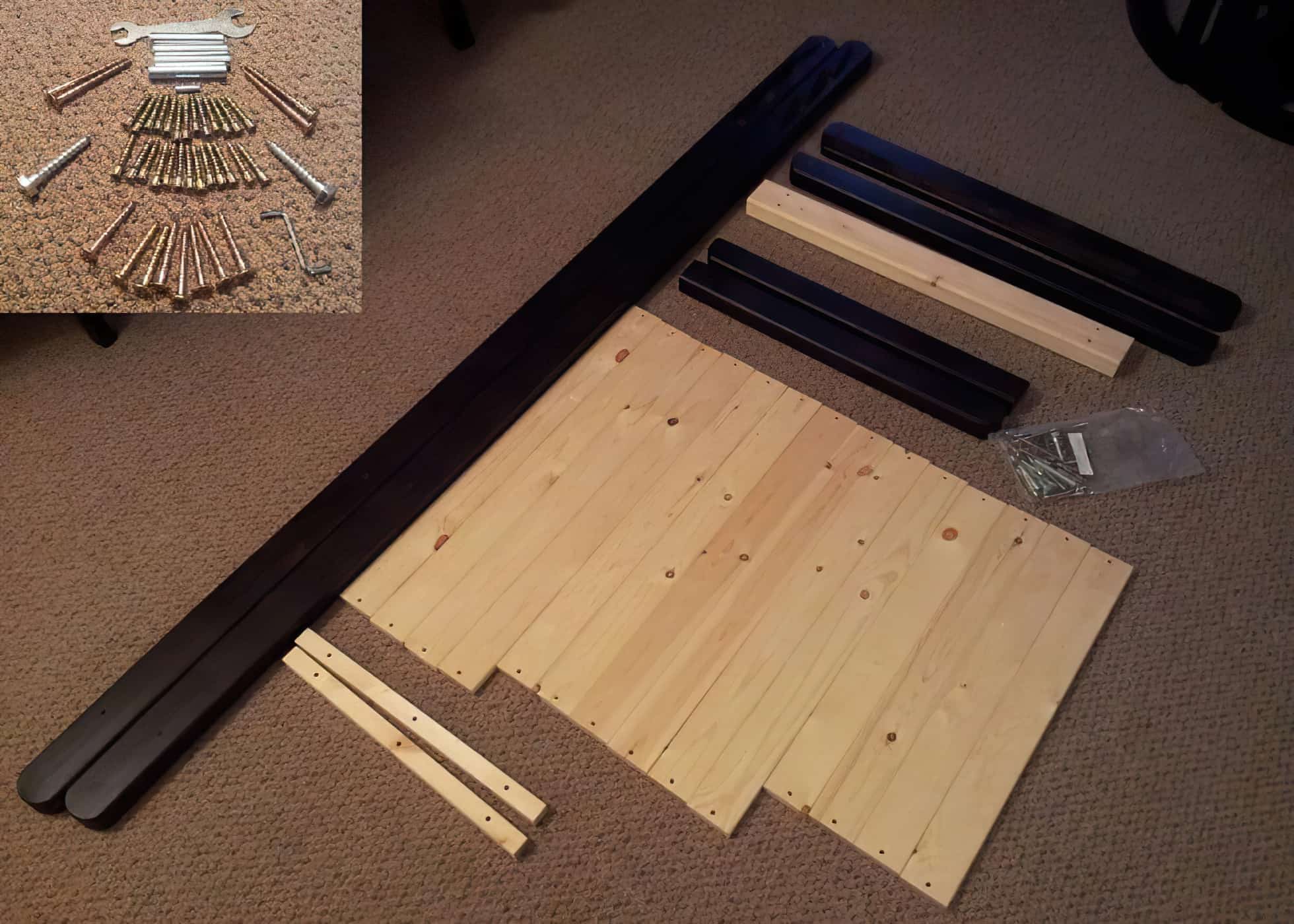 Like most furniture you put together these days, the instructions only contain diagrams on how to put everything in place. It was very easy to do so, didn't take much of my time, and of course, diagrams are universal so anybody can put it together.
The futon can be adjusted and locked into four different positions from completely flat or all the way up to a 45 degree angle for your back when watching TV or playing video games. The futon mattress is about five inches thick and as mentioned before, it is honestly one of the most comfortable futon mattresses around. The 1.2 lbs per cubic feet foam layer provides the support your back needs. We went with the lime green mattress cover but there are lots of colors to choose from depending on what you want for your home. I had difficulty choosing between the orange and lime green but other choices include black, deep royal blue, horizon blue, chocolate, navy blue, natural, pink, or purple. The mattress also comes with a neck cushion for additional support. Both the mattress and the pillow have straps on the backside to tie them down to the frame so everything stays in place.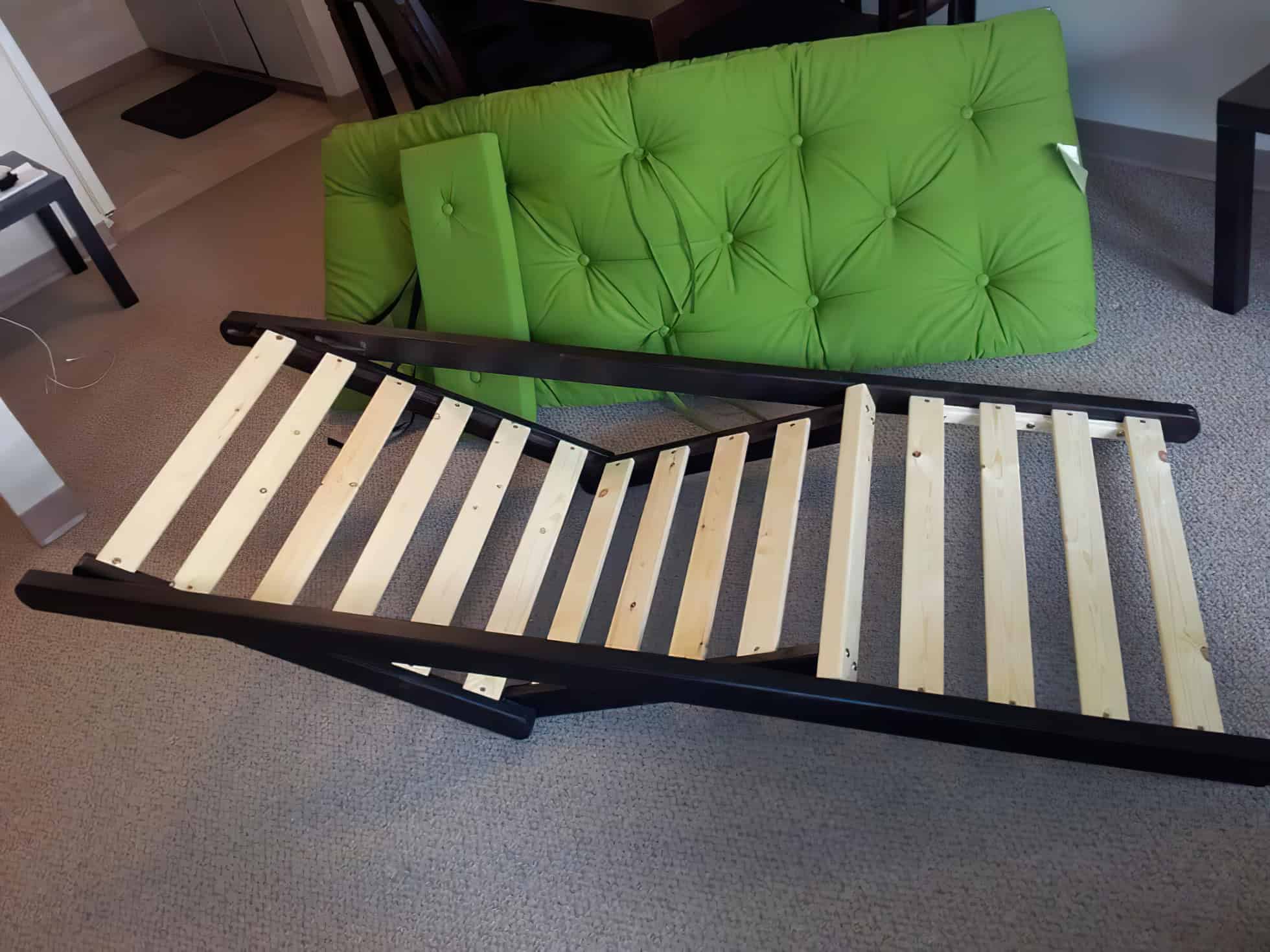 As mentioned before, the frame is very sturdy and that's thanks to the solid Nordic Pine wood frame and it comes in wenge finish.
If you have no place for the futon in the living room, then a balcony that stays dry would be perfect for the Figo Futon Chaise Lounge for a nice day time nap, a morning coffee, or even a relaxing read. And of course, the man cave in the basement would be the most ideal location for this. When watching movies, it's the perfect spot to relax on. When it's time to sleep, it's the perfect spot to sleep on especially if you have too many overnight guests.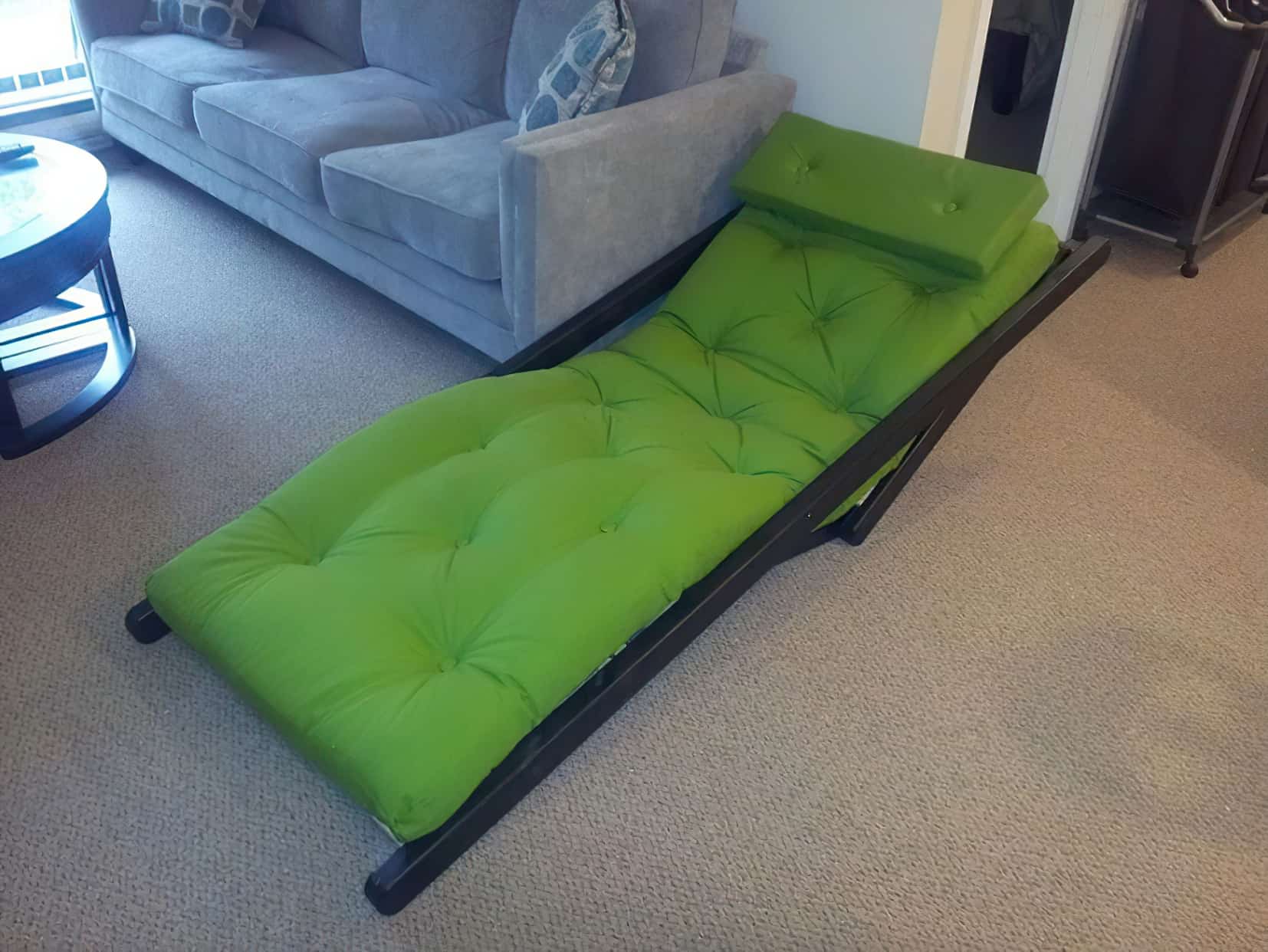 The solid wood frame is 27-inches in width, 78-inches in length, and 31-inches of maximum height depending on the position its in. The mattress measures in at 28-inches in width, 78-inches in length, and five-inches thick.
Our overall impression is that we love the Figo Futon Chaise Lounge, its ease of use, and how comfortable it is. It looks great in any space and can be disassembled into four main components very easily should you need the space temporarily for something else. One thing that I would have loved to see on this futon is an attachment of some sort for a drink holder. I know, I'm being picky but it's on my wishlist. I still love it "as is" though.
The Figo Futon Chaise Lounge can be purchased for $529 and that includes free shipping. It's worth the money because this will outlast your IKEA furniture by many years. For futons and other great home furnishings, check out DCG Stores.
Figo Futon Chaise Lounge Gallery