Since the launch of Fallout 4, I have been playing this classic open-world RPG game in my free time. The best part of this game I love is – its absolute freedom. I can play any role and do whatever activities I want in this open world.
The sole survivor roleplay is my favorite among those multiple characters' roleplays. As a retired U.S. Army veteran, I can travel around the sanctuary hills, power armor stations, and various places. 
And in these power stations, I can craft combat armor suits with headlamps and quickly move around the dark areas. A headlamp is introduced in Fallout 4, and I like this Fallout 4 headlamp feature.
While the Fallout 4 headlamp feature in the power armor is my favorite in the game, my favorite is Fenix HM65R headlamp in real life.
When I have been out hiking or camping, I find myself stumbling around in the dark. Only then can I feel the significance of having a headlamp for outdoor activities.
Today, I will tell you how great the HM65R headlamp is and what benefits you can expect from this headlamp.
The HM65R headlamp has some excellent features I want to share with you all. And I am pretty sure that you will find similarities to the Fallout 4 headlamp with its design, features, and functionalities.  
Let's find out!
HM65R Features that I liked the Most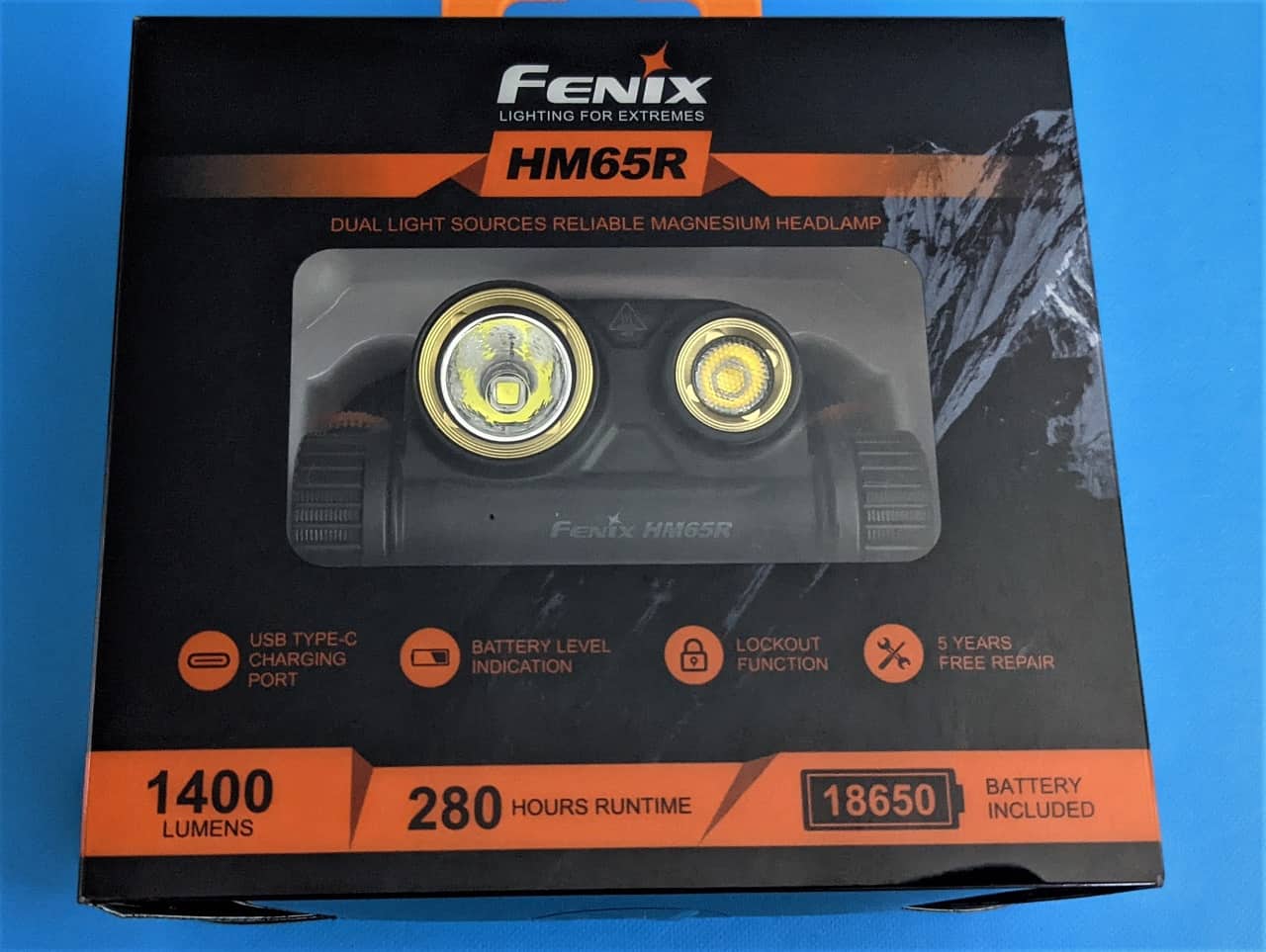 It's Comfortable
The headlamp holder and monoband wraps are pretty comfortable for more extended usage. You can not feel the headlamp around your noggin because it weighs less than other headlamps. 
Also, the band itself is comfortable around the head with a dialer to adjust the fitting. When exploring for a longer and slower expedition, this headlamp is just the perfect one.
Enough Brightness
As mentioned in the user manual, this headlamp features a 1000 lumen and 1400 lumen combining both beams, and I find it more than enough light for exploring caves and hiking at night.
I often use a flood beam mode instead of a direct beam pattern. There are adjusters available for controlling brightness, but usually, I use the exact brightness that I like. 
You might adjust the brightness level for a more extended period, but it has a good battery backup to support the headlamp. So it's your choice.  
Good Battery Backup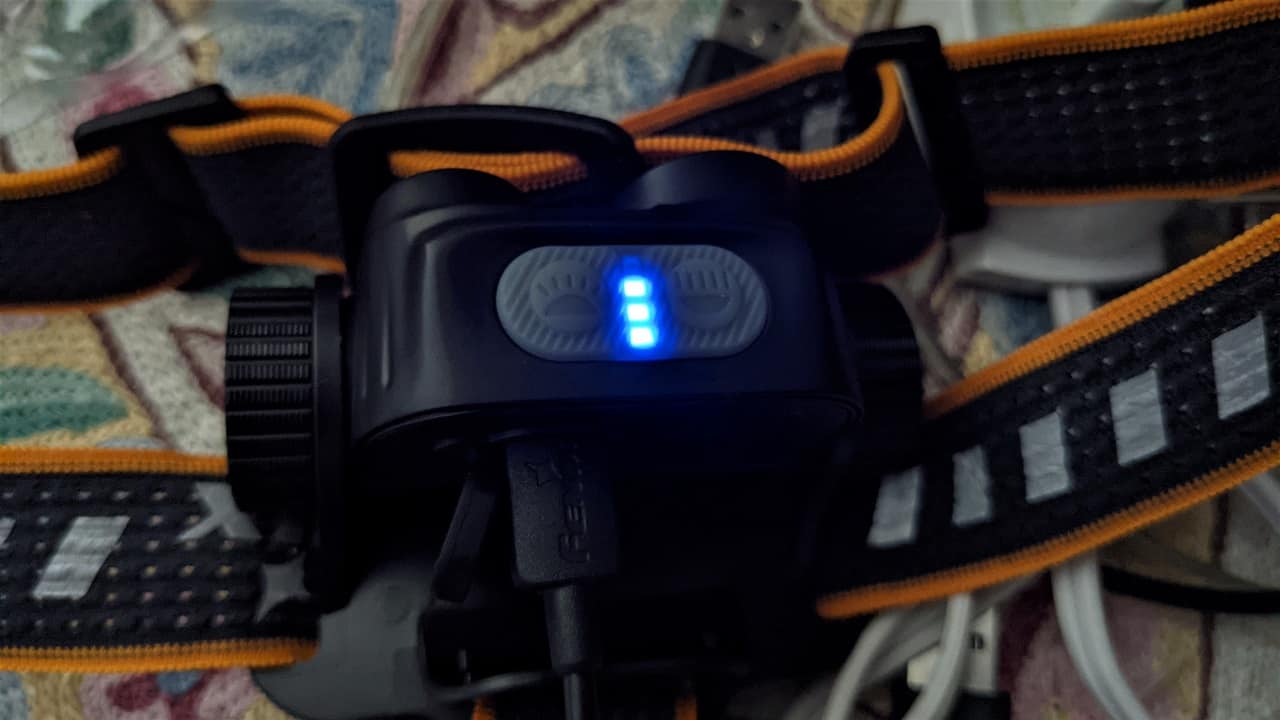 As mentioned earlier, battery backup is quite good, especially in floodlight mode. You will get a whopping 21 hours of life at the highest 400 lumens brightness. And on spotlight mode, you will get 4 hours of life at the highest 1000 lumens turbo mode. 
So, by following a simple rule of turning off the headlamp when unnecessary, you can go hiking for days with a single charge.
Pretty Easy to Use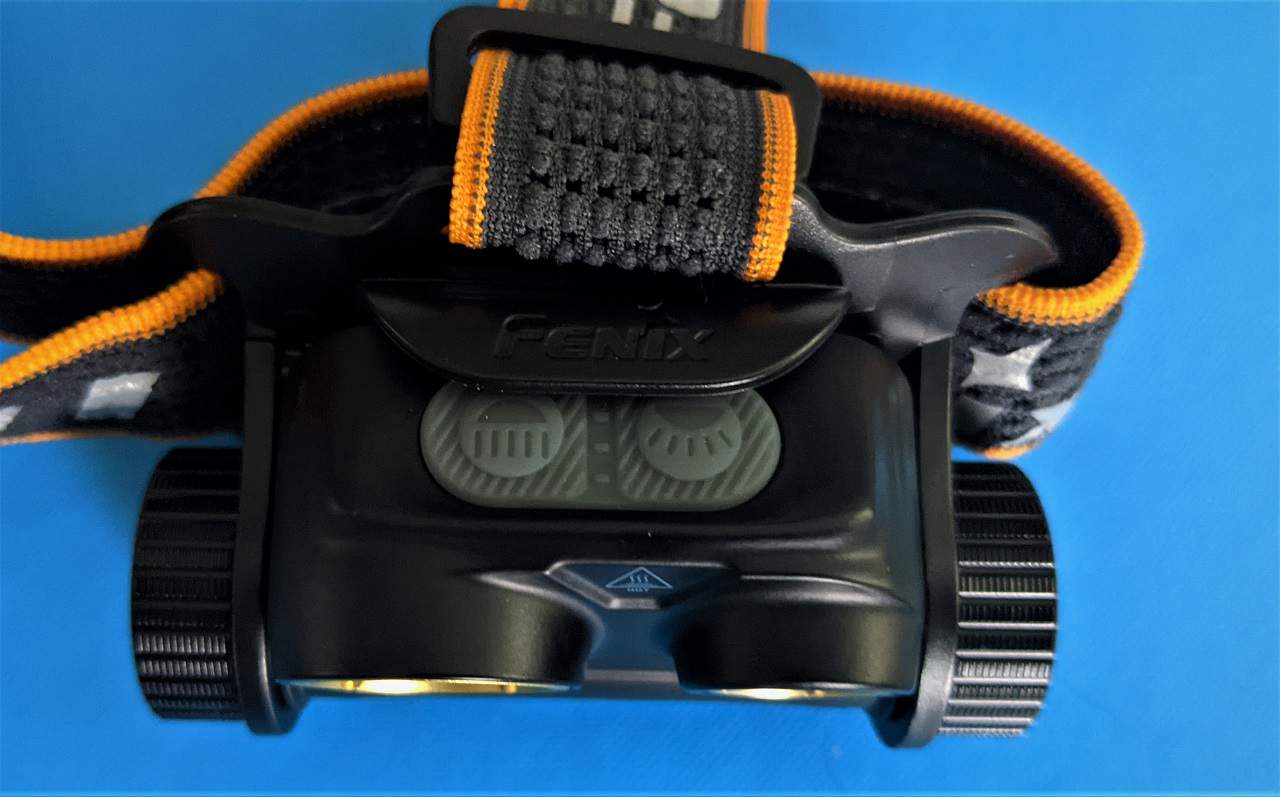 Another feature of Fenix HM65R I liked is its easy use. A user manual comes with the box, but I think you will not need that. Or you might read on. 
The build quality is exceptionally well-made and pretty solid. Also, the buttons quickly turn off/on and adjust brightness. 
You can also rotate the headlamp at a 90-degree angle from head to toe. And each angle will be held in place perfectly. 
It's Waterproof
There were numerous events when a water splash came to my face, and the headlamp got wet. But luckily, HM65R is waterproof. Plus, this headlamp is rated drop-resistant up to 2 meters, but I always care for my gear and hope it will not drop randomly. 
This headlamp is IP68 rated and waterproof up to two meters for 30 minutes.
Should You get Fenix HM65R Headlamp?
The Fenix HM65R headlamp is an excellent choice for those looking to get the most out of their outdoor adventures. This headlamp will give you a vibe of Fallout 4 headlamp, which is my favorite game. 
This powerful and versatile LED headlamp can be used in various settings, from running or hiking to camping or cycling. Plus, they are giving a five-year and one-year battery warranty. And the best part is, it's priced at $99. You can find out more about the HM65R and other great products by Fenix here.
From my perspective, the HM65R headlamp is quite a complete package for adventurers, and you should get one today. Good luck, Adventurers!