One of the big changes I had to make when becoming a "real adult" was learning to cook a proper meal.
I mean sure, I could scramble eggs and boil some perogies, but that limited repetoire of recipes got a little tiring. Besides, being able to cook well is an attractive skill when you're looking to attract members of the opposite sex. So I did what any person my age would do: I turned to YouTube.
Fast forward a few years, and I wasn't half bad, but I began to appreciate the value of high quality cooking gear, such as pans, cutting boards, and of course… knives. The collection my parents gave me when I moved our so many years prior just wasn't cutting it anymore.
Enjin no Takumi – High Quality Japanese Kitchen Knives Made from Damascus Steel
Kickstarter is the birth-place of so many incredible products, and the cooking gadget niche is no exception. One of the most exciting products I've seen are these beautiful Damascus steel cooking knives from Enjin no Takumi.
Crafted to the highest quality using 63 layers of Damascus steel, these knives are unbelievably sharp. I mean, like… crazy sharp.
Check out this clip…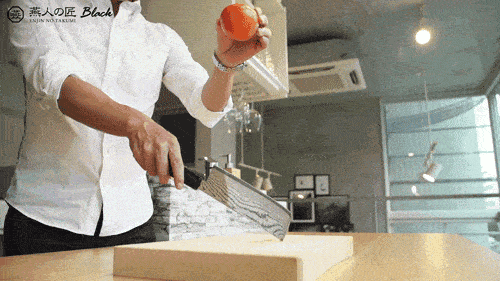 Have you ever seen something like that?
If you're looking for the ultimate knife set to last you a lifetime, then look no further than Enjin no Takumi.