Growing up, I never got into the whole Star Trek shows/movies/action figure thing, so I'm not very familiar with the show and one of its major cast members, William Shatner.  So I don't have a man-crush on him, like many of my friends do.  Nonetheless, Shatner has teamed up with watchmaker Egard, a watchmaker I'm not familiar with either, to create a very stunning watch called Passages.
The Egard Passages watch has a very eye-catching design and I'm very drawn to this watch, I think it's because of its unique case.  The case measures 45mm, although I'm not too sure what side they measured?  Does it measure 45mm across, from the top to the bottom, or diagonally?  I'm very curious about the size because I'm very tempted to buy it but I have small wrists and the watch might be too big.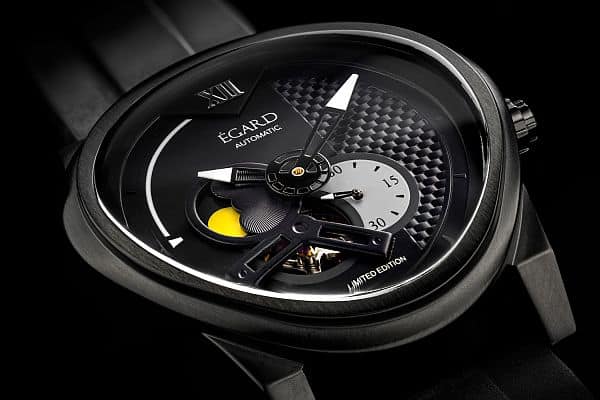 The watch comes in a combination of oval/triangular/round-ish shape with a curve to it, which should help it sit comfortably on the wrist.  The dial is very clean and the background is half black and half carbon fiber, it works in this application.  There are two main hands on the dial for the minutes and hours which are coated with SuperLumiNova lume, so you should be able to tell time in the darkest corners of the universe.  The dial features 2 sub-dials for the seconds counter and the sun/moon AM/PM indicator, the disc for the day/night indicator is coated in asteroid dust, taking this watch out of this world.  There's also a small window peeking into the movement and a power reserve indicator located between 9 and 11 o'clock position.
The case-back has a small exhibition half circle window with William Shatner's signature above it.  The watches are powered by Miyota 8S27 automatic Japanese movements and are water resistant to 50 meters.
The William Shatner designed Egard Passages watches are limited to 999 pieces in each color (Black, Rose Gold, Steel, and Gunmetal).  Unlike other watches, these watches are being crowdfunded at indigogo.com, to be released in February/March 2014.  The first batch of 50 watches in each color was priced at $375 each; the next batch is priced at $399 each.  The watches will have a retail price of $1,199 once released.  You can also customized your watches with black leather straps for an additional $60 or steel bracelet for $100, these watches also come in a box set which includes a winder for an additional $150.
I'm very tempted to pull the trigger on one of these watches, $399 seems like a great price for a unique looking watch like this and the fact that it's collaboration with William Shatner makes it even more tempting.  I'm just not sure about the size…