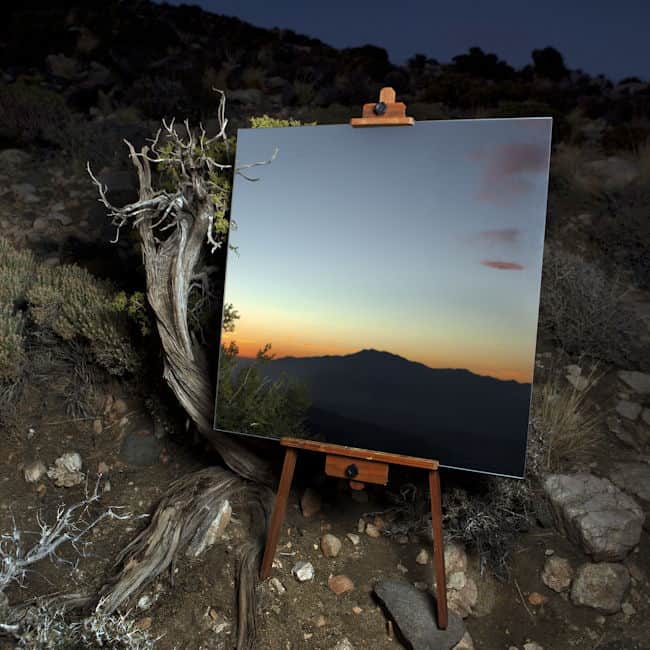 Have you ever read The Dark Tower books by Stephen King?
I had a hard-on for that guy a mile long when I was a teenager, and to this day I still remember this particular story better than almost any other book series I've read. If you haven't read it, no worries… basically there were cowboys that were really knights, and a fellow named Roland Deschain who could travel between worlds. Eventually he started wondering if every doorway was a portal to another reality, and, well… you're probably wondering where I'm going with this.
Mirrors of Reality
There are many things I'm bad at, but making tenuous and often nonsensical connections between disparate things is not one of them. The reason I told that little story is because this collection of what I can only describe as mirror photography, reminds me of The Dark Tower. The difference being that instead of doors we've got mirrors, and instead of them leading to other realities, they uh… reflect a world that exists here are now. Like I said, I'm great at this.
I have a feeling you could have figured this out on your own, but if you're wondering how artist Daniel Kukla was able to create such stark and realistic looking reflections, well… it's really quite simple: he used a mirror. Yes, if you can believe it, he actually hauled a mirror and painter's aisle around the Joshua Tree National Park in Southern California and took these pictures.
They're no doubt beautiful (that's why I'm sharing them with you now), but I've got to say, I wouldn't have been the one hauling this shit around.
In any case, if you're interested in seeing more of Mr. Kukla's work, then you can do so by visiting his official website and taking a look around. He's done a wide range of pieces, many of which share this collection's mix of bizarre a beautiful qualities.