In modern society, the old adage that clothes make the man has never been more true. We live in a modern age with a shortened attention span, and people are ready to judge books by their covers. We use visual clues to make judgement calls and assign ideas to people before we ever hear them speak, and neckties are art pieces we wear on our torsos to send those clues. That's why at the Presidential Debates, President Obama wore a blue tie, while Mitt Romney wore red, aligning themselves with the colors of their respective political parties. Since you're not running for president, your ideal necktie signal will tell potential business partners and/or dates that you are both expressive and elegant. That's where Amedeo Exclusive comes in, with their line of tie sets.
Amadeo Exclusive Ties
Each set comes with a 100% silk necktie, designed by Amedeo Exclusive in Italy, along with ultra-classy matching stainless steel cufflinks, and a matching handkerchief, (or "pocket square" if you're extra-elegant). The sets come in a variety of colors and patterns, ranging from as outspoken as the Red Paisley, to as understated as the simple Pale Green on Black, keeping with the Amedeo Exclusive theme of Elegant Individuality. For my own part, I decided to stick with what works and go with the Classic Black Tie Set. Every man needs a black tie in their style arsenal, and Amedeo Exclusive has created the essential one.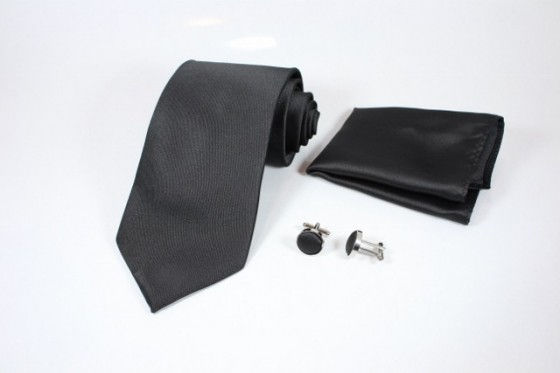 The silk is soft enough to feel weightless around your neck, but still strong enough to stay tucked in place when you're moving around the party. This allows the wearer freedom of mobility without sacrificing their dignified appearance.
To really top off the outfit, you can carry around an Amedeo Exclusive business card holder in your coat pocket.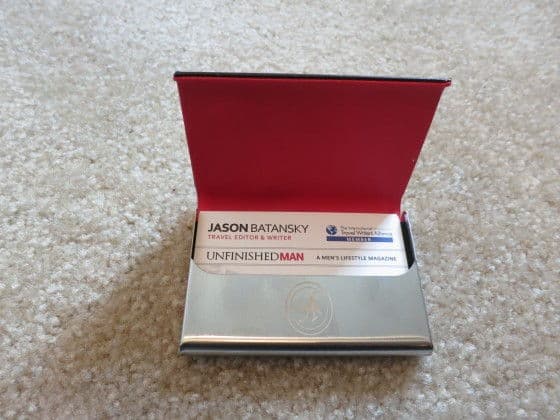 The lightweight holder is made of stainless steel with a stylish leather finish surround, and the magnetic clasp ensures that your cards will never go flying out along the dance floor. Trust me, after you've made the visual impression with the tie, you'll need the card holder… because you never know who's going to want your number. Amedeo Exclusive makes products that help the modern man stand out from the crowd, and by the end of the night, people will know who you are.