I'd be remiss to talk about sixties muscle cars without paying homage to one of the best of breed: the first generation 1967 to 1969 Chevrolet Camaro. But, it's also extremely difficult to write about the Camaro, for two main reasons. Reason one: How do you come up with any original topic about a car that has already been written up about in so many ways and from so many angles? Reason two: There are a lot (and I mean a lot) of Camaro guys that know every possible factoid about the first gen. If you want to write about the revered Camaro, then you had better be prepared to be repeatedly corrected by a Camaro enthusiast who intimately knows every nut, bolt, number, and high speed chrome muffler bearing on one. So today, the plan is to 'build' my own 1969 Fantasy Camaro: an original in the sense that all choices from the factory order sheet have been selected by me. Most of my Camaro option reference information is taken from internet sites, meaning there may be some cases where erroneous information slips in – I'm not claiming to be a Camaro expert, just a Camaro lover. Everybody, into the WABAC machine!
Diamond Don's Fantasy Camaro Build – Ordering a 1969 Camaro SS, 43 Years Too Late
I realize that some of you may not know what the WABAC is (or even Rocky and Bullwinkle), so I'm linking you to Wikipedia for a quick history lesson in classic cartoons. Sherman and Mr. Peabody used to enter the WABAC (pronounced Wayback) machine ca. 1960 to witness another time and place in history, and we're using it to experience the heyday of my fantasy Camaro.
The premise is: I'm an ordinary customer off the street that can order a new 1969 Camaro using only factory Regular Production Order (RPO) codes. Sorry- no exotic Central Office Production Order (COPO) orders or other special dealer Camaros like the Yenko, Nickey, or Baldwin Motion are made available to me, because I just walked into a typical town Chevrolet dealership and have no automotive industry 'connections'. If you are a Camaro numbers type of guy, follow along with my order option list. If you can't wait to see how my fantasy Camaro turns out when I take delivery, scroll ahead to the not to be missed final reveal…
My 1969 fantasy Camaro Factory Order Sheet:
RPO 12437 Camaro Sport Coupe: Paint code 10 Tuxedo Black, interior code BH Black/ Houndstooth
RPO Z27 Camaro Super Sport (SS): includes 300-hp Turbo Fire 350cid engine with bright accents, power front disc brakes, floor mounted special 3-speed manual transmission, special hood, suspension and ornamentation, sport striping, hood insulation, F70x14 white letter tires, 14×7-inch wheels, black painted body sill, simulated rear fender louvers, SS emblems on fenders, grille and rear panel.
RPO Z22 Rally Sport Package: includes special black painted grille with concealed headlights and headlight washer fender striping (except when sport striping or Z28 Special Performance Package is specified), simulated rear fender louvers, front and rear wheel opening moldings, black body sill, RS emblems on grille, steering wheel and rear panel, Rally Sport front fender nameplates, bright accented taillights, back-up lights below rear bumper, also includes bright roof drip moldings on Sport Coupe.
RPO Z87 Custom Interior: includes molded vinyl door panels with built-in armrest, assist grip, carpeted lower panel, wood-grain accents on instrument panel and steering wheel, bright pedal trim, glove compartment light, special body insulation and luggage compartment mat.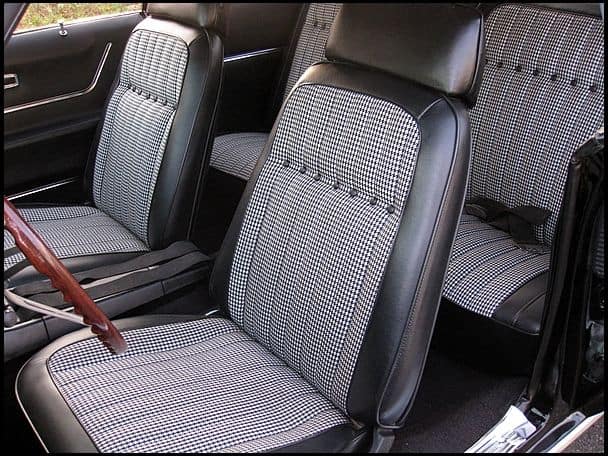 RPO L89 Engine: 375-hp Turbo-Jet 396-cid V-8 with aluminum cylinder heads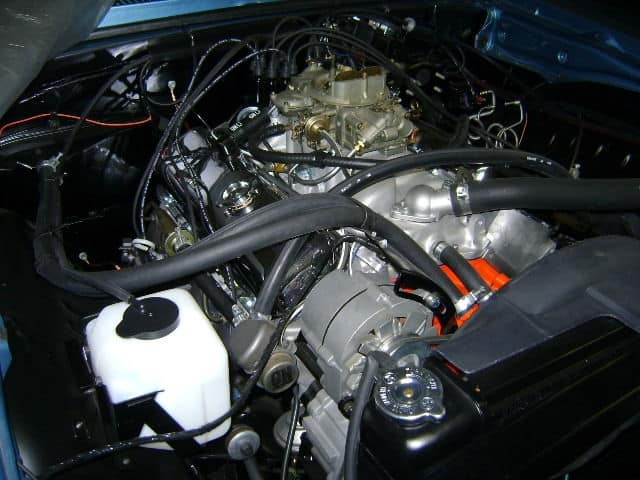 RPO A02 Tinted Windshield: excludes tinting all glass
RPO A31 Windows: power
RPO A50 Defroster: rear window, forced air
RPO B37 Mats: color-keyed floor, two front and two rear
RPO D55 Console: includes floor-mounted shift lever and compartment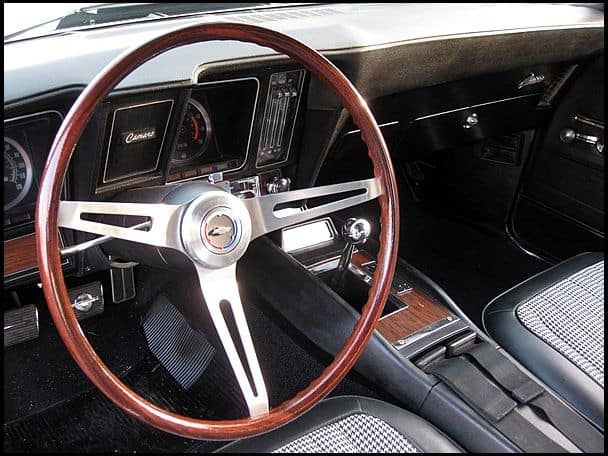 RPO D80 Spoiler
RPO F41 Suspension: special purpose front and rear
RPO G80 Axle: Positraction 3:73 ratio
RPO JL8 Brakes: power disc 4-wheel, includes multi-leaf rear springs
RPO M22 Transmission: 4-speed close-ratio heavy duty, includes Hurst shifter
RPO NC8 Exhaust System: dual chambered
RPO NK1 Steering Wheel: black cushion rim (only available after April 1969)
RPO N40 Steering, Power: includes quick ratio steering when SS is ordered
RPO N65 Tire: space saver spare
RPO N66 Wheels: styled SS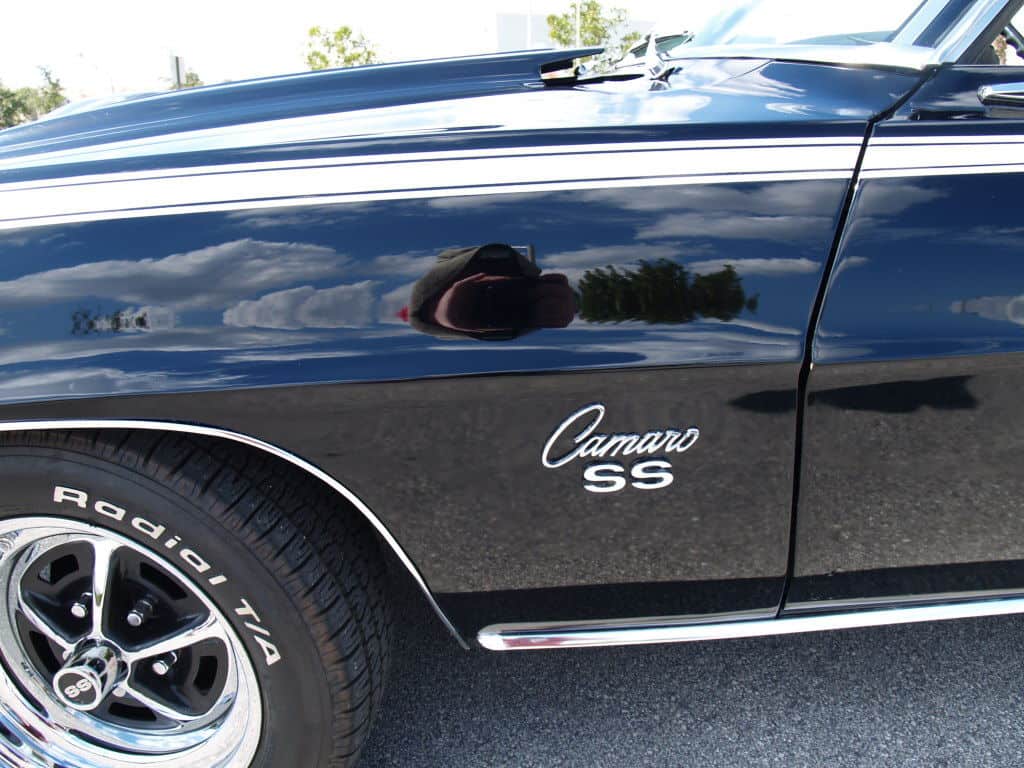 RPO T60 Battery: heavy duty
RPO U17 Instrumentation, special: includes ammeter, tachometer, oil pressure and fuel gauges
mounted on console, electric clock and tachometer, low fuel warning and brake tell-tale lamps
mounted in instrument panel cluster
RPO U63 Radio: push button AM, telescoping front antenna
RPO V01 Radiator: heavy duty
RPO ZK3 Belts: Custom Deluxe, seat and shoulder
RPO ZL2 Hood: special ducted
This shouldn't come as a surprise- as hard as I tried, I couldn't find internet images that exactly matched my Camaro built with this option list. Therefore, in the spirit of my fantasy Camaro build, you may notice that I needed to include pictures of several different real life Camaros in this post and for the final reveal. It is possible that no one else built the Diamond Don optioned Camaro; could it represent the rarest of the rare, a "one of one" example? Now, for your approval- presenting my tribute build to the fast and beautiful 1969 Camaro big block Super Sport!
It's black, it's a big block, and it's a beast!
Hold on tight to your dreams – Diamond Don