This time last year, I was cruising down the Italian superstradas on a mega European road trip. Actually, haring would be more precise as I've only just extracted my fingernails from the underside of the passenger seat – hence why it's taken me a whole year to write this.
I'll tell you something for sure; competing with crazy Italian drivers is a hair-raising experience and I've never knew I could feel so much genuine affection for my insurance plan. What's more, as I was passing Rome I spotted a rare treat – the fabled Lamborghini Gallardo police car. It got me thinking: is the Lamborghini Gallardo the coolest police car ever? Or can other countries do better?
Italy – Lamborghini Gallardo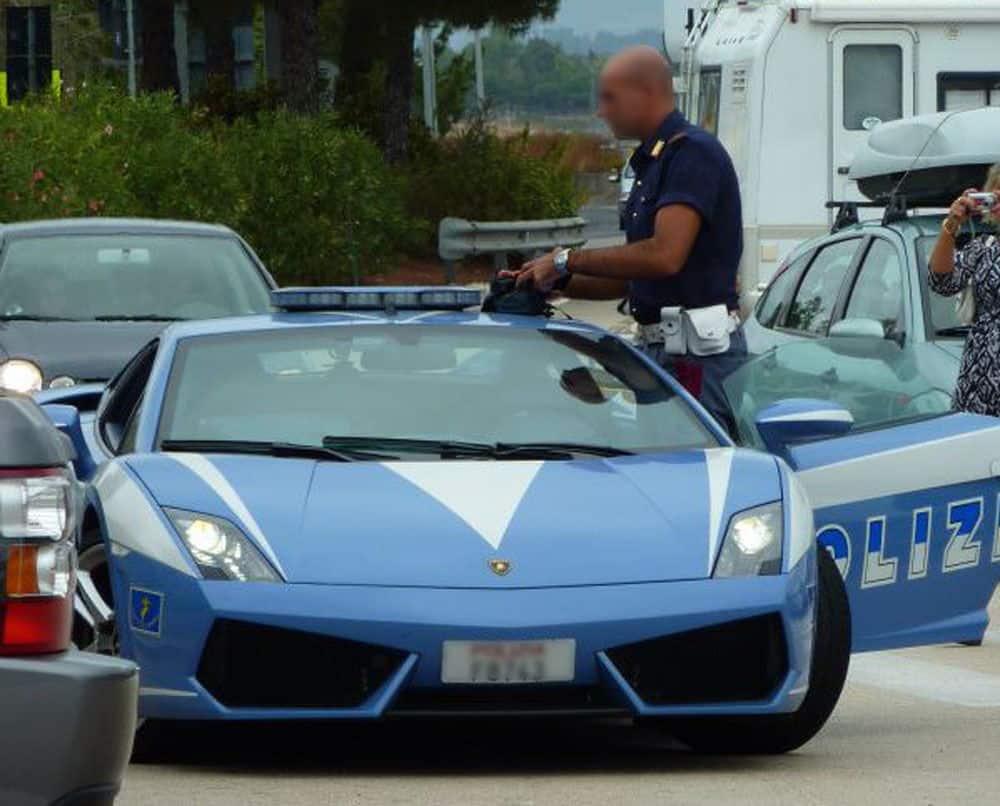 So let's start with the Gallardo. How did the Italian police get their hands on such an incredible piece of machinery? Well, in 2004 they were given two Gallardo supercars, which are now used by the traffic police during emergencies on the Salerno/Reggia Calabria motorway.
A newer version of the top-of-the-line supercar was donated to them again in 2008, which is lucky, as one of the cars was written off in a smash near Cremona in 2009 (again, praise be insurance). Considering the aftermath of the accident (the Gallardo finished up with a van resting on its roof) both officers escaped with minor injuries. One suffered a broken wrist, the other was only bruised. Perhaps that explains why, when we saw it, the driver was doing nothing more adventurous than posing for photos next to the car.
Thailand – Tuk-tuk
Nowhere near as fast as the Gallardo (but then again this is about coolness, not speed), this traffic police tuk-tuk from Chiang Mai in Thailand is pretty sweet. Also known as an auto rickshaw or sam-lor, it looks quite retro with its burgundy and white paint job.
It's used by the police when they need to direct traffic or close streets for parades and festivals. Police in other Thai cities don't seem to have caught on to this quirky looking form of transport, which is a shame as the newer auto rickshaws produce lower omissions and are a great way to reduce city pollution.
Japan – Honda NSX
Next stop is the land of the rising sun, where this Honda NSX may be possibly the most innocent looking cop car ever. It may be more Hello Kitty than Kit from Knight Rider but don't let its innocent exterior deceive you. This is a car designed by Pininfarina to showcase technology developed while Honda was competing in F1. Even Ayrton Senna had a say in the NSX's performance and handling capabilities.
Honda donated an NSX to the Japanese police force for use as a pursuit vehicle, although it does its fair share of exhibition work too. It's not the only cool looking vehicle that Japanese police get to drive either. Their fleet includes the Subaru Impreza and Nissan 350Z.
Dubai's multi-million fleet of supercar
If you're a gearhead then perhaps it's time to join the police force in Dubai where they have recently invested in an awesome multi-million dollar fleet of supercars. The list reads a little bit like the contents of Jay Leno's garage, with a Ferrari FF, a Bentley Continental, a Lamborghini Aventador and even an Aston Martin One-77.  Officers not lucky enough to rate a drive in one of these might still get lucky and find themselves behind the wheel of a Chevrolet Camaro or a Dodge Charger.
This may all sound excessive, but the wealthy Gulf state has a real problem with speeding motorists, especially supercar owners. Dangerous driving is a big problem in Dubai with a person killed in a traffic accident every 26 hours. Dubai's population is just over 2 million, compared to the UK's which is about 63 million so that's a fairly alarming statistic. It's unclear whether the supercar fleet will reduce accidents, but they're certainly increasing arrests – people are finding excuses to be pulled over and taken down to the station, just to get the chance to ride in one of these incredible cars!