Most people fear death and death is considered a sad part of life in many cultures around the world.  However, there are some cultures that celebrate death with music, drinking, laughter, and other festivities – as if to laugh in the face of death.  One such place that celebrates the day of the dead "Dia de los Muertos" is Mexico and to celebrate this day, Swiss watchmaker Romain Jerome has created two limited edition watches.
The Romain Jerome Dia de los Muertos watches come in two varieties with 25 pieces in each design.  The watches don't have too much to differentiate them from other RJ watches like the Art-DNA except for the dial, which features a skull painted in traditional Mexican decorations.  The dial looks very bright and colorful and is instantly recognizable for having some sort of connection to Mexican culture.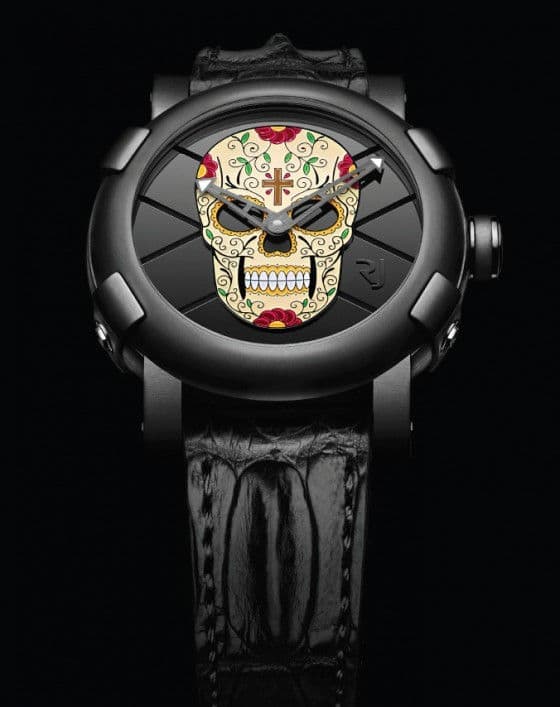 Both versions of the RJ Dia de los Muertos watches are very similar with one of the watches featuring a cross on the forehead of the skull and the other version is without the cross.  The watches come in 46mm black PVD coated steel cases that can be found on many Romain Jerome watches.  The watches are powered by self-winding mechanical movements with 42 hour power reserves.
I'm normally not a big fan of skulls but I like the skull on the Romain Jerome Dia de los Muertos watches, the skulls are bright and colorful and nicely offset the black background.  The price, however, is quite steep on these watches with each watch priced at $15,900.