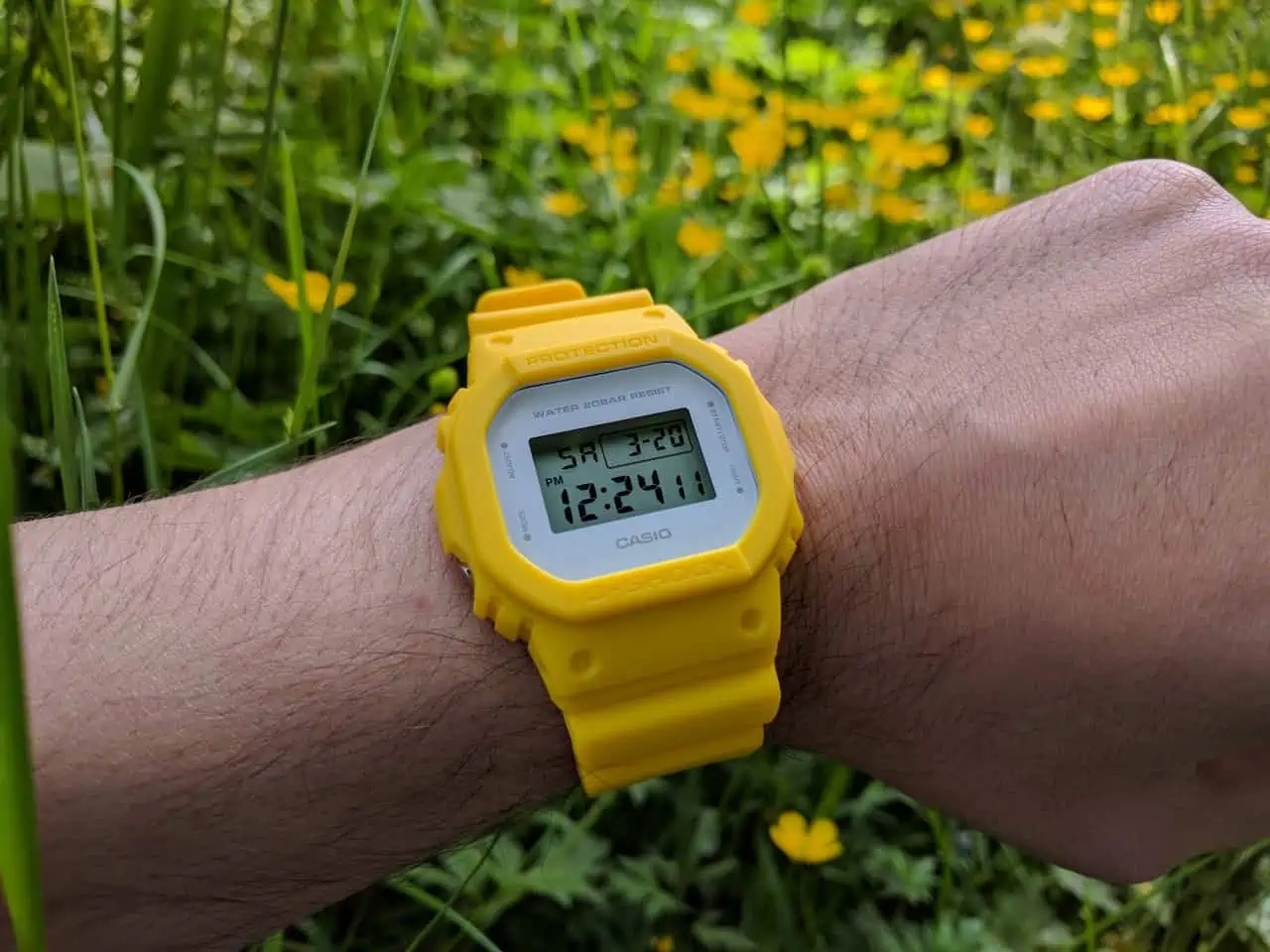 I recently got into the world of G-Shock watches, I've written quite a few posts on newly released Casio G-Shock watches, but I had never owned one. Last year I got my hands on my first G-Shock watch, which was the G-Shock Black Out series G100BB-1A watch, read my review here. In my review I talked about why these watches are so popular and why you need to own at least one.
Fast forward to 2017, I got another G-Shock watch. While my first G-Shock was very stealth and inconspicuous, the second watch is very in your face, in bright yellow. The watch's model number is DW-5600CU-9 and is part of Casio's "Clean Military Series" which is inspired by the iconic G-Shock DW5600 watches.
These watches are indeed very reminiscent of vintage G-Shock watches, everyone I showed my bright yellow watch to thought it was a mint condition vintage watch that I had kept in storage for years. The bright color of the watch was also very attractive to my 2 ½ year old nephew and 1 year old niece, they kept trying to take the watch off of my wrist and were claiming it as their own.
This new line of watches consists of three models: bright yellow (DW5600CU-9), white (DW5600CU-7), and black (DW5600LCU-1). Below is a picture of all three watches.
These watches come in 42.8 mm cases, which are the perfect size for my smaller wrist. The watches come with the basic features that we've come to expect from G-Shock, features such as shock-resistant bodies, 200 meter water resistance, stop watch, countdown timer, 12/24 hour time formats, electro-luminescent (EL) backlight, and day and date.
I really like the size of my G-Shock DW5600CU-9 watch, it fits comfortably on my wrist and doesn't look awkward. The watch is very comfortable to wear and the straps are very soft, yet tough. The bright yellow watch is perfect for the spring/summer months and my wrist hasn't felt hot/sweaty while I wore it on hot spring days.
Operating the watch is very straight forward, the watch comes with a manual that is easy to understand and it took me a couple of minutes to set up the correct time and day/date. It's also very easy to set up alarms, which can be set to daily, a specific date, monthly, and even for a specific month at a specific time. These alarms can be quite useful.
I've been wearing this watch for a couple of weeks and I really like it, it's a bright watch that catches everyone's eyes and the vintage look is really cool and reminds of when I was younger, maybe that's why my niece and nephew love this watch?
The Casio G-Shock DW5600CU-9 is priced at $99 US. For more information on the Casio G-Shock Clean Military Series, check out gshock.com.