Casio G-Shock watches are extremely popular among watch collectors and they're also loved by many "non-watch" people. G-Shock watches are worn by people from all walks of life, including military, search and rescue, adventurers, race car drivers, doctors, even accountants, and everything in between. I've seen people that own huge collections of extremely expensive watches wearing G-Shocks.
What makes G-Shock watches so popular?
They're tough! Most watches I personally own are quite fragile, and I'd have a mini heart attack if I dropped one of those watches on a concrete floor. Dropping a G-Shock watch on a concrete floor has virtually no effect on the watch, in fact, it might even add to the character of the watch.
They're affordable. You can pick up a G-Shock watch for as low as $40 on sites like amazon.com, you could probably find them even cheaper if you looked hard enough. But you can spen quite a bit on money on some limited edition G-Shock models that cost thousands of dollars.
Variety. There are literally hundreds, if not thousands, of different G-Shock watches available. They differ in features, sizes, and colors. No matter what your taste, I'm sure you can find a Casio G-Shock watch that will suit your style and/or needs.
They're colorful! There are countless number of colorful varieties of G-Shock watches, some of these colors are very bright and some are very subdued like the new Black Out Series.
I have personally wanted to own a G-Shock watch for a very long time, but I don't own any because I have small wrists and have always been afraid of the size of these watches looking weird on my wrists. But I recently took a leap of faith on the new G-Shock Black Out series of watches.
The Black Out Series of tactical watches consist of four watches, all come with black bodies and straps, black dials, and black hands. These watches also feature reverse LCD displays, black face with white indicators. These watches are meant to be "tactical", making them perfect for those night-time missions where stealth is required (like sneaking in the middle of the night to the fridge for some snacks).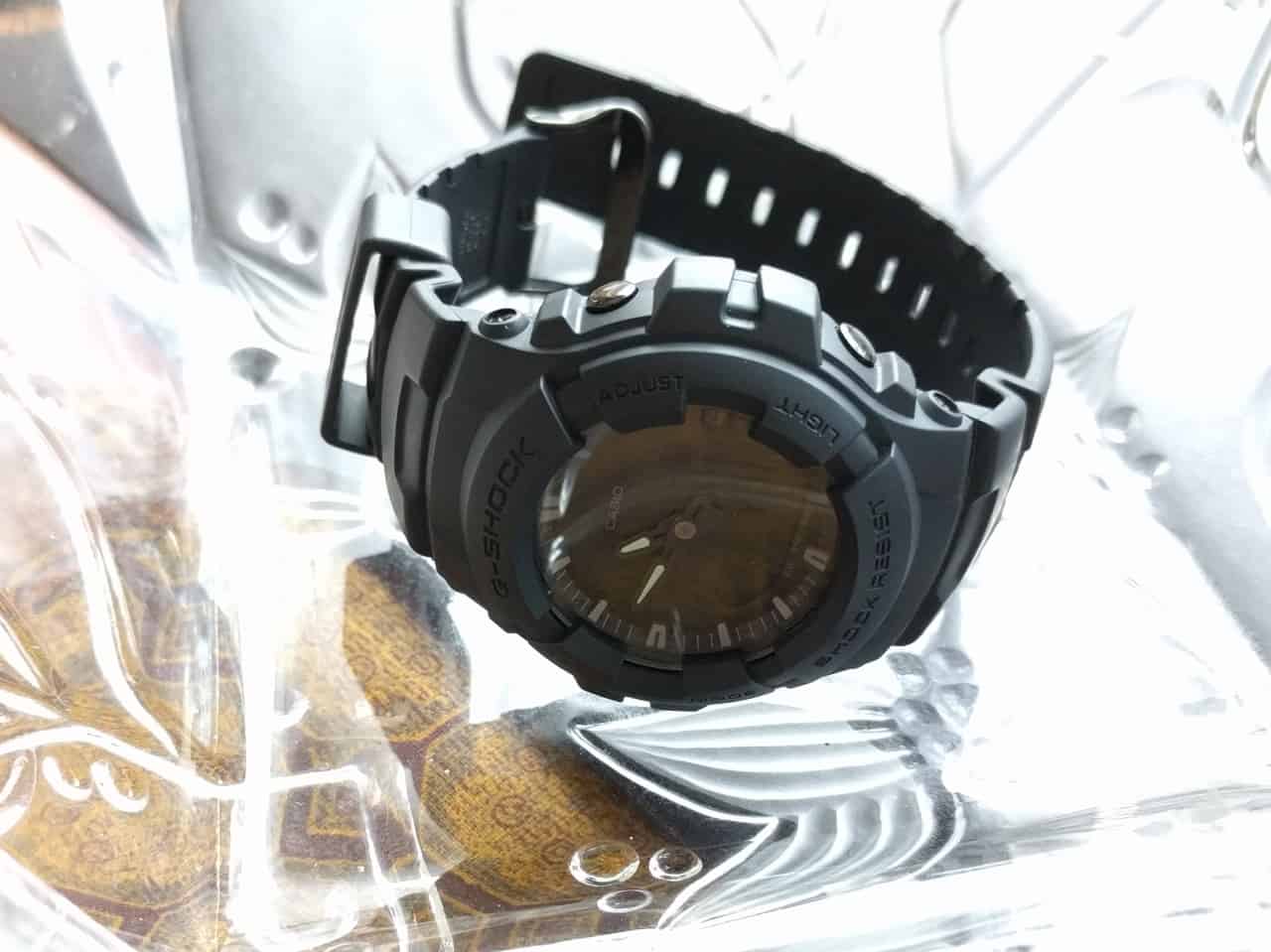 Since I have smaller wrists, I went with the smallest watch in the collection, the G100BB-1A, which measures 47.8 mm. The other watches in this line are 50 mm and up. The G-Shock G100BB-1A watches are a bit on the simplistic side in terms of features, but they still come with the features that make these watches very popular. The G100BB-1A watches come with shock-resistant bodies, they're water resistant to 200 meters, they feature stop watch and countdown timer, 12 and 24 hour time format, dual time zones, day and date, and anti-magnetic structure.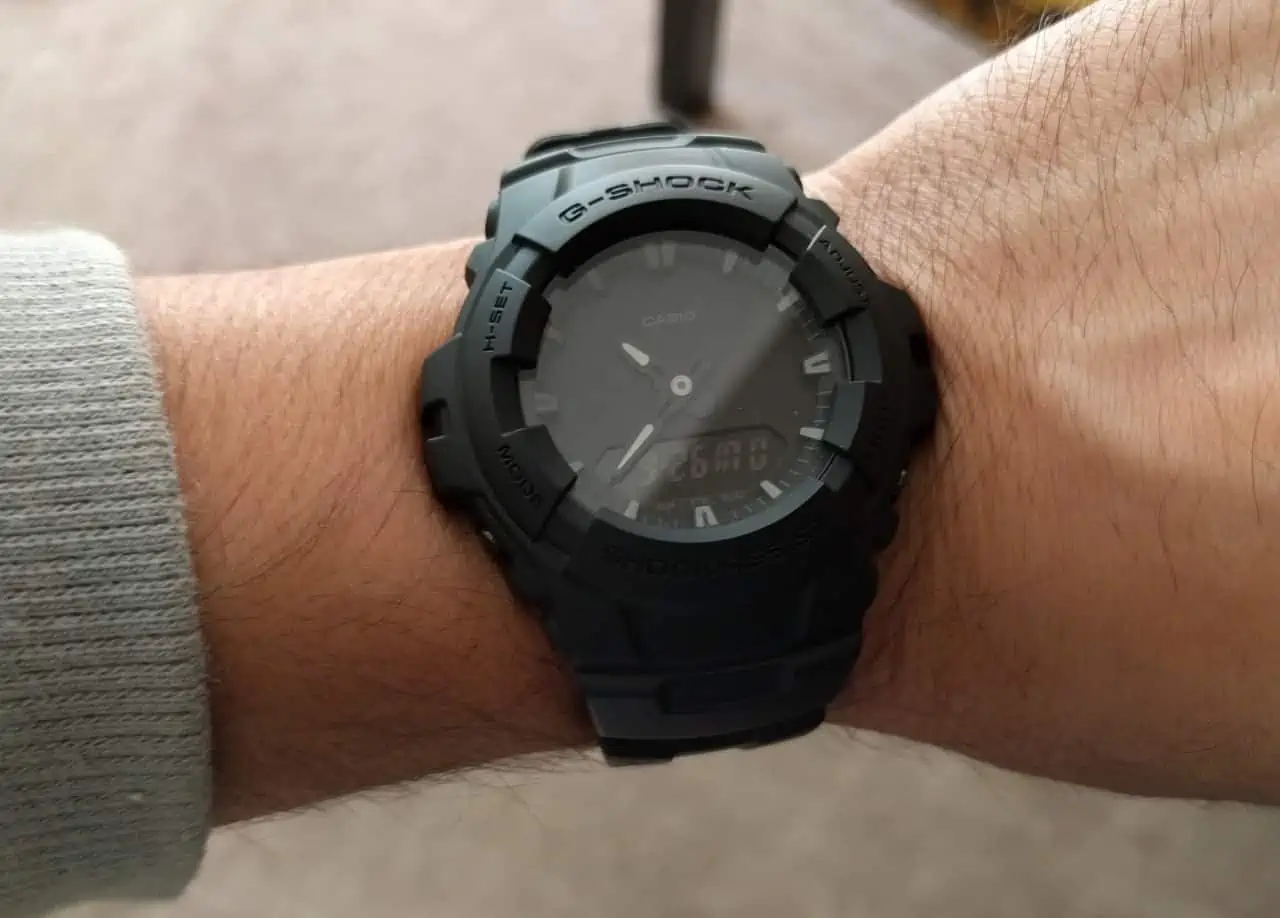 Normally I don't wear watches bigger than 42 mm and was afraid the G100BB-1A would look awkward on my wrist, but I was surprised by the way the watch sits on my wrist. It doesn't look awkward at all, the way the watch is designed, it looks smaller than the size would suggest, it looks about as big as my 42 mm Orient Make dive watch.
The Casio G-Shock G100BB-1A also sits very comfortably on the wrist, the straps are soft and have an airy feel to them, and the watch is very light. The watch comes with a small manual describing how to change time and time, and other features. The manual is easy to understand and it only took me a minute or two to change all the relevant information to my local time and date. Because of all these features, the light weight and comfortable position on my wrist, and it's toughness, the Casio G-Shock G100BB-1A is my new everyday watch.
The Casio G-Shock G100BB-1A is priced at $99 US. For more information on the Casio G-Shock Black Out Series, check out gshock.com.