It's been a while since I wrote for you guys about this sort of thing. I took a week and jetted off to Vegas (those of you who follow our Facebook page may have witnessed some of my drunken ramblings) and while I was there, I experienced a lot of offers for 'free drinks.' Buying girls drinks is one of those things that is starting to be viewed unfavorably by both sexes. As guys, you feel like every girl out there is a floozy out to take your money and run, and as girls, you feel like asshole bros are going to force feed you bad lines and cheap drinks so they can try to force feed you something else. This is ridiculous. What kind of state are we in in the dating world? The bar is hardly the place to find love – obviously- and you shouldn't be throwing around money and alcohol to attract people to you. However, buying girls drinks can be fun, natural, and a great opener that will save you from being taken advantage of while helping her appreciate you as a no-pressure, normal guy.
Buying Girls Drinks – You're so creepy and you're probably going to roofie me!
Let's go over some of the pitfalls for a guy trying to buy a girl a drink:
Buying girls drinks can come across as pushy, aggressive, rude, or intimidating. This is damn stupid, because you're trying to be nice and buy them a drink, but the flip side is, you probably do want to get in their pants so I guess it's not completely unfounded.
Buying girls drinks or ordering for them can be viewed as rude and presumptuous, and yeah, there's the whole drug thing too. You're not a crazy drink spiking Rapey McPusherson, but precedent has been set and this is why we can't have nice things. Sorry.
Buying girls drinks out of the blue requires saying something to them- and generally, it means you're using that as an opener… which means you don't have something planned to say. Awkward silences are something girls pick up on and think is 'creepy.' Awkward is awkward and you don't want hang out with people who make you feel that way, especially when there's a bar full of other potentials.
Buying girls drinks can be construed as a desperate shot at bribery, rather than a sign of genuine interest.
You could bark up the wrong tree, and a girl will take all of your drinks and none of your company. For every asshole bro, there's a shameless tart, and that's what makes the world go round. There are jerks and there are great people, and gender has nothing to do with it.
So, that's a freakin' intimidating list. What the hell is a guy to do? If you're out at a bar, and a girl catches your eye, buying her a drink is not actually a terrible way to get a chance to talk to her, if you do it properly. Now, as I've said in every other article that I write- please be attracted to her. Don't choose a girl because she's the lone antelope on the savannah or because she looks super drunk or super easy. Even if you are only looking for a one night stand, you should need and want a spark of real attraction, or else what's the point? You don't need me preaching at you, to be sure, but sincerity is what separates a weirdo or a perv or a man-whore from the decent guys who usually get the short end of the stick. Enough of all that; are you ready for your secret weapon? It's your beer, when you've got about three mouthfuls left. Seriously.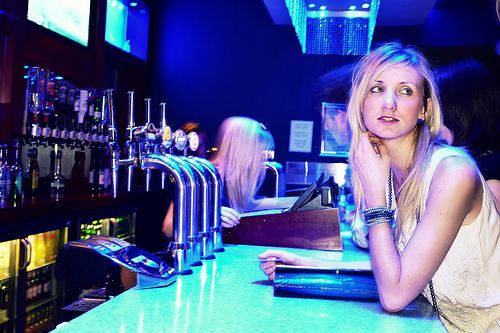 If there's a girl you want to talk to, make sure you have a drink of your own, and make sure it's just a shade off being empty. When you approach her, one of the best things to say is something like, "you look like you're having a great time!" This is important on many fronts. One, it's true- you're not going to be attracted to an angry looking chick pounding away at her iPhone, radiating bad mojo all over the place. Two, it's low pressure. You don't have to think too hard, lie, and you're not asking her for anything specific or uncomfortable. Three, it allows you to get a chance to interact with her without offering the drink yet. She'll likely answer with something like, "yeah, I love it here!" or "the music is great!" or even "woooooooooooo drunk bitches rule let's party!" She can answer any damn thing under the sun, and a confident girl will likely start asking YOU questions. Basically, it means no scripted conversation, no cheesy pickup line.
If she needs to, she can answer "Yeah, I'm here with my boyfriend" or something else that will let you know to move on. Despite feeling like a letdown, this is actually great… because you can turn it into a girl melting move without missing a beat. Tell her, "well, I had to swing by and tell you, because it's always great to see a genuine girl at these places." Clink her glass, and head towards the bar (you need a new drink, remember?) She'll feel warm and glowy, and you'll feel like a sly gentleman knowing that she's thinking about what a ballsy yet nice guy you are. Even though she 'turned you down,' she'll be subconsciously trying to catch your eye all night. So, you've got your safety if you're terrified of failure, but where do you go if she answers you favorably?
Depending on her answer, you can cheers her (and realize you need a new drink), raise a glass to her (and realize you need a new drink), or chit chat with her a bit. If things go a bit quiet, take the last gulp of your beer, look at it, and realize that you need a new drink. And there you have it- the perfect invitation to buy her one. Tell her that you're going to grab another, and that this round is on you if she'd like to come with you to the bar. Just like that, you've erased almost all the scary things for yourself about asking, given yourself an out if she declines your drink, made sure she can order something she'll like (which is always a good way to learn about someone), and no worries about roofies or floories.
In truth, most girls that will take a drink are happy to buy you one back, and referring to it as a round insinuates you'd like to spend more time with her and that if she wants, she can get the next one. For a lot of girls, that's a comfortability thing. I don't like to take drinks from guys unless I know I'm going to talk more to them, which means I'll buy them one back, or else I feel like a user. In my mind, that means that even if sparks don't fly, we had a good night getting to know each other, and no one put down 'money for nothing.' The next time that you're at a bar and you want to take a crack at buying girls drinks, try this out and I guarantee that you'll feel better about the scene and yourself… and she'll feel it too.