I've talked about bouldering quite a bit over the last 6 months.
It's a great alternative to a typical gym, and if you're interested in learning more about it, this interview I did with climber Guillaume Raymond is an excellent place to start. I ask him a bunch of questions, mostly pertaining to newbies, and we cover a wide range of topics.
One of the topics we touched on was bouldering gear, or rather, or to put it another way… as a newbie, what should you bring to the climbing gym?
Your First Time Bouldering

I'm not going to discuss climbing or technique in this post, as there's enough material there to cover a great many other articles, but instead focus on the day one essentials. You've just decided that you want to give bouldering a try, and you're wondering what to bring.
Bouldering requires very little equipment. If you've read my interview, you know that a harness isn't required. You don't even need rope or a belay device!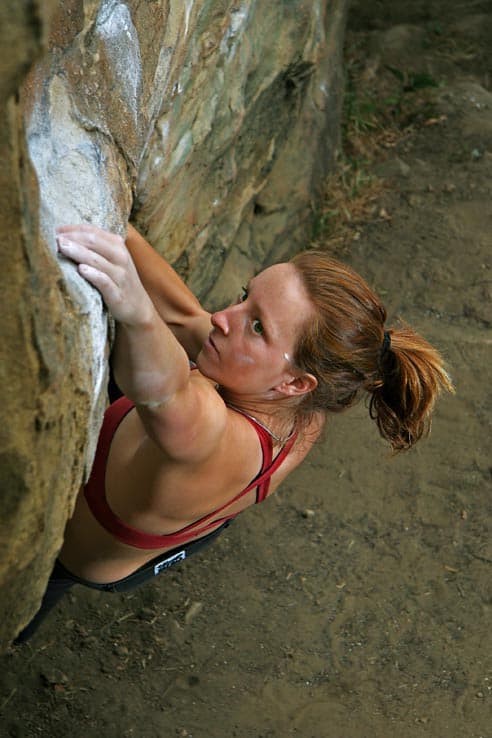 What do you do is light and flexible clothing, ideally garments that will breath. I tend to wear breathable bamboo tees or dumpy tanks. Not exactly classy dinner wear, but you're here to climb, not to look your best. Absolutely do not wear jeans. I've seen a few newbies try that, and it makes me cringe every time. They're not nearly flexible enough for rock climbing.
My next suggestion is probably the most important, and it's also the least expensive: water. The first time you go climbing, you're going to become tired and dehydrated very quickly, guaranteed. I don't care what your background is, how strong you are, or what sports or activities you've done. Your muscles are going to hate you in short order. Bring a big bottle of water and drink frequently. According to just about everyone, hydrated muscles perform a heck of a lot better than dehydrated ones.
What About Footwear?

Right, so you may have noticed that I haven't mentioned shoes at all.
I know you're excited about climbing, and you want to throw yourself at it 100% and buy a fancy new pair of shoes, but please… wait. Just about every gym rents out various types of shoes, and since you're new I suggest starting off with rentals. Climbing shoe styles vary wildly, and because you haven't climbed yet, you just don't know what kind of shoe will work well for you.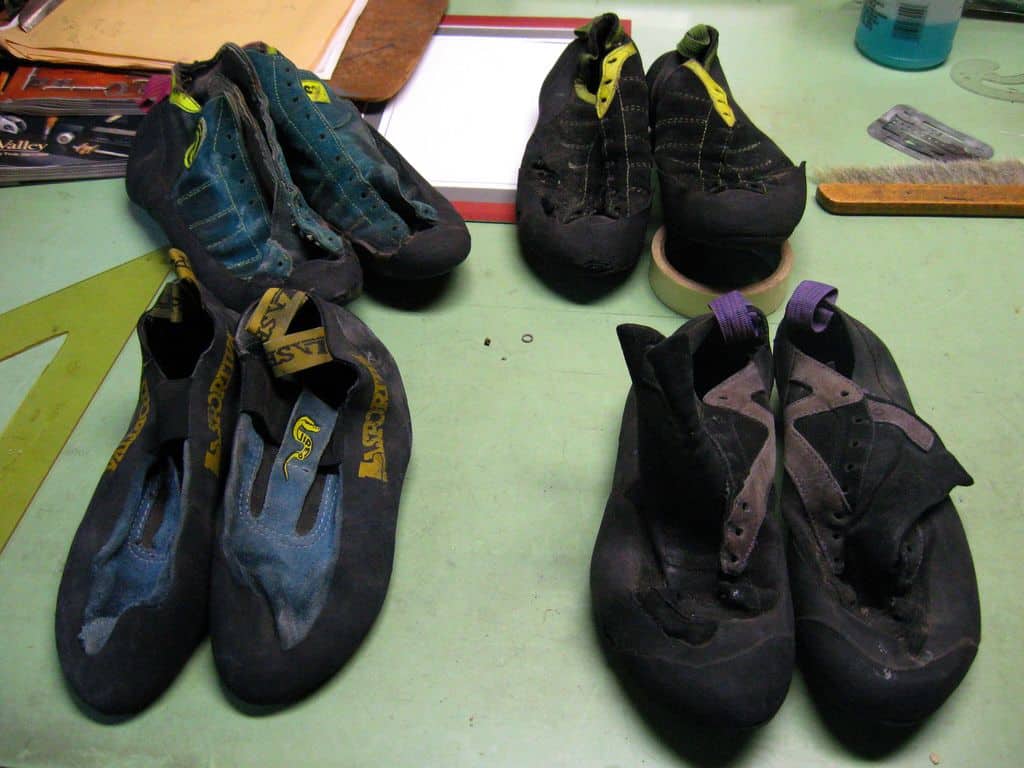 After you've gone for a few sessions, then you can go ahead and pick up an inexpensive pair of shoes.
Other than that, just get on the wall and have fun. Climbing is one of my absolute favorite activities, and I hope you enjoy it as much as I do! If you have any questions, don't hesitate to leave a comment below and I'll do my best to answer.
(Photos by Kiliii Fish, Susanica Tam, and Dru!)