The "green movement" has fully taken hold of the automotive industry with most car makers producing some sort of a hybrid vehicle nowadays and lately we've seen quite a few sports cars that are all-electric (Infiniti Emerg-E) or use hybrid technology.
Not to be left behind, BMW joined the green car movement with the i8 Coupe which was showcased last year and now they've introduced the BMW i8 Spyder concept.  Unlike the Infiniti, the i8 Spyder is a plug-in hybrid, based on the i8 Coupe, with an electric and a gasoline engine.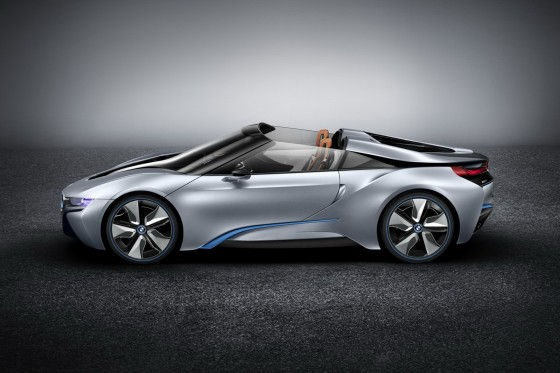 The gasoline engine is placed at the back of the car powering the rear wheels and is a turbocharged 1.5 liter unit producing 220 horsepower and 221 pound-feet of torque, sending power to the rear wheels via a dual-clutch transmission.  The electric motor is placed at the front of the car, driving the front wheels and it produces 129 horsepower.
The i8 Spyder can be driven using the gasoline engine only, electric engine only, or both engines simultaneously.  When both engines are used to move the car, the aggregate horsepower is rated at 349 and max torque is 406 pound-feet.
According to BMW, the i8 Spyder concept sprints to 62 mph (100 km/h) in 5.0 seconds (0.4 seconds slower than the i8 Coupe) and can reach an electronically limited top speed of 155 mph (250 km/h).  BMW also claims a combined fuel consumption of 3.4 liters/100 km or 78.4 mpg based on the European cycle.
BMW i8 Spyder Concept Hybrid