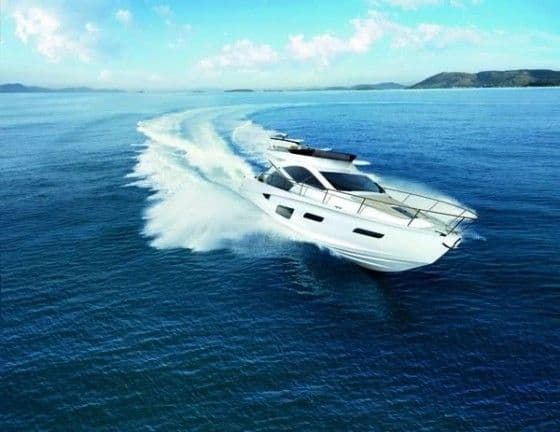 When it comes to transportation in style, most of us gearheads think of cars or planes but we somehow ignore the other stylish transportation mode, luxury boats and yachts.  Take the Intermarine 55, for example, it's a luxury yacht designed by Brazilian yacht makers Intermarine in collaboration with BMW Designworks USA.
The Intermarine 55 features a stunning exterior design with an abundance of windows for the occupants to enjoy the view.  The yacht is 57 feet long and is available with two engine options that include a set of 670 horsepower engines for the endurance model and a set of 800 horsepower power model.  The endurance model can travel up to 350 nautical miles with a top speed of 31 knots and the power model can travel up to 300 nautical miles with a top speed of 35 knots.
The Intermarine 55 yacht comes with a luxurious interior and includes a master suite with a queen size bed and an enclosed shower.  Outside, at the back of the boat, there is a U-shaped sofa for catching "rays" and is conveniently located next to the sink and barbeque.  The top deck features more tanning and seating space, a dining table, a fridge, another barbeque, and a sink.
All this luxury can be yours for a cool $2.2 million but you'll have to wait until July to take delivery.
[Source: Forbes]