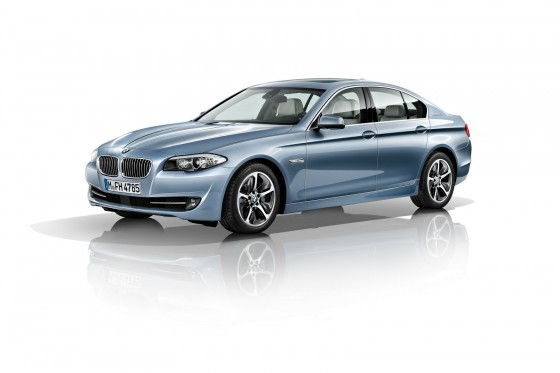 BMW recently ventured into the hybrid market with the ActiveHybrid X6, which was a major failure and will soon be retired.  They're giving it a second go with the ActiveHybrid 5 Series sedan which will be available in March 2012.
The ActiveHybrid 5 sedan is based on the 535i and features the 300 horsepower 3.0 liter TwinPower turbocharged in-line 6-cylinder engine from the same model.  The total output on the hybrid version is increased to 335 HP, thanks to the addition of the electric motor, and up to 330 pound-feet of torque which is sent to the rear wheels via an 8-speed automatic transmission.
Electricity is stored in a lithium-ion battery pack that can power the electric motor for an all-electric drive of up to 2.5 miles at an average speed of 22 mph and can go up to 37 mph.  The 5 Series hybrid also features an "ECO PRO" mode which turns off the gasoline engine while coasting at speeds of up to 100 mph for additional fuel savings.
Aesthetically the only difference is the weird looking wheels and a few "ActiveHybrid 5" badges on the sides, trunk, door sills, and the interior.
The hybrid 5 series is projected to be able to hit the 60 mph mark in 5.7 seconds, same time as the standard 535i that costs $52,000 and achieves 30 miles per gallon on the highway.  BMW hasn't provided the price or fuel mileage figures for the ActiveHybrid 5 sedan but it is expected to provide double-digit percentage improvement in fuel economy over the 535i sedan.
Let's hope the hybrid 5 series doesn't end up like the X6 hybrid, which mainly failed because it cost way too much and didn't provide much improvement in fuel economy.  I'm sure the hybrid 5-series sedan should do better, BMW must have learned their lesson with their other attempt.
BMW ActiveHybrid 5 Series Sedan Photo Gallery
[Source: BMW]