A few weeks ago I reviewed the Jaguar F-Pace SUV, I called the F-Pace a sports car in the SUV world; last week I reviewed a Range Rover Sport Supercharged, if the F-Pace was a sports car, the RR Supercharged is a muscle car of the SUV world. Continue reading to find out why I think the Range Rover Sport is a muscle car.
Prices
In Canada, the 2017 Range Rover Sport is offered in 7 different trims, with the base SE trim starting at $77,000 and top of the line SVR starting at $127,500. Our review car for the week was the 2017 Range Rover Sport Autobiography Dynamic model, which is one step below the top of the line SVR trim.
Our tester had a starting price of $109,500, with all the options and delivery charges, the final price as $122,150 before taxes. So you're looking at about $150,000, quite the price for an "off-road" vehicle. Some of the bigger options on our tester included $2,400 for the 22" black wheels, $1,350 for Head-Up Display, $900 for four zone climate, $2,000 for the "Stealth Pack", which I'm assuming is the blackout treatment of the chrome trim, $1,450 for "Drive Pack Pro", and $950 for "Park Assist".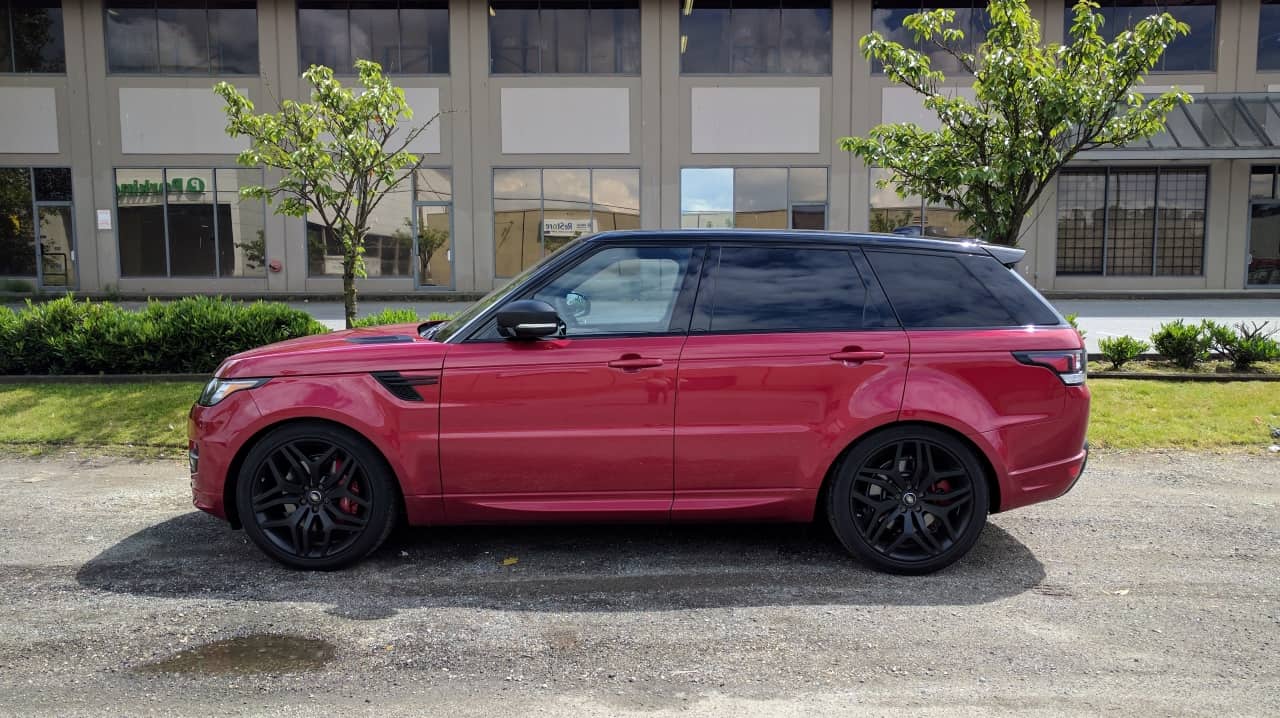 Engine
The Range Rover Sport is offered with a variety of engine choices, the base SE and HSE models are equipped with the same 3.0 liter supercharged V6 engine found throughout Jaguar's line up, which produces 340 horsepower and 332 pound-feet of torque, we reviewed a Range Rover Sport HSE a couple of years ago with this engine. The HSE can also be equipped with a 3.0 liter turbocharged diesel engine, producing 254 horsepower and 440 pound-feet of torque, read our review of the HSE Diesel here. Like with Jaguar vehicles, the V6 has two different output, the 380 horsepower producing supercharged V6 is available on the HSE Dynamic trim.
A 5.0 liter supercharged V8 engine is available on the next 4 trims, the V8 produces 510 horsepower and 461 pound-feet of torque, but on the SVR those numbers are further increased to 550 horsepower and 502 pound-feet of torque. All engines come with the smooth-shifting ZF 8-speed automatic transmissions and Four Wheel Drive.
Performance
So yeah, the Range Rover Sport Supercharged is like a muscle car that thinks it's an SUV. Press the start buttons and get ready for some very loud exhaust sounds, the exhaust sound is extremely addicting and if you heard it without seeing what was producing it, you'd think it really was a muscle car. My routine for the week was to get in the RR Sport, roll down all my windows and then hit the start button, nothing wakes you up in the morning like the thundering sound of a 500+ HP V8.
The V8 performs as you'd expect it to, it's bloody powerful. The RR Sport is a pretty heavy vehicle but it's nothing this beast of an engine can't handle, with a claimed 0 – 100 km time of 5.3 seconds (0 – 60 mph in 5.0 seconds). The Range Rover Sport Supercharged is fast enough to leave many sports cars in the dust.
Personally I think it's a bit too much power, yes you heard that right, I'm complaining about too much power. It was a bit hard to modulate the throttle, especially in tight space, as soon as you touch the throttle the RR wants to leap. This could also be a problem off road where precision with the throttle is very important, but then again, I highly doubt anyone would take their $150k Range Rover off-road.
According to Range Rover, our tester should consume 16.6/12.3/14.7 L/100 km in city/highway/combined driving, on premium fuel. I was actually able to better those numbers, based on the readout from the on-board trip computer, I manged 13.3 L/100 km in 50/50 city/highway driving. I was driving gently, but still did push the accelerator quite hard on many occasions.
The Range Rover Sport is pretty sporty, compared to its big brother the full-size Range Rover, but after driving the F-Pace a few weeks ago, now it doesn't seem as sporty as I thought in previous reviews. But still, I think the RRS handles well enough and since this generation is a uni-body, it handles a lot better than the previous generation and doesn't have that truck-like ride.
The Range Rover Sport is also a very capable off-road vehicle, it comes with Land Rover's Terrain Response System, you can leave it in automatic or choose between snow, sand, and rocks. Like I said earlier, would you really want to take your $150k vehicle off-road? Especially with the optional 22" wheels like our tester had. I know 99.99% of people won't take these off-road, I didn't. I did take the HSE light off-roading a few years ago, but was still afraid I'd damage it, I wasn't going to take that chance on the most expensive SUV I've ever reviewed.
Interior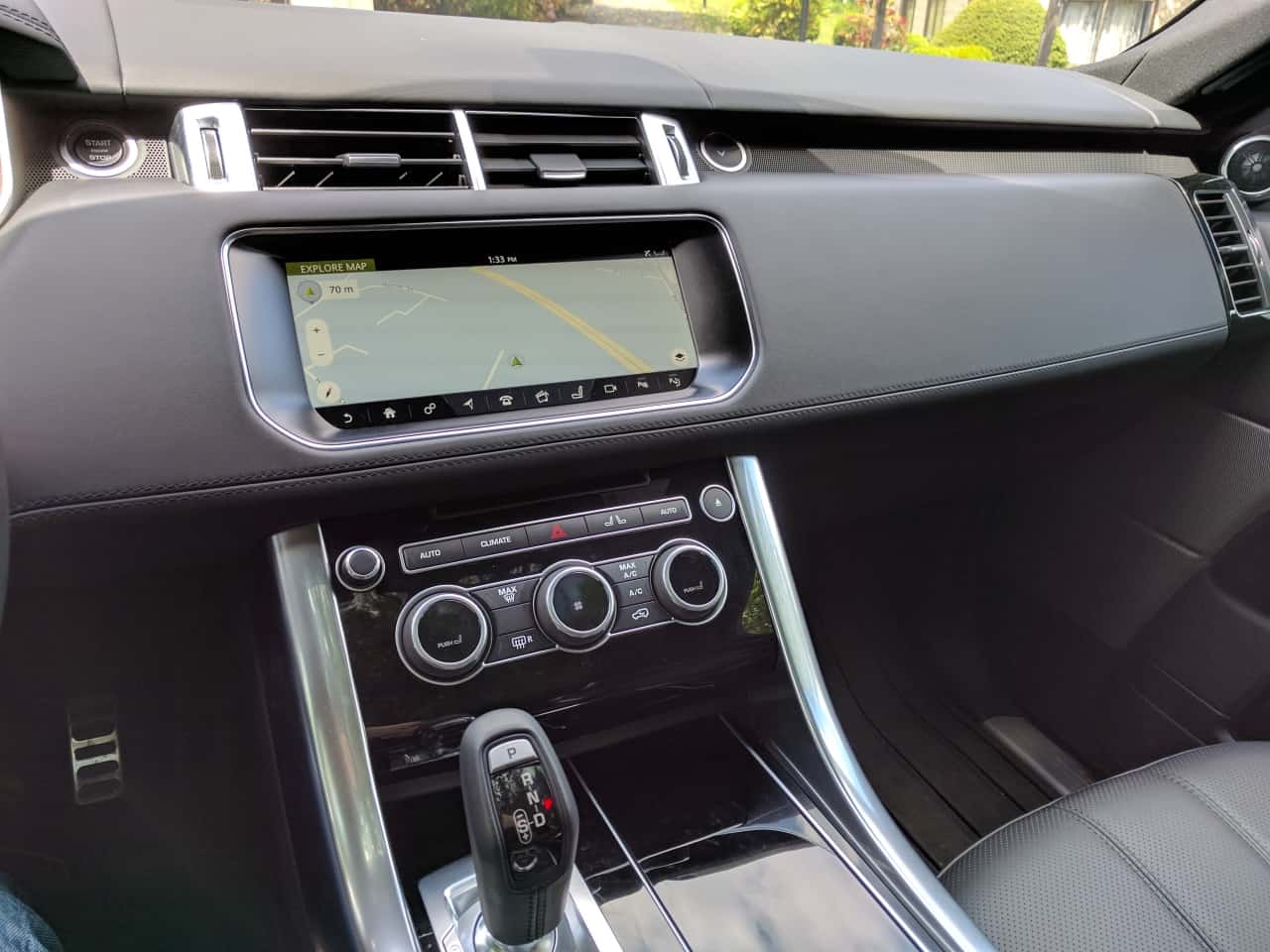 The interior hasn't changed much over the years, there is now a new 10.2" wide touchscreen which has improved considerably over the previous touchscreens. The screen is much more responsive, which was a big complaint I had with the previous system. The graphics are also very sharp on this system and the cameras have a much clearer image on the screen. There's also an optional 12.3" TFT virtual instrument panel, which can be changed to display different information in addition to the speedometer and tachometer.
The seats on the Autobiography are much more padded than the ones on the lower models, they are very comfortable and have lots of adjustability, the seats are heated and cooled and come with massage feature, which I find to be a gimmick nowadays. The rear seats on the other hand, are very hard and they could get uncomfortable on longer journeys. I was also surprised to find the rear seats didn't automatically fold with the touch of a button, you have to manually fold them. I know it's not a big deal, but when you spend this much money on a vehicle like this, you expect everything to be automatic.
The interior is very comfortable and quiet, but it lets in enough of the amazing sound of the exhaust, which is just so addicting. I kept wanting to go faster and faster, just to listen to the rumble of the V8.
Technology:
Below is a list of some of the key tech features on the 2017 Range Rover Sport Autobiography:
Keyless entry with proximity key
Push-button start
Stop/Start Motor System
Soft-close doors
Head-Up Display
Dual power/heated folding mirrors
Adaptive Xenon headlights with auto high beam assist
Heated leather steering wheel
16 way power front seats with heating and cooling
Rear heated/cooled seats
Heated windscreen
Navigation System
Bluetooth connectivity
Park Distance Control Sensor Front
Park Assist
360° Park Distance Control
Adaptive Cruise control with Intelligent Emergency Braking
Autonomous Emergency Braking
Lane Keep Assist with Driver Condition Monitoring
Rear View Camera with Surround Camera System
Blind spot/reverse traffic detect
Automatic Access Height

Impressions
The 2017 Range Rover Sport Supercharged is one heck of a vehicle, the sound of the V8 alone is worth the price of entry, if you have the cash. It's extremely fast, luxurious, and comfortable. It's also quite a capable off-road vehicle… but if I were to buy a Range Rover Sport, I'd go for the diesel version, I think the supercharged V8 is just too powerful of an engine for an SUV.
But hey, if you can afford and must have the V8, I won't judge you.
2017 Range Rover Sport Autobiography Review Photo Gallery
For more information on the 2017 Range Rover lineup, please visit landrover.ca.