Ladies and gentlemen, start saving your pennies because the 2014 Bentley Continental Flying Spur is here.  Okay, I lied a bit.  You're going to need a little more than pennies to buy one of these luxury sedans, and the car is now actually called the Bentley Flying Spur, Bentley has dropped the "Continental" from its name, for some reason.
The 2014 Bentley Flying Spur looks like the car it replaces, only when you're looking at it head-on; every other part of the car is all-new and looks different.  The body is more chiseled and has more angles compared to the more rotund model it replaces.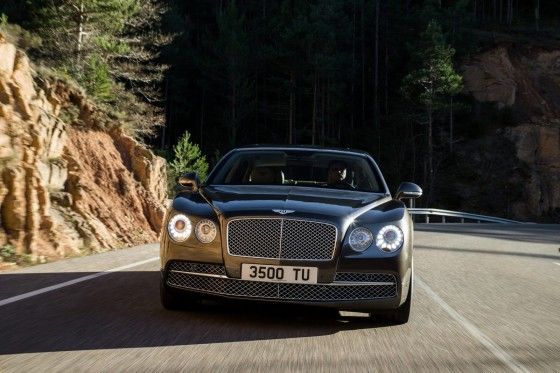 The 2014 Flying Spur is powered by a 6.0 liter W12 engine that produces 616 horsepower and 590 pound-feet (800 Nm) of torque; that's an increase of 64 HP and 111 lb-ft of torque over the previous generation.  Power is sent to all four wheels (40/60 front/rear bias) via an 8-speed automatic gearbox.  Not only is the new car more powerful, it also benefits from a bit of weight loss, weighing 110 pounds (50 kg) less than the car it replaces.
Not that anyone would take the Flying Spur to a racetrack; it still performs like a sports car.  The Flying Spur does the 0 – 60 mph sprint in 4.3 seconds and reaches a top speed of 200 mph (322 km/h); not bad for a big luxury car.
The interior is, well…typical Bentley, with miles of soft-touch leather and expensive dead trees.  The car is offered with either a four or five seat configuration, and is offered with optional Multi-Media package that loads it up with laptops, tablets, LCD monitors, and even a Wi-Fi hotspot.
The 2014 Bentley Flying Spur will go on sale in the summer of 2013; no word on prices yet but it'll most likely cost over a quarter of a million dollars. Via: Bentley
2014 Bentley Flying Spur Pictures