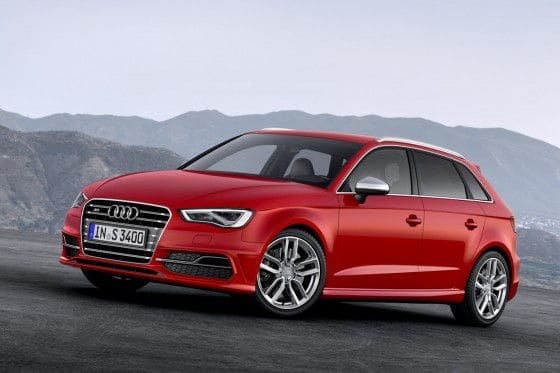 Last year I wrote about the Audi S3 Hatchback; a car that's powerful, nimble, and somewhat decent looking.  But if that car was a little small for you, Audi is now offering a solution, they've just released images and information on the upcoming the 5-door Audi S3 Sportback (also known as a wagon), which is based on the A3 Sportback.
The Audi S3 Sportback looks very similar to the S3 Hatchback, obviously with an extra pair of doors and is longer; it has a 1.38" (35mm) longer wheelbase.  The S3 wagon looks like a proper car; the hatchback version looks too much like a toy car, in my opinion.
The Audi S3 Sportback is powered by the same 4-cylinder, turbocharged 2.0 liter engine found in many VW cars.  In the S3 wagon, the engine produces 300 horsepower and 280 pound-feet (380 Nm) of torque.  Power is sent to all four wheels via a 6-speed manual or a dual-clutch 6-speed s-tronic automatic gearbox.  The S3 Sportback does the 0 – 62 mph (100 km/h) sprint in 5.0 seconds when equipped with the automatic transmission, manual gearbox equipped cars get to 62 mph in 5.6 seconds.  Top speed is electronically limited to 155 mph (250 km/h).
Other upgrades include 18" wheels, a lower and stiffer suspension, and larger brakes.  The interior on the S3 Sportback is rather boring, and features a pair of bucket seats.  The interior is a letdown for me, it could use a bit more "sport".
The car will be officially unveiled at the Geneva Auto Show in March, and sales will begin in the later part of the year. Via: Audi
2013 Audi S3 Sportback Photos