The Aston Marin Vantage is one of the most elegant looking cars currently produced, although the V12 Vantage (introduced in 2009) is slightly less elegant because of the added hood vents that are required to take away hot air produced by the V12 engine, it still retains the overall sophisticated styling.  Aston Martin has now released a roadster version of the V12 Vantage that looks stunning, minus the hood vents.
The 2013 Aston Margin V12 Vantage Roadster is powered by the same 6.0 liter V12 engine found in the coupe which produces 510 horsepower and 420 pound-feet (570 Nm) of torque.  The roadster sprints to 62 mph (100 km/h) in 4.5 seconds, 0.3 seconds slower than the coupe, with a top speed of 190 mph (305 km/h) which is the same as the coupe.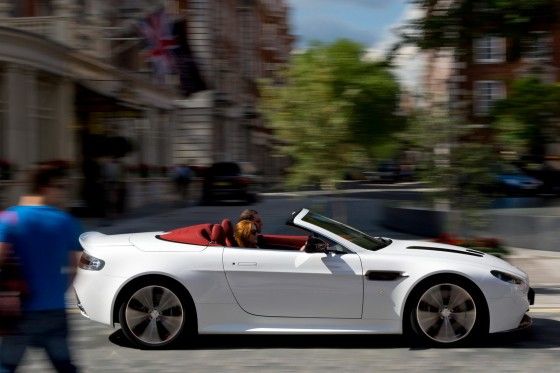 Some changes were made to the chassis to cope with the loss of the roof; the exterior of the roadster has been upgraded with a lower front air intake and a redesigned trunk-lid with a lip spoiler.  The exterior has lots of carbon fiber trim pieces on the hood vents, side vents, mirrors, front splitter, rear diffuser, and the trim around the taillights.  The car rides on 19" wheels with sticky Pirelli P-Zero tires.
The Aston Margin V12 Vantage Roadster is a gorgeous looking car that will surely turn heads as you cruise around from one Starbucks to the next.  The roadster is available for ordering in select markets with prices in the UK starting at £150,000 or about $233,000 at today's exchange rate, that's about 10% higher than the V12 Vantage Coupe.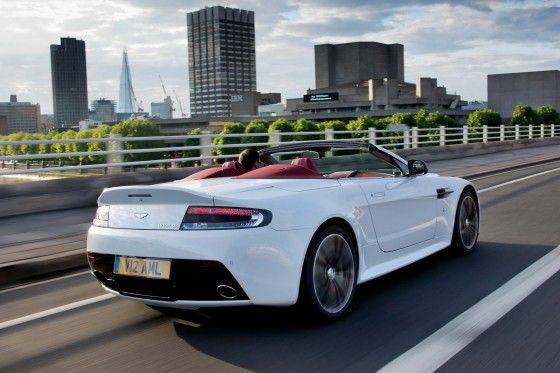 Aston Martin V12 Vantage Roadster Pictures