The fourth generation Hyundai Santa Fe went on sale in 2018 as a 2019 model, so it's a fairly new vehicle that saw a complete makeover in 2018. However, Hyundai has given it a refresh that isn't so dramatic on paper, but it has made the Santa Fe look quite different in person. And the inside sees significant changes to the dashboard and the layout for all the buttons.
The new Santa Fe also benefits from a more luxurious trim called "Calligraphy", kind of like what Jaguar/Land Rover does with their "Portfolio" and "Autobiography" trim and Volvo's "Inscription" trim, but at a more affordable price.
The 2021 Hyundai Santa Fe is offered in four trims and some sub trims. The base Santa Fe Essential FWD has a starting price of $31,399 and the top-of-the-line Santa Fe Ultimate-Calligraphy AWD starts at $47,499. Below is a table of all the trims and prices.
| | |
| --- | --- |
| Trim | Price |
| Essential FWD | $31,399 |
| Essential AWD | $33,399 |
| Preferred AWD | $36,399 |
| Preferred-Trend AWD | $38,499 |
| Preferred-Trend Hybrid AWD | $41,399 |
| Luxury Hybrid AWD | $43,799 |
| Ultimate Calligraphy AWD | $47,499 |
Our review car for the week had a total price of $49,424, this is a fully loaded vehicle and there are no options to add. The price included $1,925 for Destination & Delivery and does not include local taxes.
The engine choices have also changed since the last time we reviewed the 4th generation Santa Fe. Now the 2021 Hyundai Santa Fe is offered with three engine choices. The base engine is a naturally aspirated 2.5-liter 4-cylinder, producing 191 horsepower at 6,100 rpm and 181 pound-feet of torque at 4,000 rpm. This engine is mated to an 8-speed automatic transmission and sends power to either the front wheels or all-four wheels, depending on the trim.
The next engine choice is a 1.6-liter turbocharge 4-cylinder engine that also has an electric motor, the gasoline engine produces 178 horsepower at 5,500 rpm and 195 pound-feet of torque between 1,500 – 4,500 rpm and the electric motor produces 44.2 kW (59 HP) between 1,600 – 2,000 rpm. The combined output of the Santa Fe Hybrid is 226 horsepower and 258 pound-feet of torque. Power is sent to all-four wheels via a 6-speed automatic transmission.
Our Calligraphy trim was powered by a turbocharged 2.5-liter 4-cylinder engine, producing 277 horsepower at 5,800 rpm and 311 pound-feet of torque between 1,700 – 4,000 rpm. Power is sent to all four wheels via an 8-speed dual clutch transmission. According to Hyundai, this engine/transmission combination should consume 11.0/8.5/9.9 liters/100 kilometers in city/highway/combined driving.
The last time I reviewed a Santa Fe, I was expecting the 4-cylinder engine to struggle in a vehicle of this size, but I was pleasantly surprised by the peppiness of the engine. Fast forward two years and we have a more powerful engine, so obviously that's going to be more than enough to motivate this mid-size CUV. At first, I thought it was a V6 because of the way the Santa Fe accelerated from a standstill, but to my surprise, it was still a 4-cylinder engine. The low-end torque helps a lot with moving this large-ish vehicle and most people would think this is a V6 engine, if it weren't for the sound of the inline-4.
The 2.5-liter engine is great for city driving and highway cruising and passing is done effortlessly. The 8-speed dual-clutch transmission works well with the engine and drops gears quickly when you need to make a pass, you can also manually downshift with the steering wheel mounted paddle shifters.
The Santa Fe comes with 6 driving modes, which include Comfort, Sport, Smart, Sand, Mud, and Snow. Driving on the paved road and putting it in Sport makes the engine more responsive and the transmission holds gears for longer, the steering also feels heavier. I drove it mostly in Comfort mode, as I didn't feel like I needed any more power than was available in this mode. As far as Sand and Mud modes, I doubt most people would use these, but it's good to see these modes are at least there. They would come in handy if you go camping on rougher terrain.
The ride quality is very good, it's a comfortable place to be in, as you'd expect in a vehicle in this class. The Santa Fe is easy to maneuver around city streets and parking lots, which is where it will spend most of its life. The cabin is extremely quiet and the ride is smooth, it feels like a proper luxury crossover.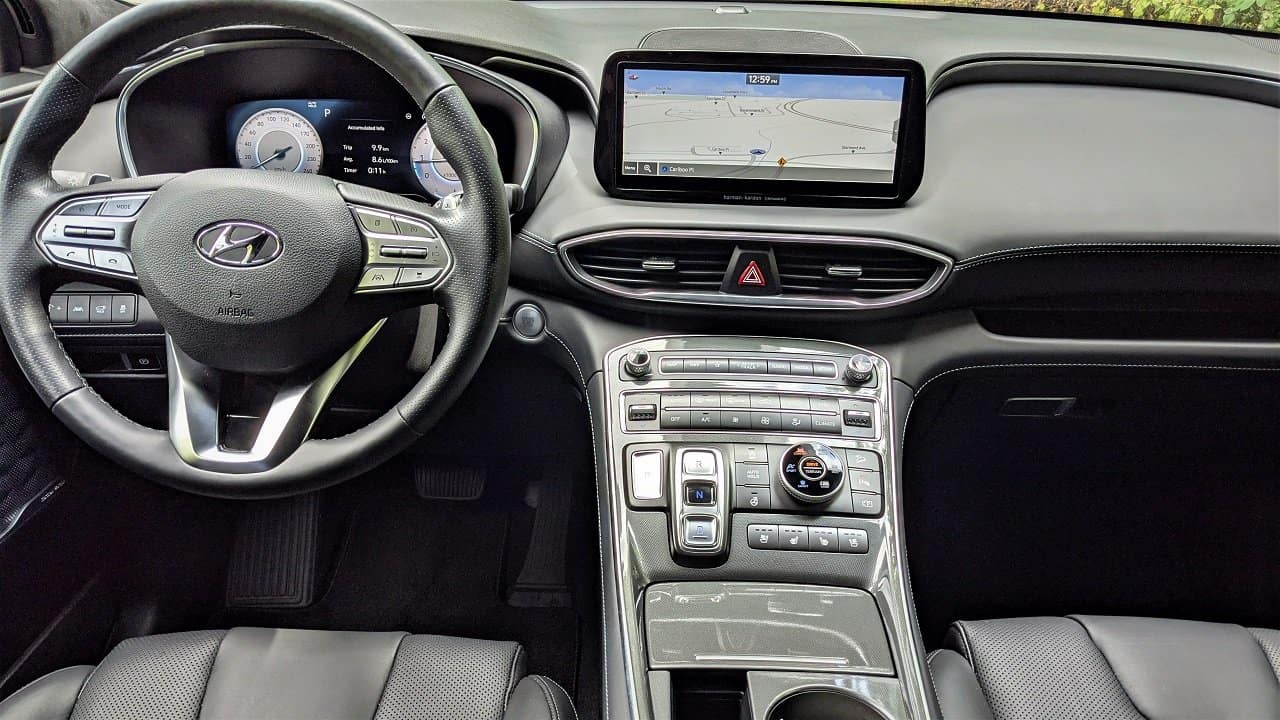 The interior sees a major change compared to the 2019 model year. The overall look of the dashboard is the same but major changes have been made to the center stack and center console area. At the center is a 10.25" touchscreen, which does the usual job of displaying the maps, output from the cameras, and other features like the entertainment system and climate control.
The center stack integrates into the center console diagonally and features a whole host of buttons and knobs. The look is very reminiscent of the Hyundai Nexo hydrogen fuel-cell vehicle. While a lot of manufacturers are going to a buttonless layout, Hyundai has gone completely the opposite way with a large section for a lot of buttons. I personally liked the way the Nexo's button layout looked, so I'm a fan of this layout on the Santa Fe. It may look overwhelming at first, but everything is marked clearly and it takes no time to find what you're looking for and you don't have to scroll through multiple screens to get to your desired functions.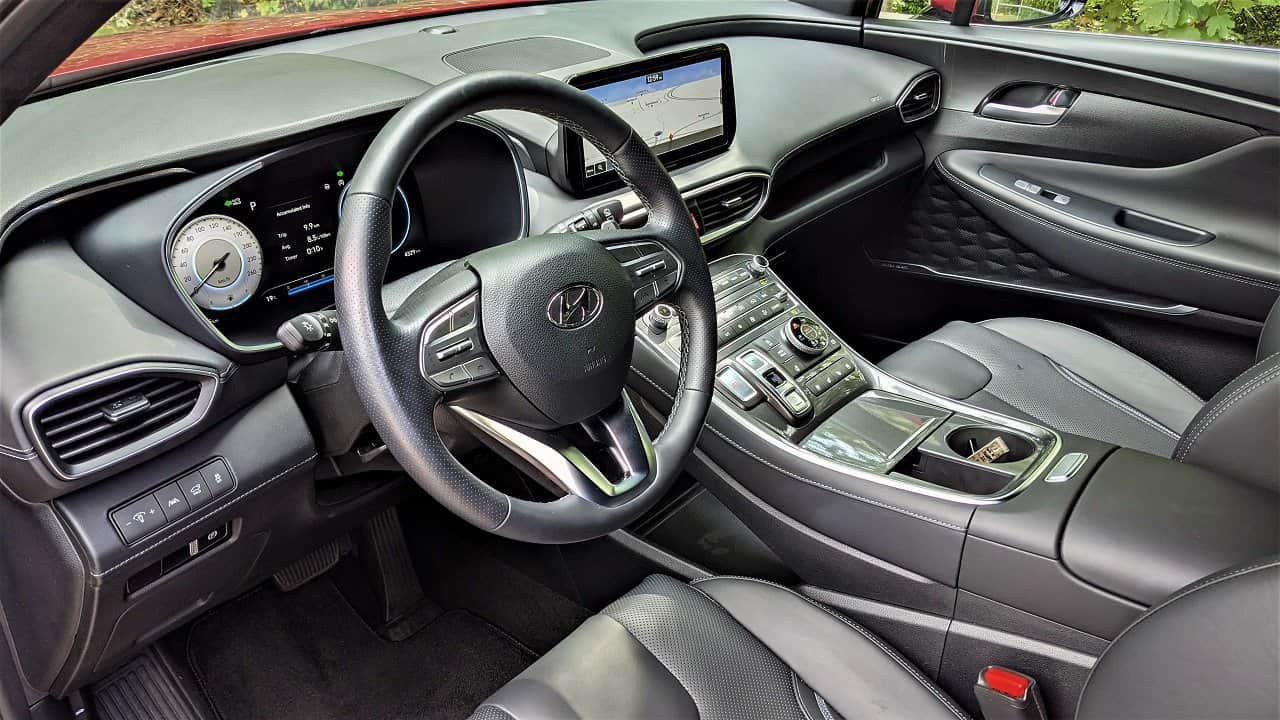 The buttons/knobs include the usual suspects like volume knob, tuning knob, drive mode selector knob, climate buttons, heated seats/steering wheel and cooled seats etc. The gear lever has also been replaced with four buttons. The use of this layout also creates a decent sized storage area under these buttons for putting keys, phones etc. I was looking for a wireless phone charger in the storage area underneath the buttons but couldn't find, so I was a little disappointed. However, upon further inspection, there's a small slot next to the cupholders that lets you put your phone in vertically, I thought that was a neat place to store you phone. Then I pressed the phone in and it clicked in and started charging. This wireless charging station reminds me of a vertical cassette player for some reason. I really like this system, as the phone is clicked in place and doesn't move, so it's always charging. I find with most of the flat surface wireless chargers, the phone usually rolls around when you brake or corner hard, resulting in the phone not being charged because it's not in the proper spot.
I found the interior to be quite luxurious thanks to the use of Nappa leather on the seats, which look great and would feel right at home in a European luxury vehicle. Leather is also applied to the dashboard with white stitching and Alcantara is applied to the headliner. There is liberal use of soft touch material throughout the cabin with the occasional hard plastic. The front seats are extremely comfortable and should be able to handle people over 6" easily. The back seats are also comfortable and look quite luxurious, the two outer seats are heated. The rear passengers also have two USB plugs and a household plug and the rear windows come with manual retractable shades.
On the tech front, the Santa Fe Calligraphy is loaded with all the tech, convenience, and safety features found on luxury vehicles. One feature, not found on many vehicles, is the ability to move the Santa Fe forward or backwards without sitting in it. This is a great feature for moving the vehicle in and out of tight spots where opening the door will result in dinging a wall or another vehicle. Below is a list of all the features available on the 2021 Santa Fe Calligraphy.
Blind spot detection indicators
LED turn signal indicators
Power folding side mirrors
Acustic glass
Heated steering wheel
8-way power driver/passenger seats
4-way power driver's lumbar support
Heated/ventilated front seats
Heated rear seats
Nappa leather seats
16-speaker 630-watt Harman Kardon sound system
Head-Up Display
Wireless charging pad
12.3" TFT full digital color LCD multi-information display
Cruise control
Power windows with front and rear auto up/down
Remote keyless entry system
12-Volt Outlet, 2 total: Front/ Cargo
Proximity key entry with push button start
BlueLink Connected Car System
Manual rear sunshades
Panoramic sunroof
Surround View Monitor
Proximity-activated smart lift gate
115V power outlet
Electronic stability control (ESC) with traction control (TCS) and brake assist
Vehicle stability management (VSM)
Tire Pressure Monitoring System (TPMS)
Adaptive Cruise Control (ACC) with stop-and-go capability
Forward Collision-Avoidance Assist (FCA) with Pedestrian, Cyclist, and Junction-Turning Detection
Lane Keeping Assist (LKA)
Lane Following Assist (LFA)
Driver Attention Warning (DAW)
High Beam Assist (HBA)
Blind-Spot Collision-Avoidance Assist (BCA)
Rear Cross-Traffic Collision-Avoidance Assist (RCCA)
Safety Exit Assist (SEA)
Ultrasonic Rear Occupant Alert (ROA)
Parking Distance Warning – Reverse (PDW-R)
Parking Distance Warning – Forward/Reverse (PDW-F/R)
Parking Collision-Avoidance Assist – Reverse (PCA-R)
Blind View Monitor (BVM)
Remote Smart Parking Assist (RSPA)
Highway Driving Assist (HDA)
The trunk on the Santa Fe is huge, it can definitely fit a set of third-row seats, however Hyundai doesn't offer third-row seats, you'll need to upgrade to the Palisade for that. Personally, I think Hyundai has made the right decision with not including third-row seats, because they would be too small to be useful. However, the Kia Sorento, which the equivalent of the Santa Fe, does offer third-row seats. The trunk area also has two separate sections with lids, the hide smaller compartments where you can put stuff you don't want people to see.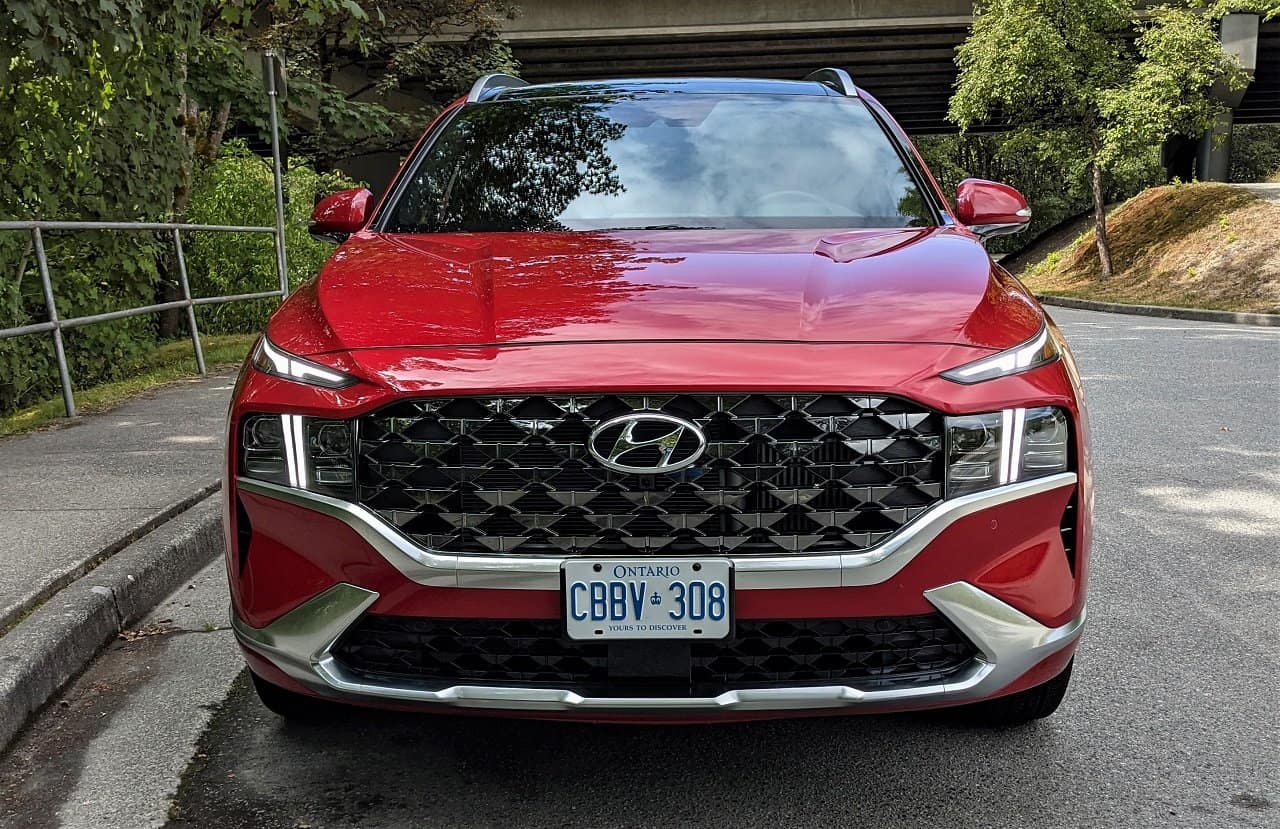 The overall exterior shape remains the same, however, Hyundai has changed the headlights and daytime running lights and the grill is different. I'm personally not a huge fan of the new grill treatment with the black-chrome triangles, Hyundai is using this design on most of their vehicle and most people I've talked to are not fans of it. The daytime running lights now feature vertical LED lines in addition to the horizontal ones, the DRLs make their way into the lower headlight section. The headlights are also a different style now. I think the overall front design is too busy, I think Hyundai should've kept the design the same as before. The rear lights are slightly different and feature separate turn signal lights that have been moved from the light assembly down to the lower part of the rear bumper. I personally don't like this placement, as it makes it less visible since they're so low and most people behind you would be expecting a turn signal where the brake lights are.
Final Thoughts
I personally liked the 2021 Hyundai Santa Fe Ultimate-Calligraphy a lot, despite not liking the front-end styling. I think it is a great vehicle that's quite luxurious, the size is good, and it's pretty fun to drive, for a crossover. I would like Hyundai to include the "Calligraphy" wording/badging on this trim of the Santa Fe, so people can see I'm driving a more special version of this mid-size CUV. One or two badges would be enough, because having too many is also not the best thing in my opinion.