I've used the sentence "head turning good looks" on a few of the cars I've reviewed over the past 6 years. Notice I said "cars" and not vehicles, because it's always a car that make me turn my head a have a second look. I did break that trend a couple of months ago when I saw a black SUV/CUV and had to look again, it was the new Hyundai Santa Fe… Yes, a Santa Fe, which a mid-size CUV aimed at families.
I thought it looked great in black and it was freshly washed. This week I got the opportunity to finally review the 2019 Hyundai Santa Fe for a week, our review car wasn't black, but the dark red/maroon color wasn't too bad either.
The Santa Fe was first introduced in the year 2000 as a 2001 model and was Hyundai's first SUV/CUV. 2019 marks the 4th generation of this evolving vehicle, it has come a long way from what it was way back in the year 2000.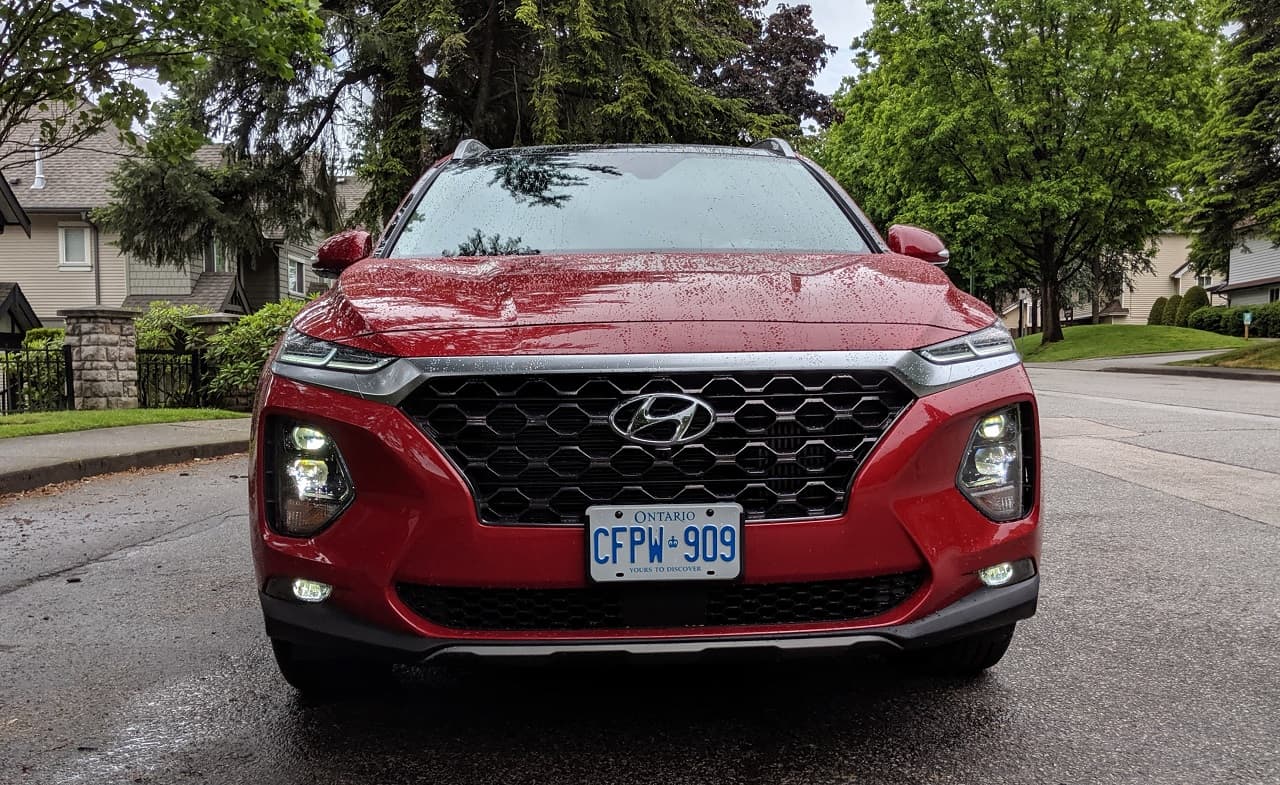 Prices
The 2019 Hyundai Santa Fe is offered in four trims, all trims come with AWD except for the base "Essential" trim, which comes with FWD, AWD is available as an option. There are two engine choices, a naturally aspirated 2.4-liter 4-cylinder and a 2.0-liter turbocharged 4-cylinder.
Below is a list of prices for the different trims and additional packages:
| | | | |
| --- | --- | --- | --- |
| Trim | Package | Engine | Price |
| Essential FWD | | 2.4 L | $28,999 |
| Essential FWD | Safety Package | 2.4 L | $30,199 |
| Essential AWD | Safety Package | 2.4 L | $32,199 |
| Preferred AWD | | 2.4 L | $35,099 |
| Preferred AWD | | 2.0 T | $37,099 |
| Preferred AWD | Panoramic Roof | 2.0 T | $38,599 |
| Luxury AWD | | 2.0 T | $41,899 |
| Ultimate AWD | | 2.0 T | $44,999 |
Our test vehicle for the week was a 2019 Hyundai Santa Fe Ultimate, with a total price of $46,904 which included $1,905 for Freight & PDI.
Engines
The naturally aspirated 2.4-liter 4-cylinder engine is standard on the Essential and Preferred trims, it produces 185 horsepower at 6,000 rpm and 178 pound-feet of torque at 4,000 rpm. The turbocharged 2.0-liter Theta 4-cylinder engine is optional on the Preferred trim and standard on the Luxury and Ultimate trims, it produces 235 horsepower at 6,000 rpm and 260 pound-feet of torque between 1,450 – 3,500 rpm. Both engines are mated to 8-speed automatic transmissions.
According to Hyundai, the Santa Fe AWD with the 2.0-liter turbocharged engine should consume 12.3/9.8/11.2 L/100 km in city/highway/combined driving. For our weeklong review, the onboard computer showed 13.5/9.5 L/100 km in city/highway driving. The city driving was a lot of shorter trips and the highway driving was at a relaxed pace. Your fuel consumption will vary depending on driving style and conditions.
Driving
When I picked up the 2019 Santa Fe, I saw the "2.0" sign on the back, so I was expecting it to be too much of a car for such a small engine, I didn't know at the time how much power this vehicle produced, I was expecting the Santa Fe to be pretty slow. But I was wrong, it's not slow at all and the little engine does a great job at moving this large vehicle around in the city and on the highway, the engine produces more than enough power for easy highway passing. Although most of my driving was done with just me in the car and I didn't tow anything.
The Santa Fe comes with three driving modes, "Comfort", "Smart", and "Sport", putting it in Sport makes the engine more responsive and the transmission holds gears for longer, the steering also feels heavier (the ratios etc. don't change, the computer just adds weight to the steering feel). I drove it mostly in Comfort mode, as I didn't feel like I needed any more power than was available in this mode.
The ride quality is very good, it's a comfortable place to be in, as you'd expect in a vehicle in this class. The Santa Fe is easy to maneuver around city streets and parking lots, which is where it will spend most of its life.
Styling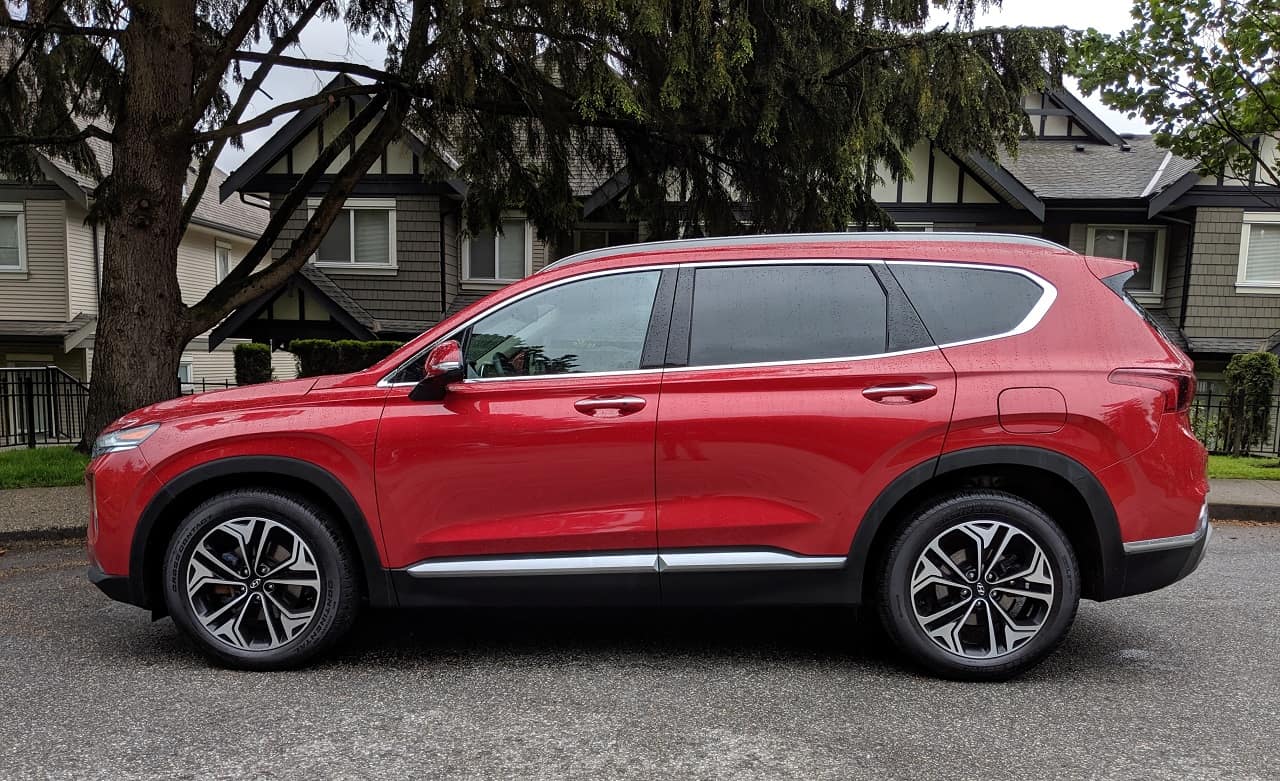 As I mentioned above, the black Santa Fe I saw a couple months ago was probably the first (or one of very few) SUV/CUV that made me do a double take. I think it's a beautiful design, which looks amazing in black. The front end of the vehicle is using the same design Hyundai is applying to most of their CUV/SUVs, with small daytime running lights where you'd find headlights and below it is large headlights, which you'd think are fog lights. The front design gives the vehicle a look of a smaller vehicle but when you look at the sides, it is quite a large vehicle with muscular curves around the body, it looks great. The rear also has a clean look and mimics the front design with upper and lower lights.
Interior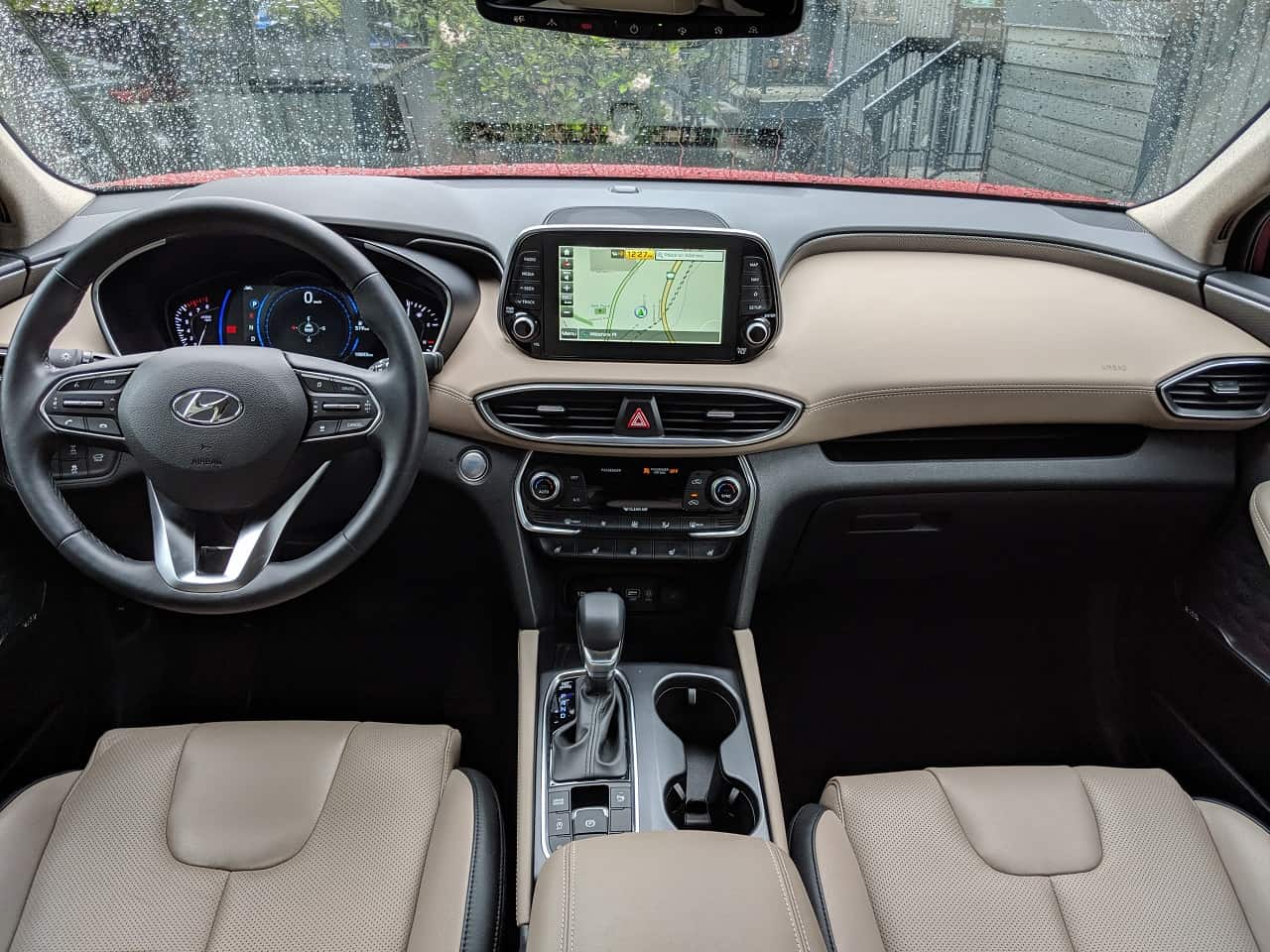 The interior on the 2019 Hyundai Santa Fe uses a mix of hard and soft plastics; unlike the previous generation Santa Fe, the new interior looks more traditional. The layout is pretty clean and easy to understand, with an 8-inch touchscreen that sticks out from the dashboard, I used to complain about these but it seems every manufacturer is going this way, so I've become used to it.
Thankfully, the climate control has physical buttons and their own section of the center stack, you don't have to fiddle around the touchscreen to change which direction the air should flow and how fast or slow the fan speed should be. These buttons are also quite large, making them easy to use with gloves on.
There are quite a few little storage areas, especially useful for placing large phones. The gauge cluster is very easy to read and it's very easy on the eyes. The center part of the gauge cluster displays the speed and can be customized to display different things like compass, navigation directions, trip meter/fuel consumption etc. The left and right parts of the cluster are analogue, with the left showing the rpm and the right showing fuel level and engine temperature.
The interior is fairly quiet and is very roomy. The front seat should be able to handle very tall people and the rear seat has lots of leg room and head room. The rear floor is flat, so it is possible to have three passengers in the back seat. The front has one USB outlet and the rear has two, which is great for tech hungry consumers that always seem to run out of phone batteries.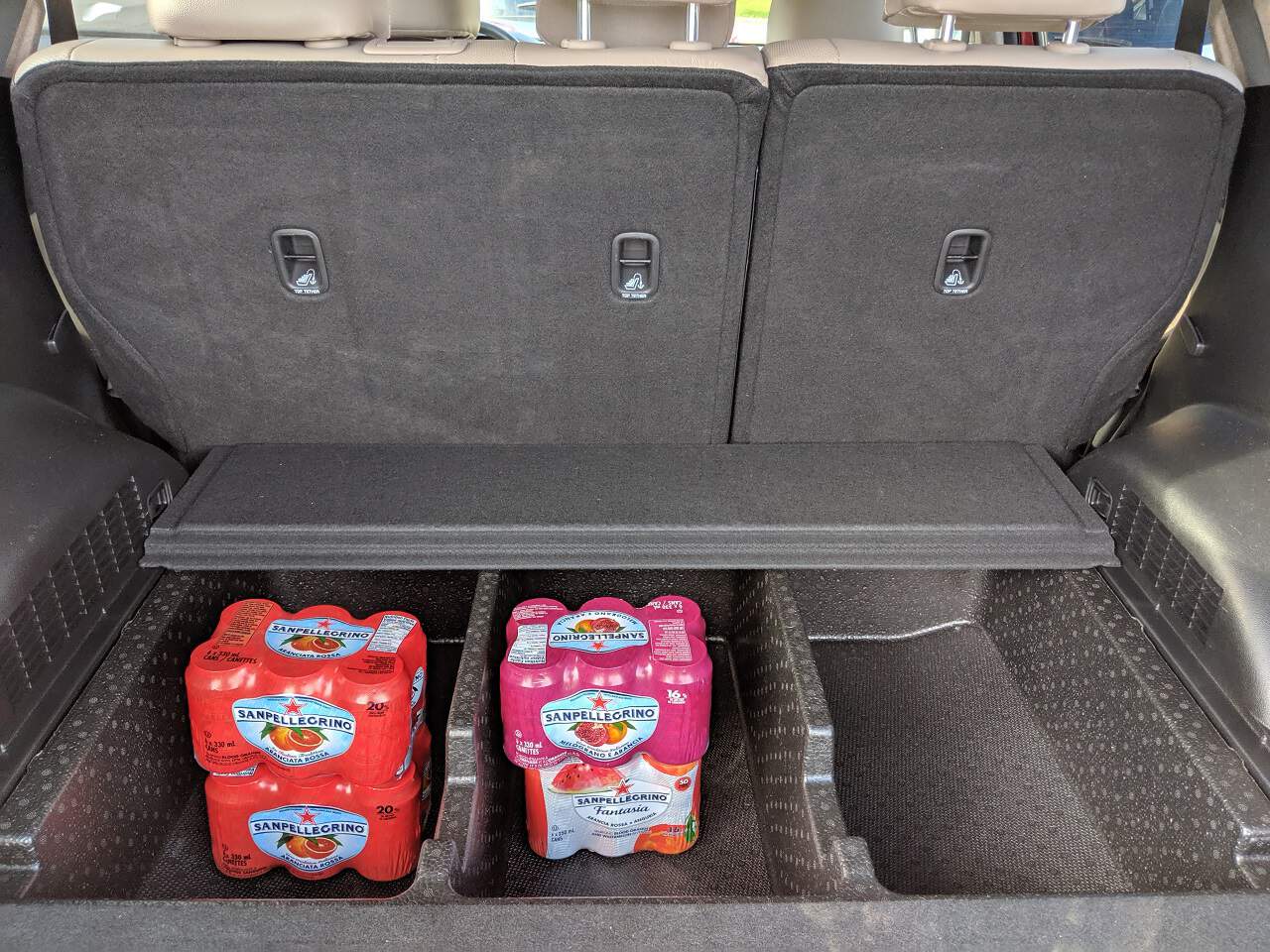 The "trunk" area is also very large and should have enough room for all your family needs. The rear also comes with hidden compartments, which can house decent sized items, away from prying eyes.
Technology/Convenience/Safety Features
Hyundai was one of the first mainstream manufacturers to offer a lot of tech features that used to be only found on luxury vehicles, thanks to Hyundai, a lot of the other manufacturers have followed suit. The new Santa Fe doesn't disappoint when it comes to technology, convenience, and safety features, below are some of the highlights from a long list of equipment you can add to your 2019 Santa Fe:
Proximity Keyless Entry with Push-Button Ignition
Front Heated and Ventilated Seats
Driver's leg cushion extension
Power Tailgate
Infinity AM/FM/XM/HD/MP3 stereo with 12 speakers and Quantum Logic surround sound
Electrochromic Auto-dimming Rearview Mirror with HomeLink and Compass
Dual Zone Automatic Climate Control
Leather Seating
Integrated Memory System
Wireless device charging
Head-Up Display TRIM HIGHLIGHTS
8.0″ touch-screen navigation system
Panoramic Sunroof
Bluelink Telematics
Surround View Monitor (SVM)
LED Fog Lights, LED Taillights, LED Headlights
Rain-sensing Windshield Wipers
Adaptive Cruise Control (ACC) with Stop-and-Go Capability
Forward Collision-Avoidance Assist (FCA) with Pedestrian Detection
Blind-Spot Collision-Avoidance Assist (BCA)
Overall Impressions
I'm normally not a big fan of crossovers, but the Santa Fe's styling "had me at hello". I think it's a very attractive crossover, a statement I don't make very often, especially in black. The interior is luxurious and roomy and it is competitively fuel efficient when compared to others in this class.
If you are looking for a 4-5 passenger crossover that's looks good, is luxurious, and offers a class-leading warranty, the Santa Fe should be on your list of vehicles to consider/test drive.