Are you in the market for a luxury sub-compact SUV/CUV with a third-row seat? Your options are limited; you can either buy the Land Rover Discovery Sport or The Mercedes-Benz GLB. However, only one of these vehicles comes in an extremely sporty trim with the letters AMG. Like most Mercedes vehicles, the GLB has a fun-oriented twin in the form of the Mercedes-AMG GLB 35.
I reviewed the non-AMG version of the GLB a couple of years ago, and I quite liked the driving dynamics of that vehicle. So naturally, the AMG version will be a lot more fun, thanks to more power, sports-tuned suspension, and bigger wheels with grippy tires.
The Mercedes-AMG GLB 35 4MATIC is powered by an AMG-enhanced 2.0-liter 4-cylinder turbocharged engine, producing an impressive 302 horsepower at 5,800 rpm and 295 pound-feet of torque between 3,000 – 4,000 rpm. Power is sent to all-four wheels via an AMG SPEEDSHIFT DCT 8-speed dual-clutch transmission.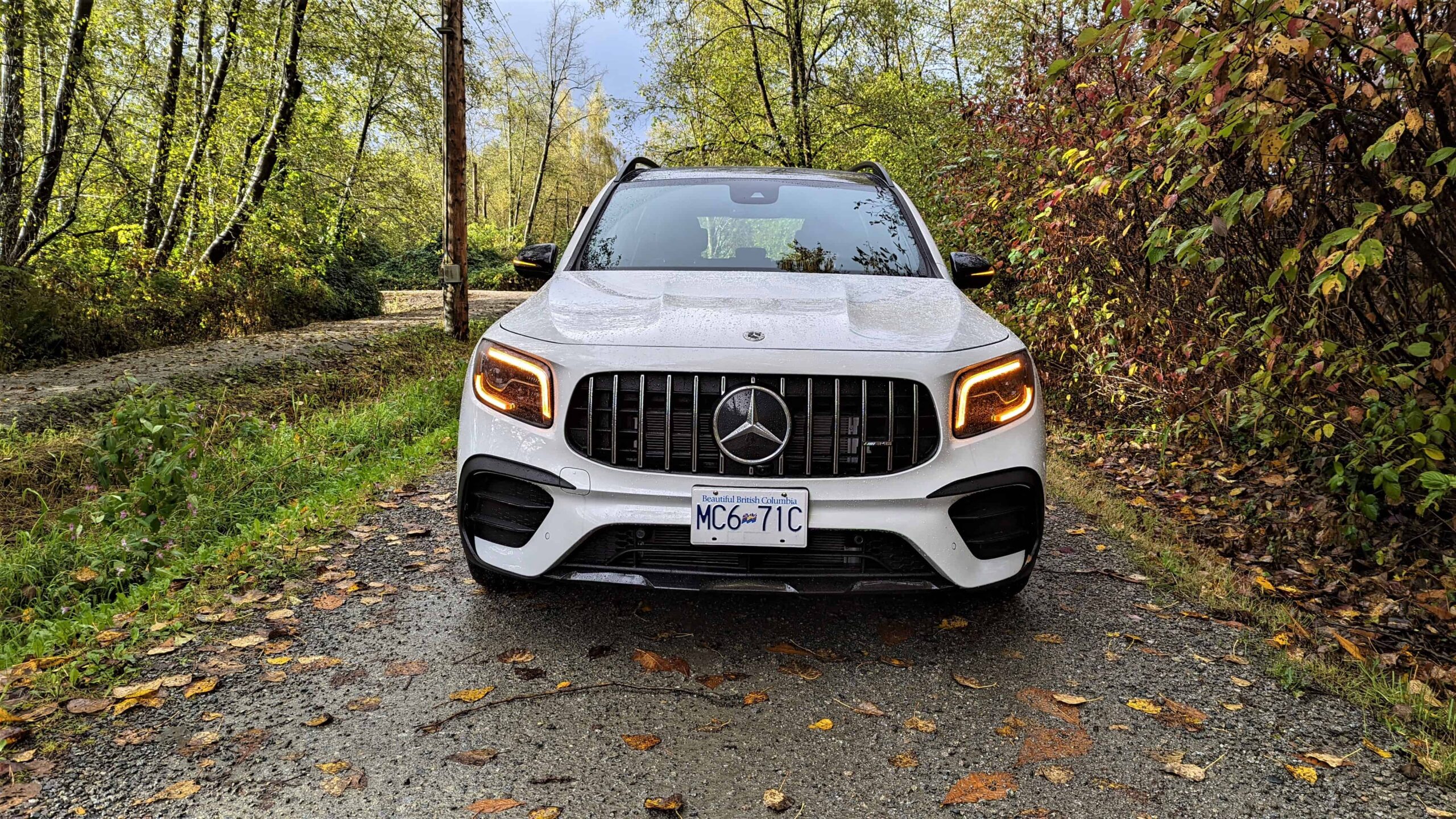 While 300 HP might not sound like a lot on paper, in the real world, it is a lot for this little SUV. The GLB 35 AMG feels like a proper little AMG vehicle. Sure, it doesn't have the hand-built V8 AMG is famous for, but it doesn't need it. The GLB 35 rockets off the line like a hot hatch and builds up power as you gain speed. The gear shifts by the DCT feel instantaneous, and you're way above the speed limit before you even realize it. I had a blast driving around in the GLB 35; I was not expecting it to be so much fun; normally, fun handling and power like this are reserved for hot-hatches, but the GLB is closer to being a hatchback than a full-on SUV.
The suspension is nicely tuned, it's sporty without being too bone jarring. I found the GLC 43 AMG suspension much harsher, and I prefer the GLB 35's suspension for daily driving. The steering doesn't provide too much feedback, which is a common complaint on all modern cars, but it does have a heavy feel, which feels quite sporty.
The engine/exhaust makes a nice sound, and plenty of that makes it into the cabin. I'm not 100% sure if some of that sound isn't pumped through the speakers. The exhaust makes some popping and crackling sounds, but nothing like the bigger AMG vehicles.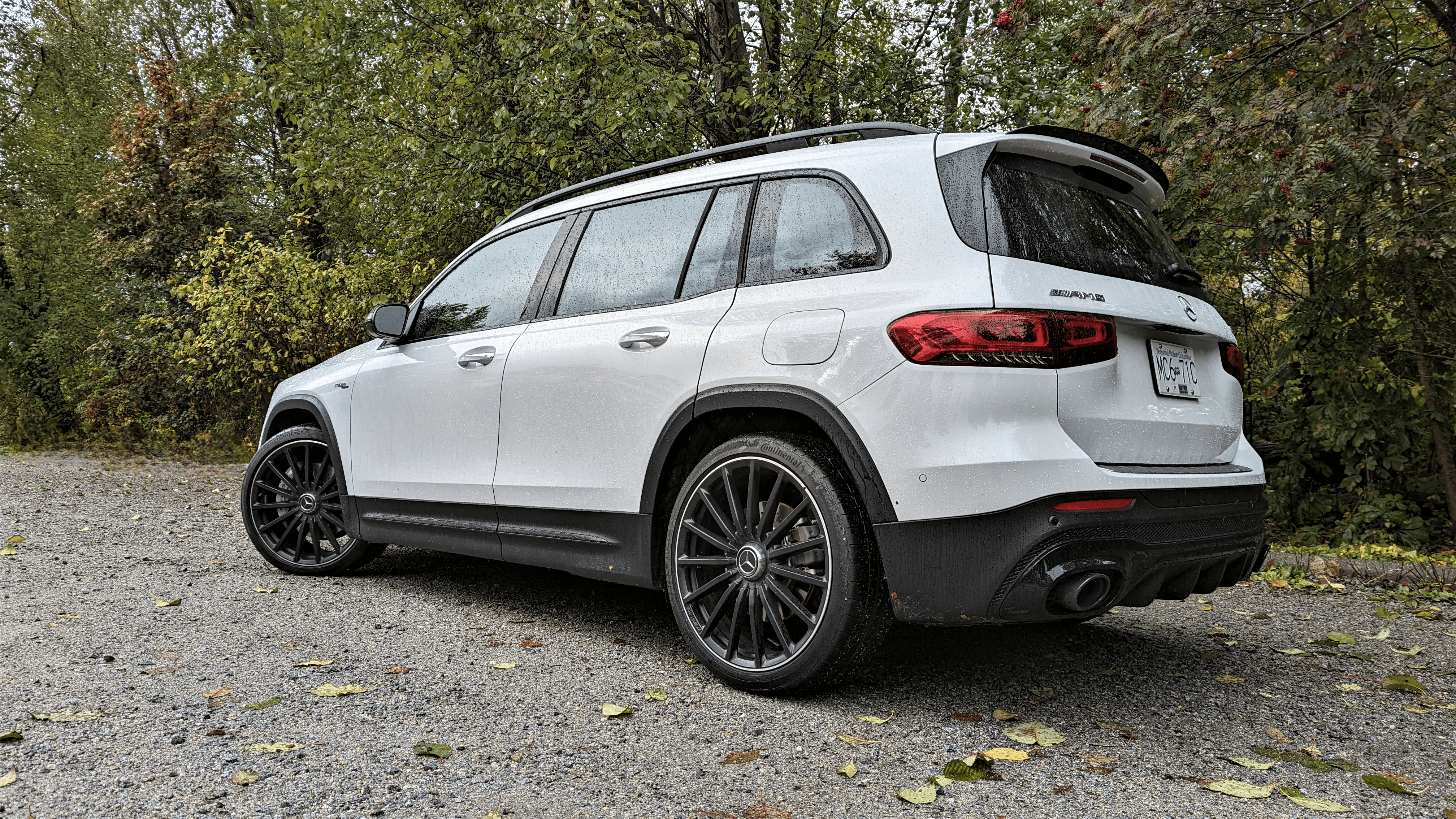 In terms of styling, there are slight differences between the GLB 35 and GLB 250. The AMG version features a slightly more aggressive front end, with the AMG Panamericana grill featuring 13 vertical bars. The rear bumper features two large round exhaust tips. Our GLB 35 came with the night package, which blacks out all the chrome exterior pieces, giving the vehicle a sporty look.
The interiors of both the GLB 35 and 250 are relatively the same, with extremely minor differences. Our test GLB came with the half-Alcantara-covered AMG steering wheel, which feels great to grab onto. This steering wheel does not have a heating feature; a must for Canadian winters and at this price point. The steering wheel has a circular knob for changing driving modes on the right side and a pair of buttons on the left side for changing the suspension settings. I'm a big fan of these buttons/knob because they allow you to change driving modes without reaching away from the steering wheel.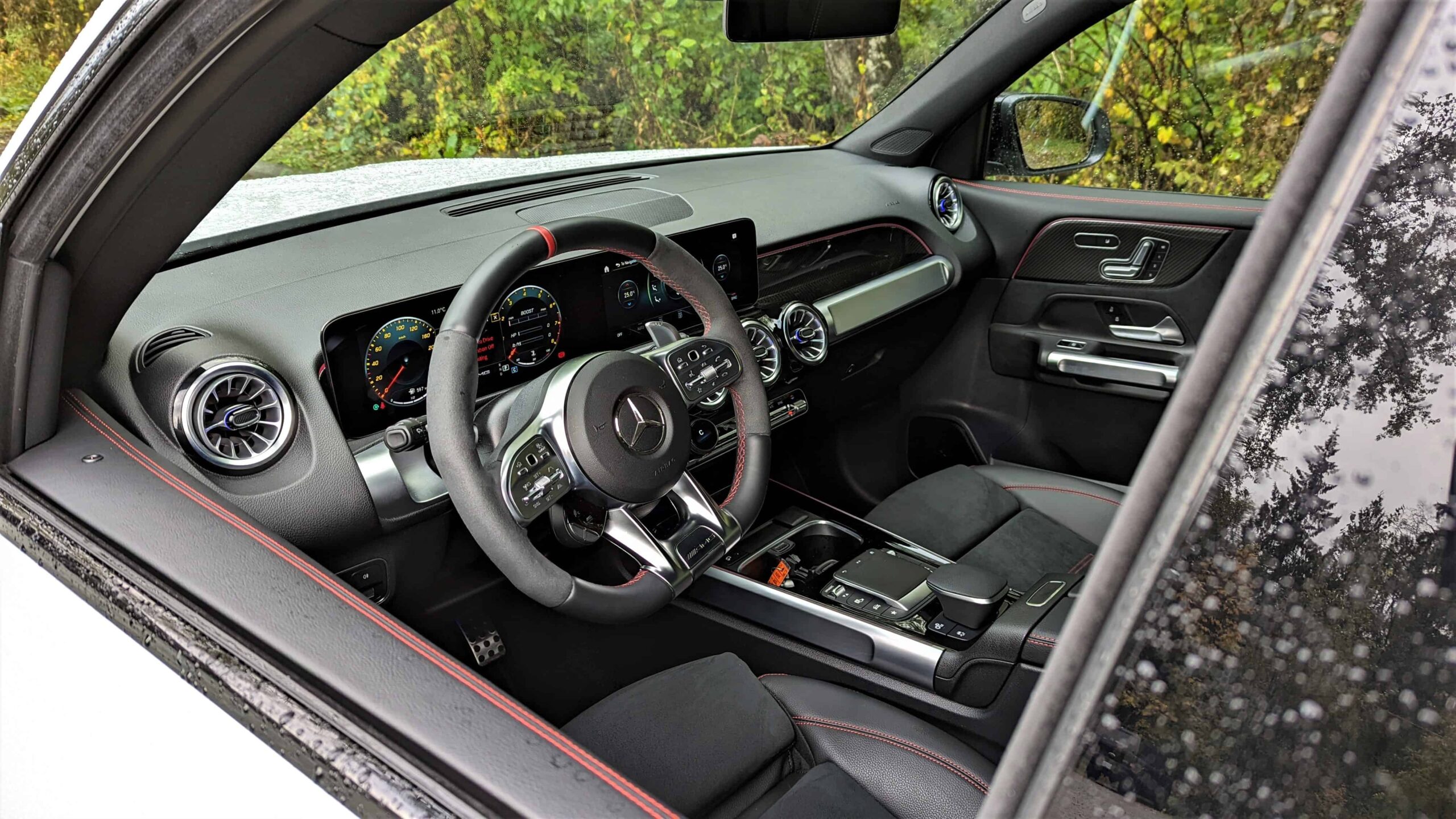 The interior is surprisingly roomy on both versions of the GLB, it is classified as a sub-compact SUV, but the interior room is on par with compact SUVs/CUVs. Our tester didn't come with the third-row seat option, but I'm sure that's better left for kids or the occasional emergency short trip for adults.
The Mercedes-AMG GLB 35 has a Canadian starting price of $61,700, which is $12,800 more than the non-AMG version. It can be equipped with the following packages for additional charges:
Technology Package ($1,800)

Active Distance Assist DISTRONIC

Premium Package ($3,800)

Power front passenger seat with memory

Foot-activated tailgate release

Inductive wireless charging with NFC pairing

Apple CarPlay/Android Auto

AMG illuminated front door sills

Navigation Package ($1,100)

No-charge navigation map update for 1 year

MBUX Augmented Video for Navigation

Advanced Driver Assistance Package

Active Brake Assist with Cross-Traffic Function

Active Emergency Stop Assist

Active Speed Limit Assist

Active Lane Keeping Assist

Active Lane Change Assist

Route-based Speed Adaptation

AMG Driver's Package ($2,200)

AMG Performance steering wheel in Nappa/DINAMICA

Integrated garage door opener ($360)
AMG Head-Up Display
AMG Night Package ($975)
AMG Stealth Package ($520)
3rd-row seats ($1,105)
Red seat belts ($390)
360-degree camera ($780)
Dashcam ($300)
Final Thoughts
As you can see from the above options list, the Mercedes-AMG GLB 35 can get quite expensive. However, if you're just looking for a performance 7-seat subcompact CUV and don't care too much about options, the GLB 35 is great. It's extremely fun to drive, has loads of interior space, and looks quite unique.
Check out the MB-Canada website for more information on the GLB 35 and other Mercedes-Benz vehicles.