The Mercedes-AMG C43 Wagon was one of my favorite vehicles I reviewed last year. It's a good-looking practical vehicle that thinks it's a sports car. Unfortunately, our American friends aren't lucky enough to buy the C-Wagon, so what do you do if you're an American? You can buy the Mercedes-AMG GLC 43 SUV, which is based on the C-Class. We recently had the opportunity to review a 2020 Mercedes-AMG GLC 43 4MATIC SUV, below are my thoughts on this vehicle.
Thankfully Mercedes-Benz has changed their nomenclature on their vehicles, especially their CUV/SUVs. The GLC used to be called the GLK, there were other SUVs like the MKL etc., it was all very confusing. Now, we get SUV/CUVs like the GLA, GLB, GLC, GLE, and GLS (not included in the list the G-Class), these vehicles are based on the familiar sedans like the S-Class, E-Class etc. The SUV names seem much simpler without much room for confusion if you're remotely familiar with Mercedes-Benz cars.
2020 Mercedes-AMG GLC 43 Canadian Prices
There are two different body styles of the GLC, there's the regular GLC and there's a GLC "Coupe". We'll stick with the regular version of the GLC for this post, as that's the vehicle we reviewed.
Within the regular GLC class, there are also two ways one can go. The regular Mercedes-Benz GLC or the performance-oriented Mercedes-AMG GLC. And then within the AMG line, there are two choices: The Mercedes-AMG GLC 43 and GLC 63 S. Confused yet?
The 2020 GLC 43 4MATIC has a starting price of $64,400 and the GLC 63 S 4MATIC+ starts at $93,000. There are a lot of optional packages available, so these prices can (and do) climb up pretty fast.
Our review GLC 43 had a sticker price of $84,990, before taxes. Like I said, prices can and do climb up quite quickly. Below are the optional packages included on our review vehicle:
AMG Cranberry Red/Black leather ($1,990)
AMG Driver's Package ($3,000)
AMG Night Package ($1,000)
Intelligent Drive Package ($2,700)
Premium Package ($6,200)
Technology Package ($1,900)
Head Up Display ($1,500)
Trailer Hitch ($800)
AMG Carbon Fiber Trim ($1,500)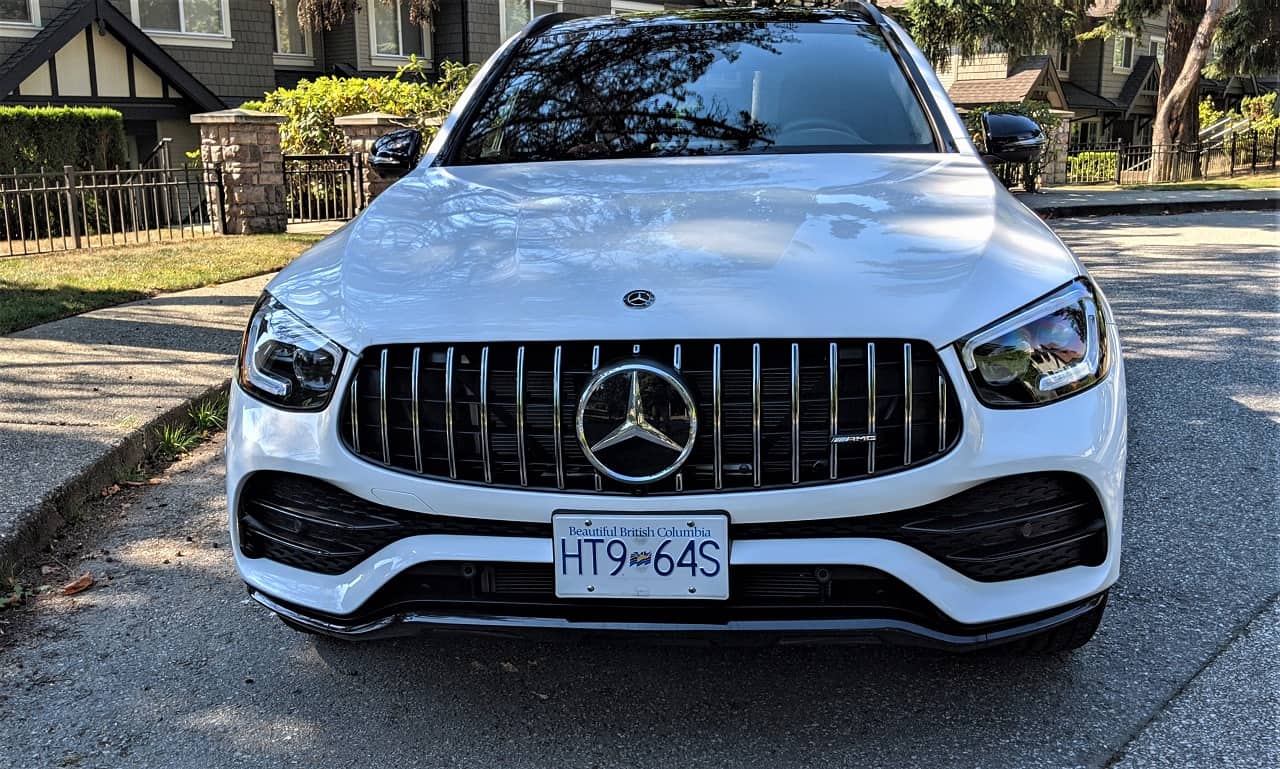 2020 Mercedes-AMG GLC 43 Engine/Driving
The GLC 43 is powered by a 3.0-liter biturbo V6 engine, producing 385 horsepower between 5,500 – 6,000 rpm and 384 pound-feet of torque between 2,500 – 4,500 rpm. This is the same powerplant you'll find in the C43 AMG. Power is sent to all-four wheels via a 9-speed automatic transmission.
The GLC 43 may not feature a hand-built V8, like the GLC 63, but it has plenty of power. In fact, it has more than enough power, I don't think you need more power than this in a CUV. More (moar) power is always good, but from a practical point of view, the GLC 43 has the perfect amount of power you'd need in a vehicle that will never see the track or go off the paved path.
I absolutely loved driving the C43 AMG wagon, the GLC 43 feels almost like driving that car, with a higher center of gravity. You'd be forgiven for thinking the GLC 43 is a sports car, rather than a CUV/SUV. If there was a way to drive this CUV with blindfolds on, you'd be hard pressed to know that it's an SUV/CUV.
The throttle response is quick, even in normal "Comfort" mode, but putting it into "Sport" and "Sport+" mode makes the GLC 43 really come alive. I normally don't even bother with the sporty modes on crossovers and SUVs, but on the GLC 43, I only drove it in the "Sport +", mode because it was so much fun. The transmission works well with the engine and is quick to downshift when needed. The exhaust note is something I can listen to for hours and the "pops and bangs" in the Sport+ mode are extremely addicting. You don't have to be in the sportiest of modes to make the exhaust extra loud, there's a separate button for opening up the valve in all but the Sport+ mode, which comes with it open.
The GLC 43 also handles really well, the suspension is on the firm side, even in the comfort mode. But that's what gives it that sporty feel in the corners. The steering wheel doesn't provide much feedback, which is the norm nowadays, unfortunately. The steering feel is where I felt the biggest difference between the C43 Wagon and GLC43 AMG.
The Mercedes-AMG GLC 43 4MATIC feels at home in city driving or on twisty roads. Going off road in this vehicle is not something the average buyer will do, but it should perform fine on light off-roading trails, going to a remote cabin shouldn't be a problem.
If you are looking for more power, you can always go for the more powerful GLC 63 S 4MATIC+, which comes with a 4.0-liter biturbo V8, producing 503 hp and 516 lb-ft of torque.
Styling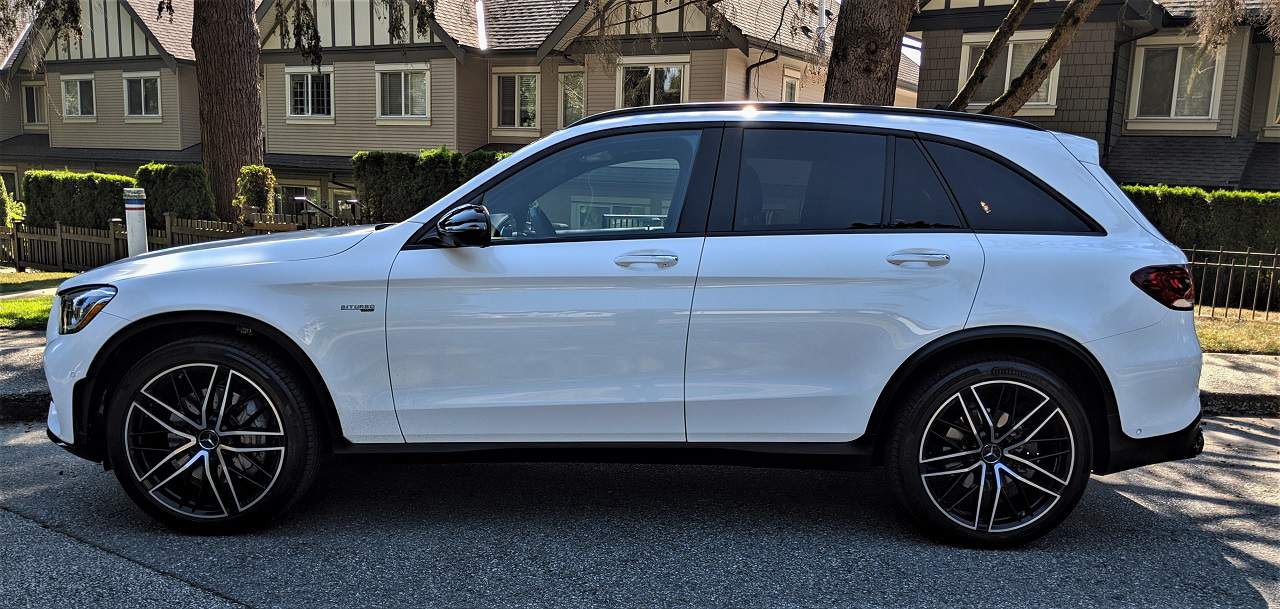 SUV/CUVs are not generally known for their revolutionary styling … and that's the case with the GLC 43, it's an average looking cross-over, nothing really to get excited about. These types of vehicles are purchased for their utility, not their good looks.
I think it's a fine looking cross-over. The design is not offensive and it goes unnoticeably, which might work in its favor, because of the speeds it can achieve. I guess you can call it a "sleeper".
Mercedes-AMG GLC 43 Interior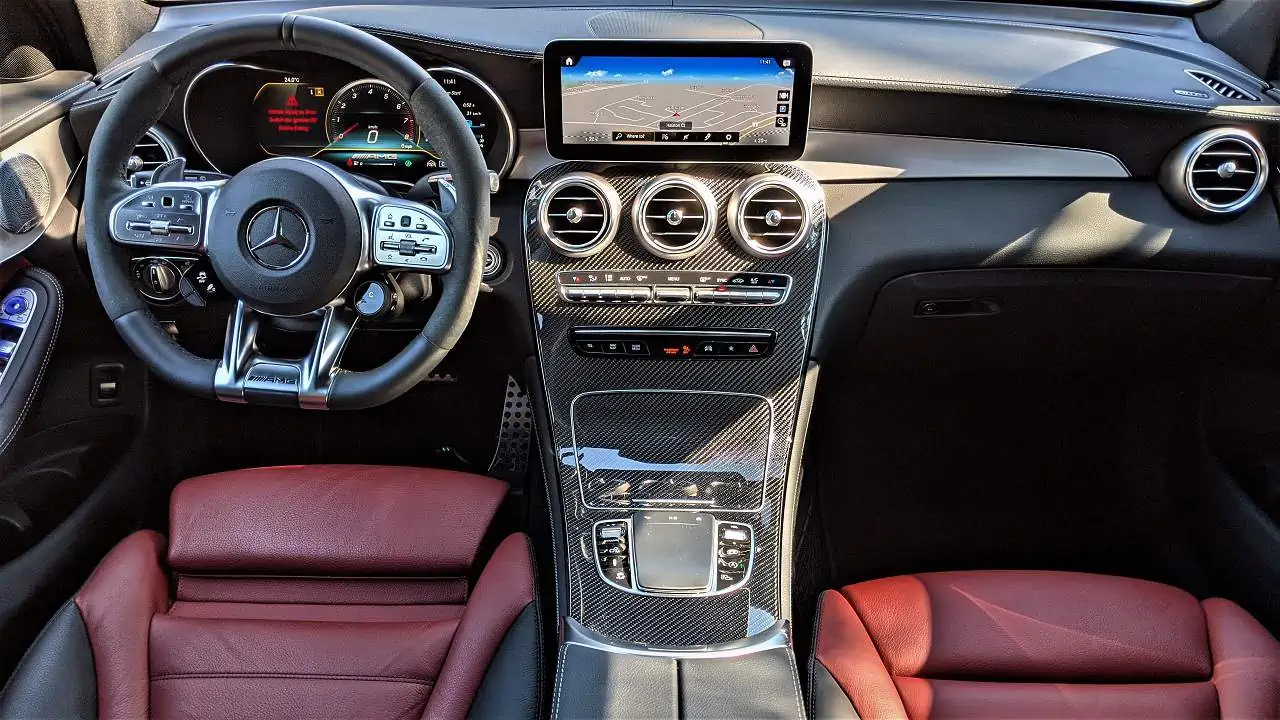 Mercedes has really been knocking it out of the park with their interior designs, the materials used, and fit and finish. The GLC 43 doesn't disappoint. The interior looks very similar to the rest of the vehicles in Mercedes-Benz lineup and is an exact copy of the interior from the C43 we reviewed last year.
The interior is a beautiful place to be in. Everything is laid out in a simple and easy to understand layout. It may seem a bit overwhelming at first, with all the menus and different ways of controlling various information screens on the touchscreen, but it doesn't take much time to get used to it. The MBUX system is very intuitive to use and comes with a lot of redundancy.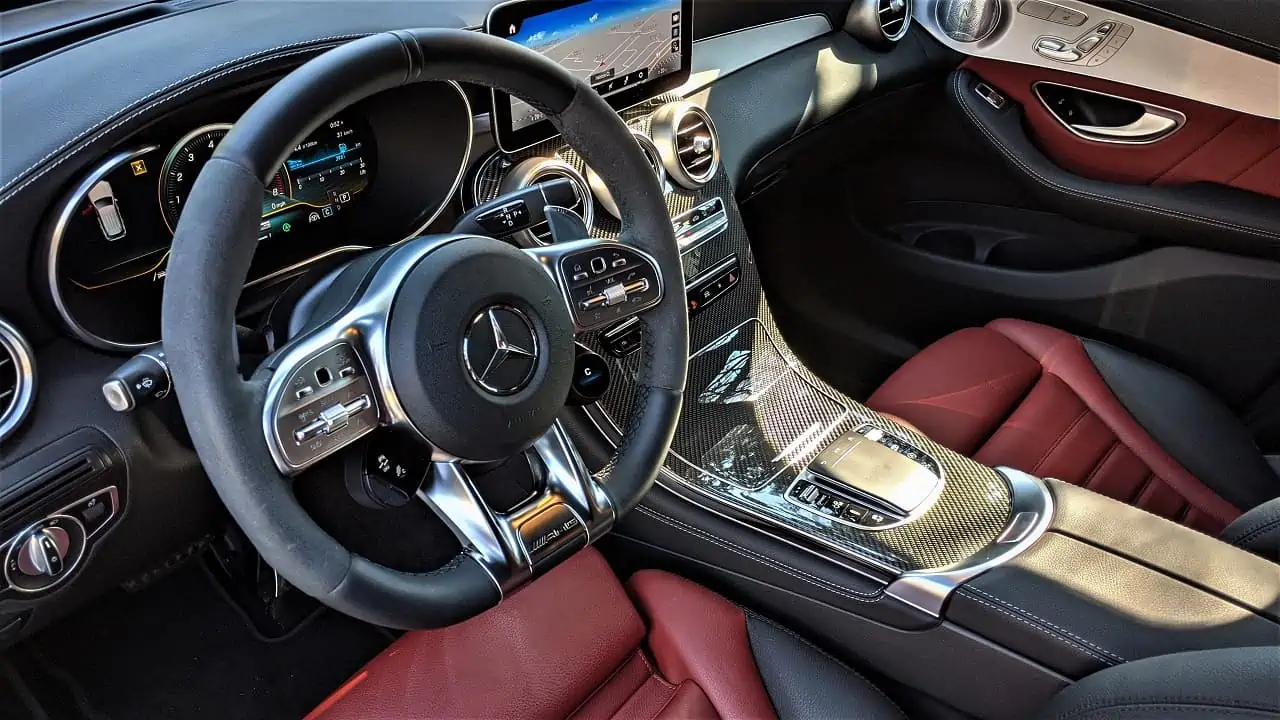 To control the touchscreen, you can either using your fingers to go through various menus, like a smartphone. You can also use the small trackpad on the center console, use voice command (which works great), or use the two small touchpads on the steering wheel. My personal favorite way of interacting with the system was using the small touchpads on the steering wheel. It eliminated the need for taking my eyes off the road and hands off the steering wheel.
One big difference between the interior of the C and GLC is the addition of two nobs on the steering wheel. The addition of these knobs might seem small, but I thought it was a huge step forward. These knobs control the different driving modes and the suspension setting. So instead of taking your hands off the steering wheel to change from "Comfort" to "Sport+", just twist the knob that's already at your fingertips. The steering wheel on the GLC 43 looks more like something from a Formula 1 car. I'm sure this feature will make it onto other Mercedes-Benz models soon and of course, competitors will start copying it (I'm not saying MB is/was the first to use it, it's the first time I'm seeing it in a non-exotic/super car).
Tech/Safety/Convenience Features
The Mercedes-AMG GLC 43 is fairly well equipped in base trim, but there are a lot of optional packages that add the latest in tech, convenience, and safety features. These packages do add up quickly, the starting price of $64,400 can easily reach the high $80k and into the low $90k range. Below is a list of some of the highlights of the available features:
3 years of Live Traffic service provided by TomTom
Inductive wireless charging with NFC pairing
Apple CarPlay
Android Auto
Traffic Sign Assist
Integrated garage door opener
Active Parking Assist
360 camera
SiriusXM Radio with 3-month trial
Burmester Surround Sound System
Foot-activated tailgate release
KEYLESS-GO
EASY-PACK power tailgate
Heated/Cooled front seats
Heated rear seats
Heated steering wheel
Head-Up Display
Power front seats with memory
Dual-zone climate control
Power-folding mirrors
64-color LED ambient lighting
MBUX (Mercedes-Benz User Experience)
Voice control
Keyless entry/start
5 USB-C ports
Active Distance Assist DISTRONIC
Active Steering Assist
Evasive Steering Assist
Active Lane Keeping Assist
Active Lance Change Assist
Active Speed Limit Assist
Active Brake Assist with Cross-Traffic function
Congestion Emergency Braking
Active Emergency Stop Assist
Enhanced Stop-and-Go
Overall Impressions
I have to admit, I'm not really an SUV/CUV guy. I prefer my vehicles to be either sedans or sports car. But the 2020/2021 Mercedes-AMG GLC 43 is an enticing vehicle, even for a sedan snob like me. It's extremely fun to drive, it's practical, it's powerful and makes the right sounds. The GLC 43 is a sports sedan that thinks it's an SUV.
I would highly recommend the Mercedes-AMG GLC 43 4MATIC, if you can't get the C 43 Wagon or would like a higher seating position. For more information on the GLC 43, visit mercedes-benz.ca.